1. Loch Lomond w/ Lost Lander & Lewi Longmire
Where: Mississippi Studios
How Much: $8/$10
When: Friday, October 7th – 8:30pm
Why: Symphonic chamber pop including instruments like: the vibraphone, mellotron, flute, clarinet, piano, guitar, bass, drums, etc.  The co-ed sextet creates a sound that is full, warm, bright, and raw. Lead singer/multi-instrumentalist Ritchie Young has an amazing voice that could easily make you smile or cry.
2. Washed Out w/ Cut Copy & Midnight Magic
Where: Wonder Ballroom
How Much: $23/$25
When: Sunday, October 9th – 8pm
Why: If you missed Toro Y Moi last week at Branx (or even if you didn't) you are definitely going to want to catch Washed Out with Australia's finest indie electropop quartet, Cut Copy. A fellow chillwave luminary, Washed Out (aka Ernest Greene) creates hip-hop influenced synthpop that will leave you wanting more.
3. Chromeo w/ Mayer Hawthorne & the County
Where: Roseland Theater
How Much: $26
When: Tuesday, October 11th -9pm
Why: Currently in the middle of their latest tour, this electro-funky duo is known for their tightly crafted songs. Chromeo's retro breakdowns and spicy synth beats will have your hips moving and grooving. Mayer Hawthorne joins the tour with his melodic mo-town revival. Fun, funky tunes. Fun, funky times. Don't forget to bring your dancing shoes, Portland!
This entry was written by elevenpdx, posted on October 6, 2011 at 11:11 am, filed under Upcoming and tagged Chromeo, Cut Copy, Lewi Longmire, Loch Lomond, Lost Lander, Mayer Hawthorne, Midnight Magic, Mississippi Studios, Roseland Theater, Washed Out, Wonder Ballroom. Leave a comment or view the discussion at the permalink.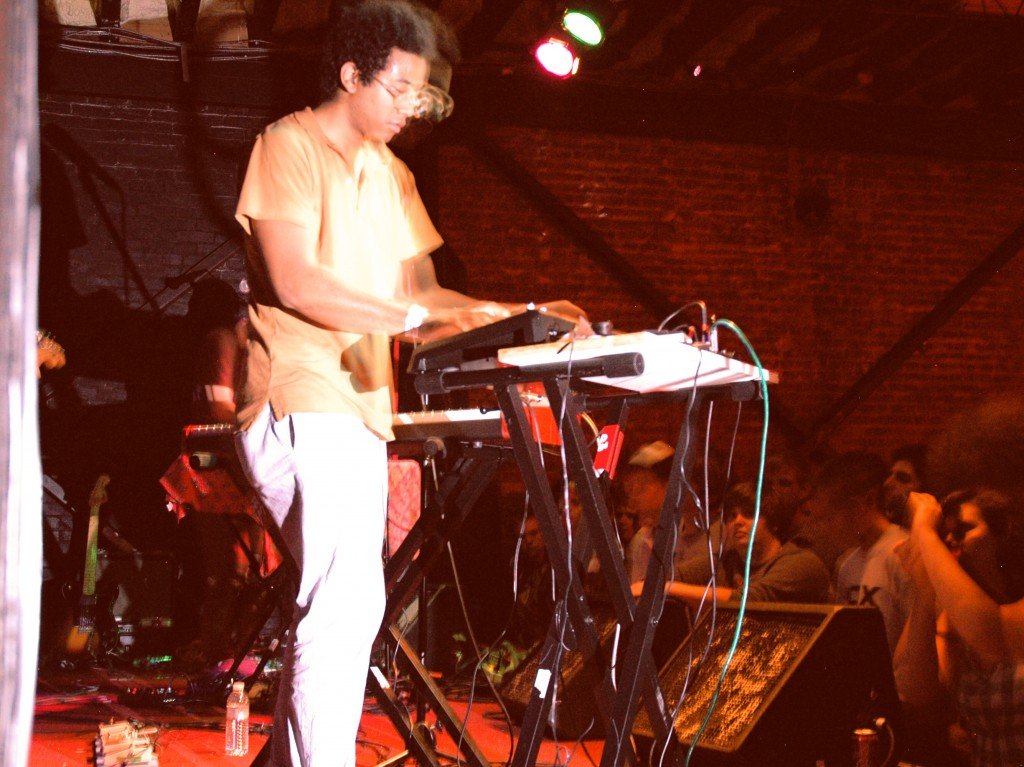 Chillwave.  If you're not familiar with this "genre" of music Wikipedia would be happy to tell you that "its artists are often characterized by their heavy use of effects processing, synthesizers, looping, sampling, and heavily filtered vocals with simple melodic lines" or they could just have a picture of musician/producer and chillwave pioneer, Chazwick Bundick.  Better known as Toro Y Moi, Bundick and his band visited Portland at Branx Friday night showing us just why he's been buzzing in our ears.
This entry was written by elevenpdx, posted on October 5, 2011 at 1:43 pm, filed under Live and tagged Branx, Bundick, Chillwave, ELEVEN PDX, Live Music, Portland Music, Toro Y Moi, Unknown Mortal Orchestra. Leave a comment or view the discussion at the permalink.