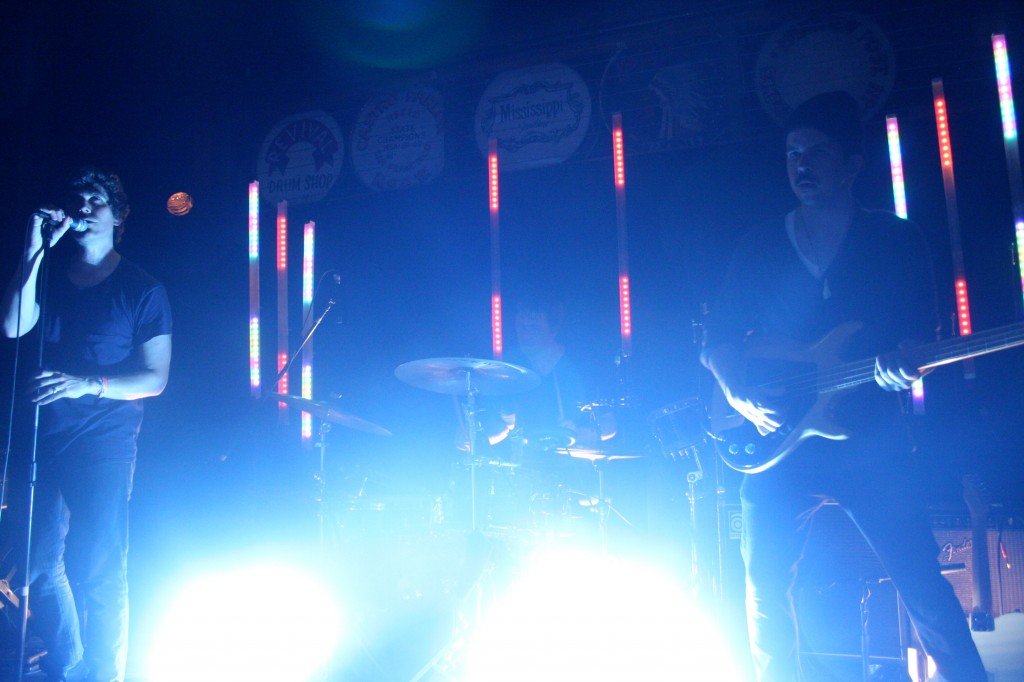 Electronic groove-makers Bear in Heaven sat down with ELEVEN's Bex Silver before their show at Mississippi Studios to discuss touring in support of their new album (I Love You, It's Cool) and the festival circuit.
11: You guys have been on the road for a while, right? SXSW, then a spring tour…
BH: [Jon] Yeah, we weren't touring then, we were just down for SX, then back to New York to finish building the light rig for the tour…it's going to look really neat in the dark. [Jon to Joe] How long have we been on tour now? [Joe] About two weeks…
11: And In that two weeks you had a new album come out (I Love You, It's Cool). How's response been while you're on tour?
This entry was written by elevenpdx, posted on April 18, 2012 at 9:01 am, filed under ELEVEN, Live and tagged 04/12/2012, Bear In Heaven, Bex Silver, Blouse, Cary Watts, ELEVEN PDX, Greg Maguire, Live Music, Mississippi Studios, Portland Music, Roadside America. Leave a comment or view the discussion at the permalink.
1. Bear In Heaven w/ Blouse & Doldrums
Where: Mississippi Studios
How Much: $12
When: Thursday, April 12th – 9pm
Why: An eclectic night of music at the Studios featuring Brooklyn-based progressive psych-pop Bear In Heaven (whose new album, I Love You, It's Cool, is already receiving positive reviews), hometown dream-pop trio Blouse, and experimental indielectronica from Montreal's Doldrums. This show is sure to sell out so make sure you get your music-loving butts there early to secure your spot!

2. Orca Team w/ PinkSlime & The Cry
Where: Ella St. Social Club
How Much: $5
When: Friday, April 13th – 9pm
Why: With a busy year of touring ahead of them (an estimated 150 shows), we're lucky to have Portland's long lost poppy surf-rock trio pay us a visit. Showcasing some new tunes off their upcoming June 14th entitled Restraint, you'll want to wear your snazziest dancing shoes to try and keep up with the ever fashionable Ocra Team. Joining the night's festivities: garage punk trio PinkSlime (formally Pleassure) and powerpop quartet The Cry.

3. Still Caves w/ Psychic Feline
Where: Rontoms
How Much: Absolutely free!
When: Sunday, April 15th – 9pm
Why: Rontoms Sunday Sessions have been killing it lately, and this week is no different with up and coming experimental garage-psych outfit Still Caves. Hot off the press is the release of their debut EP, Static Lips. Pay what you want here, but don't be stingy–these guys need dollars to record a full-length! With Psychic Feline on the bill, this is a no-brainer. See you on Sunday!
This entry was written by elevenpdx, posted on April 11, 2012 at 11:11 am, filed under Upcoming and tagged Bear In Heaven, Blouse, Doldrums, dream pop, Ella St Social Club, experimental, garage psych, garage punk, Mississippi Studios, Orca Team, PinkSlime, Portland live music, powerpop, Psychic Feline, Rontom's, Rontoms Sunday Sessions, Still Caves, The Cry. Leave a comment or view the discussion at the permalink.