Greensky Bluegrass @ Roseland Theater 04/20/2012
Michiganders living in Portland came out Friday night to support Greensky Bluegrass, a band formed in The Mitten State city of Kalamazoo. Yes, there really is a Kalamazoo! All other attendees were people who love the original bluegrass jams from these five, friendly guys. Since forming in 2000, the band has been touring full-time, forming a loyal following and even earning the number three spot last fall on the Billboard Bluegrass charts for their latest album, Handguns.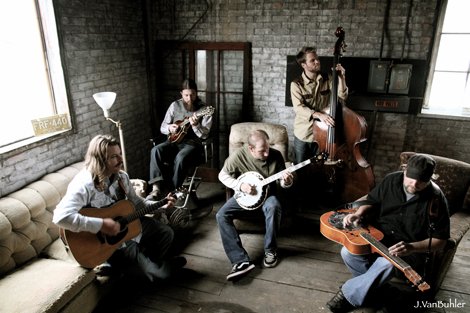 If you were at their 4/20 show at the Roseland, maybe you were one of the barefoot, half-dressed earth people in an alternate state of mind that were so obviously there for the easy listening, carefree atmosphere and guaranteed infectious fun. The two giant sets lasted more than an hour each, giving everyone plenty of material to dance the night away to.  The strong combo of dobro, mandolin, banjo, upright bass, guitar and vocals from four members synthesizes bluegrass that you want to party to: upbeat, loud and happy. Half the fun was watching how much fun everyone else was having.
When you're in the front row and look over and see old and young fans surrounding you, equally blissed out, you know you're in a safe zone of love and music. You know you're at a Greensky Bluegrass show. And you know you'll come back out for their next show here.
See Also
Words and live photo by Kelly Kovl.
Press photo by J. VanBuhler.