Portland poet Carl Adamshick captures striking microcosms of human nature in everyday places, surfacing beauty from the ordinary in the flickers of life he poeticizes. Curses and Wishes, which won the Walt Whitman Award in 2010, Saint Friend and 2017's Receipt: Poems showcases his ability to tell us there's something more to whatever the hell is going on in the day-to-day occurrences we experience. That could easily be the trend of Adamshick's career.
As a founder and editor of the great Tavern Books, Adamshick proudly excavates aged works in translation from all over the world, breathing new life into poetry that could escape today's readers. His work at Tavern Books comes from his love of poetry that needs to be experienced for quality and posterity. Those include new and original releases by phenomenal female poets as well. All of which are nurtured and cared for thanks to Adamshick's endearing poetic acuity.
Keep an eye on Carl Adamshick. Even with his strong interest in poetry from the past, something tells me he's very much focused on the future.
ELEVEN: Let's start by talking about Receipt: Poems. Can you talk about your collaboration with Andy Buck and how that project materialized and its inspirations?
Carl Adamshick: My friendship with Andy is inspirational. He's known to be a furniture maker. And when he began whittling these figures we saw an opportunity to collaborate. I named and gave voice to the little people he carved—sort of a Spoon River Anthology, but everyone talking is still alive.
11: Receipt sounds like it was a lot of fun to make. How did that collaboration differ from your other work in the terms of the writing process?
CA: The writing for the biographies was a lot looser and a lot quicker than usual. There is something about Andy and his playfulness, his trickster nature that brought out some humor from my darker recesses.
11: It seems like you are an economist of content, with each poem carefully curated right down to the last page, and each piece feels intentionally placed for the reader to find at the right moment. What's the curatorial process like for your poetry collections?
CA: The process is still a mystery to me. I just ask myself questions, a lot of questions, but mostly I ask myself "why?"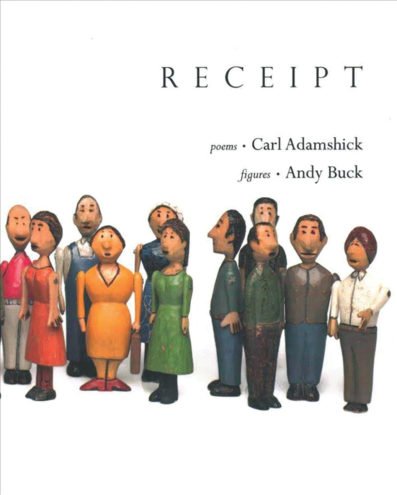 11: You are also one of the founders of Tavern Books. What drove you to start such a diverse and unique poetry press?
CA: Tavern Books started out of a love of reading. We wanted to share and talk about books in a public space. That's why it's Tavern Books—A public house—everyone is invited to read and to create. Our printer's mark is a crow with a skeleton key, because we thought "The Crow and Key" sounded like an Irish pub we could hang out in all day.
11: You are also the editor at Tavern Books. How do you approach editing other poets?
CA: We don't do much editing here at Tavern Books. We find books we think are engaged, and engaging, so we let the poets speak for themselves. Sometimes if we are confused by a phrase or curious about a transition or juxtaposition, we will ask about its intention and usually leave it at that. Overall, I guess, we believe people who write the book know best.
11: How do you see the poetry landscape of today? Do you feel like the rise of Rupi Kaur and the success of novelty poetry is offering poets a chance to reach wider audiences?
CA: The Tavern Books office is on the second floor of Union Station—an incredible building to work in everyday! The windows look out onto the post office (where we spend a surprising amount of time) and the Broadway Bridge. I mean to say, we aren't in a tower perched on a rolling hill with a grand view of poetry's landscape. We try and keep it simple in the office. Whatever gets people into the poetry section and thinking about their lives sounds good to us.
11: How have you experienced Portland as a poet having lived here since 1990? Does the city have any influence on your writing?
CA: I love Portland. It's easy to make work here. At times it seems it's a city full of artists! All knights—no pawns, kings or queens. That's a reference to the great Russian and Soviet critic Viktor Shklovsky.
11: What are you reading now? Are there any books or poets we should keep an eye on?
CA: Mostly I just reread Grace Paley—her poems! And Tavern Books always has me reading works in translation from Li Qingzhao
 to Bhartrihari. I say keep your eye on the poets, if you want and need change.
11: Do you have any upcoming projects? Can you tell us what you are working on next?
CA: I have another book slated for publishing in January of 2019. So for now, I'm writing and trying to figure out what is next.
---
---