Typhoon @ Revolution Hall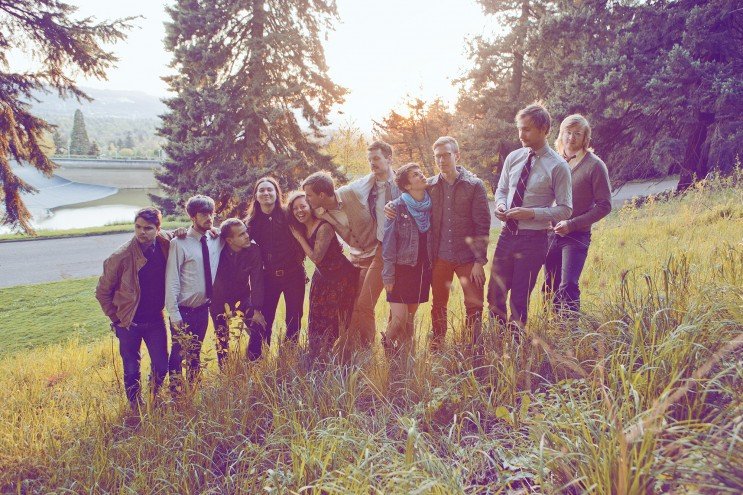 This past Tuesday at the weekly recording of the Round podcast at Kelly's Olympian, Typhoon front man Kyle Morton played a number of short, quiet songs. While the songs' themes–namely loss and death–were familiar to any close listener of Typhoon, their length and subtlety were a departure. Typhoon, the much-loved Portland twelve piece, are most well known for the fullness of their arrangements and the epic scale of their songs. Typhoon are probably as close as Portland gets to an of-the-moment darling, but for the past year they've been largely quiet, some of them getting on with life and love, some pursuing other projects. But this upcoming Sunday, December 20th, as a celebration of their tenth anniversary, the band is returning with a show at the beautiful Revolution Hall. They've promised a slew of special guests and a career-spanning set list. The show has been sold out for months, but fans lucky (and smart) enough to snag tickets early are in for a treat. For those that have to sit this one out, the band recently released a pay-what-you-can live album, of a show at the Crystal Ballroom way back in October 2013, not long after the release of their most recent album, White Lighter.
The set at Kelly's Olympian was a reminder of how much of a punch even a subdued Morton song can pack, but a number of Typhoon members were in the audience, just feet away from a mini-reunion. I reassured myself, before forcibly picking up a few audience members to transport them to the stage, that I could wait another few weeks.
Typhoon, we welcome you back. If it's not too much trouble, can we ask, in the coming year, if you might pop up with a little more regularity?
See Also
Words by JP Kemmick
[Editor's note: Don't have a ticket? Try the Typhoon ticket exchange https://uselyte.com/typhoon/Revolution-Hall-20-12-2015/ ]