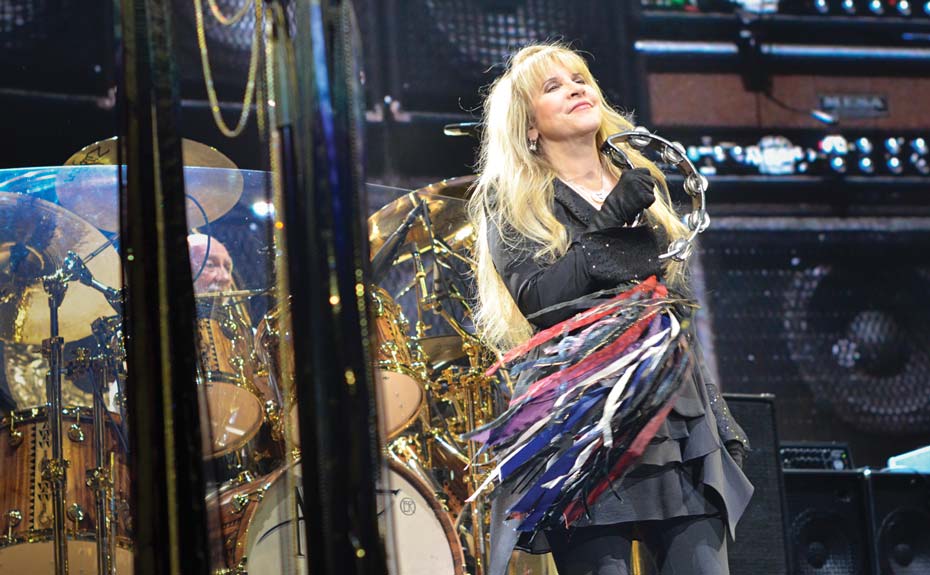 I'm not sure that I actually went to see Fleetwood Mac at the Rose Quarter. I know I have a ticket stub that says I went, as well as no less than 250 photos that are evidence of my attendance. To be honest the whole experience was a blur of emotions that left streaky mascara runs as evidence.
Let's start with the fact that Fleetwood Mac is one of the greatest bands that the 20th century has produced. Their music is inescapable. Even if you think you haven't heard their music, I guarantee you would recognize at least two of their songs. As a child of a baby boomer, I have been connected to Fleetwood my whole life. Like so many others, Stevie Nicks is my mother, my goddess. Steeped in mysticism, black velvet and a shawl, Stevie has taught me so many things about life, including when to pay attention to your intuitions.
When I found out that I would be able to attend the Fleetwood Mac experience at The Rose Quarter on November 22, 2014 as a member of the press, my heart skipped a beat, it pounded, and I felt a surge of adrenaline like I was in line for a roller coaster. Obviously I dropped what I was doing and rushed out to buy a new dress (velvet, of course). The dream really started when I received my tickets from the box office. The little white envelope bearing my name was rather unremarkable for the treasure it contained… it was unbelievable, in fact, that front row tickets should not come in a gilded chest and be heralded by angels singing "Little Lies."
Excitement, unabashed joy, exuberance, I'm not sure if there are adjectives to describe the agonizing anticipation I felt clinging to my chest as I waited. It took all of my energy to stand still. At 8:10pm on the dot, the stadium darkened and there I was, clutching the stage for support as my most revered dream came true, Mick, Lindsey, John, Christine, and Stevie (along with backup keys, guitars, and vocals) were standing in front of me. For an audience whose median age was a good bit above your typical Portland show, an unreal cacophony was produced as the first few notes of "The Chain" were hammered out.
I made it through that, as well as their second song, "You Make Loving Fun," before I broke down sobbing. The crystal vision started as soon as the bass line for "Dreams" made its appearance. It was clear at this point that Fleetwood had lost none of their talent over the last 40 years. They were not simply storied, proud musicians, whose hype alone could sell out shows, even if their musical edge had waned. They were hot, they were on it, they sounded so much better than my scratched up 1977 pressing of Rumors. It was as if they were a new band again, I bet it had something to do with the return of Christine McVie after 16 years on hiatus.
Hit after hit was perfectly on point, from "Rhiannon" to "Tusk" and "Sisters of the Moon." The love for each other and the love for the music they had been performing over the years was palpable in their ebullient performance and affectionate onstage demeanor.
I think I held my breath until the moment I had waited for: a Stevie monologue. I wanted tales from the glory days (the late '60s through the '70s) and I got them. Taking us back to when Fleetwood Mac was only the opener to greats like Hendrix and Joplin, Stevie described her first trip to the place where the rock royalty of San Francisco acquired their legendary threads: The Velvet Underground. Gripping her mic stand dripping in black ribbon and rhinestone strands, Stevie described the premonition she experienced standing on the painted floor of the small, posh shop. Her heart beat faster, adrenaline filled her to the brim, and in that instant she knew that one day she would be so successful that she could have anything and everything in the Velvet Underground. Her message: Chase your dreams, follow your intuition, and keep on achieving what you think is impossible.
She shook her tambourine, decked out in a moody palette of velvet ribbon, through "Gypsy," and the song took on a whole new meaning. Lindsey Buckingham shredded harder than men half his age through "Go Your Own Way," while Mick Fleetwood similarly showed up every drummer I know with a 4 minute drum solo in "Don't Stop."
Four shawl changes later, Stevie closed with "Silver Springs," not gunning for the high notes like she used to, but still embracing every syllable with the slightly flat ferocity which she is famous for. Each member of the band bowed, Stevie said some parting words of love and admiration, then Mick dispensed some sage wisdom (which was impossible to understand through his thick British brogue) and we thought it was over… But the applause did not end, and a grand piano was wheeled out on stage. Christine McVie, the beautiful, understated backbone of Fleetwood took a seat and played her 1976 tune, "Songbird," accompanied by Lindsay on guitar. The song finished, they bow, it was over. The crowd was in a haze of emotions, but all are thankful that they have been in the presence with such overwhelming talent. On the trudge up the stair and out into the cold November I spied several people gripping tissue boxes and people dressed in black velvet exchanging smiles. The experience charged us, we resonate at a higher frequency now, and I hope it lasts. »
– Bex Silver