"New Material" By Preoccupations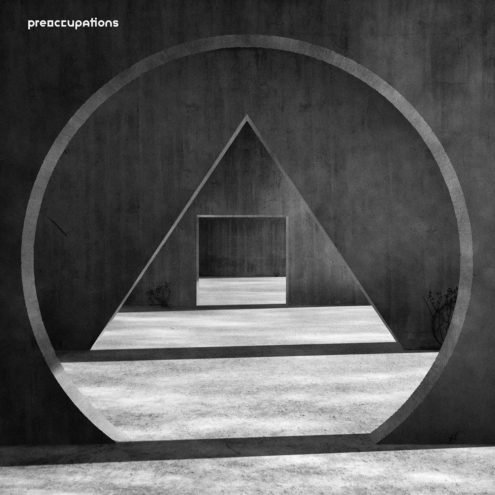 Two years ago, facing backlash and show cancellations, Viet Cong decided it was probably time to change up the band name rather than fight a (probable) losing battle. So, in April 2016, the band settled on a new moniker–Preoccupations–followed quickly by an eponymous "debut" album that received generally positive reviews.
Full of growling, post-punk bravado, the second Preoccupations album, New Material, picks up where the band left off, with a heavier influence on the industrialized sound that poked through momentarily on self-titled Preoccupations.
The lyrics throughout New Material are dark. The album itself is an exploration of our more depressive tendencies that result in seemingly endless spirals of self-doubt, frustration and anger. On "Espionage," vocalist Matt Flegel storms his way through the opening lines, "The chances seemed so slim / They will never get out of this trench alive… The pains of unknown origin / Wilt like a rotting flower." Sung over a pounding bass line, staccato snare and wavering synth, the lines take on less of a "poor me" feeling, instead sounding like someone clawing his way through a wall, searching for peace of mind.
"Antidote," the second single released, is a sneering critique of our willingness to mistake information for answers. Flegel chastises, "Trying to untangle the map / Everything slips right through your shaky hands… Information overdose / Looking for antidotes." The song sounds like it's being played at the bottom of a hole: the tinny percussion pushes treble edges, and Flegel's vocals sound as distant as ever, drifting upward like he's singing while sinking further away.
Still, for an album that deals with the rougher edges of human nature, many of the tracks take on ballad-esque qualities. In "Manipulation," you keep waiting for the explosion that never comes, instead getting pulled along with the syrupy reverb and repeating keyboard lines. Album closer "Compliance" is more soundscape, feeling like an instrumental chaser that pulls together the sounds you've just waded through and roughing you up with fuzz that devolves into the outro.
New Material is complete and sneakily clean. The meticulous production by Justin Meldal-Johnson (M83, Wolf Alice) feels earned, with a stellar balance of jagged, industrial features rounded out by a mellow rawness in the instrumentals. Though the album is relentless, it never completely overwhelms, which is perhaps a purposeful juxtaposition with the lyrical subject matter. New Material brings out the best in Preoccupations as it wrestles with our simultaneous capacity for hurt and hope.