BRIDGE TOWN, RIP CITY
Bridgetown Comedy Festival continues to do right by Portland, providing a breadth of incredible comedy. In stand-up, like music, there are more than your popular genres – "aloof prick", "awkward girl" and "bodily functions guy". If you have ever turned to your Facebook community for good podcasts or to your bartender on where to see good stand-up, then read on.
OFF BEAT
At Bridgetown:
Kurt Braunholer's Roustabout took over Norse Hall filling it with yodels and quite a cast of characters. Chris Fairbanks – the most attractive looking weirdo – brilliantly delivered a set like a controlled accident. When you see him perform twice, you realize he plans his set-ups…or does he? He wins certain affection performing like a character, but the character is his true self. The goofy Drennon Davis mixes impression and beatboxing to create song parodies with a looping recorder and how-to dance moves, including an irreverent "Goyte". He paired up with Karen Kilgariff, who's melodic, 90s style solo guitar is the perfect cocoon for her dry humor – "if one more person tells me I have to watch Modern Family, I am going to buy that gun-I-have-my-eye-on". The well-balanced duo got the crowd with their honest song, "These Are a Few of Your Dumb Tattoos".
Dana Gould, actor/comedian, was the show's raspy voiced cornerstone, opening with how he wasn't going to talk about Bruce Jenner's transition, but did. The Simpsons executive producer doesn't exclude himself from his target discussing his decades of comedy experience. If you like Marc Maron and the word "pizzazz", you will love the audience pleasing podcast, The Gould Hour.
Braunholer's career full of successful antics have added to his red-headed swagger. A hero amongst his peers, he closed the show by parading out to the next location behind Portland marching band, LoveBomb Go-Go. Watch his webseries, Roustabout on cc.com where Kurt, well, jet-skis for goats.
*Lyrics from "I Want to Win", Behind You by Karen Kilgariff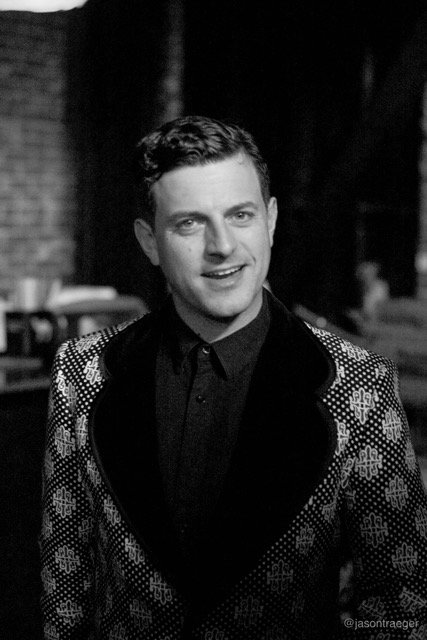 Fairbanks wore the best-worst outfits of the festival.
In Rip City:
Steven Wilber, winner of Portland's 2014 Funniest Person competition, wins audiences with dynamic quirkiness. Never breaking character draws his crowd in. He pushes you past "did that just happen?" – that being a Jay-Z impression on a nursery rhyme. And right as you think he's just dicking around, he lays down a prose speech with insane brilliance and without taking a breath. Check out his regular show, No Pun Intendo at Ground Kontrol Arcade: Thur. July 16 @ 9pm, $3. You will see local greats and Seattle or LA comedians you can't normally catch. Seriously, watch him on Vine for wit high above videos on Facebook feed.
Barbara Holm hosts It's Gonna Be Okay at EastBurn every Monday at 8pm, FREE entry, skeeball and prizes! Holm puts on an endearing, geeky, progressive show with alternative comedy sweethearts. June 8th features Andie Main, Dr. Sawhands, Curtis Cook, Randy Mendez and special visiting guests.
STORYTELLERS
At Bridgetown:
Baron Vaughn returned to Bridgetown with his show New Negroes: Redux. Titled for the original naming of the Harlem Renaissance, the show collected real life experiences, with perspectives on being black. Phoebe Robinson, MTV's Girl Code writer with blog turned podcast Blaria (aka Black Daria), predicted the new face for Advil commercials will be young women with body waxing induced carpal tunnel. Samaria 'Sam Jay' Johnson had no shame for those who play up their stereotypes, "…because when a white girl cries I'm like 'somebody help this girl', but if a black girl cries, I'm like 'toughen up, it's hard out there' ".
At Boogie's Burgers for Late Night Boogie, Nore Davis shook his head at Lil Wayne's latest "Truffle Butter" (see: Urban Dictionary) asking, "Why are rappers trying to give women bacterial vaginosis!" His comedy album Home Game is worth the itunes download. Beth Stelling lovingly called out her hotdog-dressing father and the 30 raccoons on his property (and the family Christmas card), a result from feeding them dog food nightly.
LA's The Nickel Club hosted a jazz accompanied show where Jacqueline Novak shared that doggy style isn't lessened by lack of eye contact, but heightens partnership like two pioneers looking out toward the horizon.
Doogie Horner discussed the obviousness of Ziplock's "crack sized baggies". 'We don't know what people do with these…make gerbil sized sandwiches for gerbil school?' ". Matt Braunger hit the undeniable truth nerve discussing his desire to avoid human contact so much that his first thought after getting hit by a car is 'Great, now I have to talk to a stranger'.
In Rip City:
Jeremy Eli and Jason Lamb run Minority Retort at Curious Comedy Theater every month, starring comedians of color. If you have ever curled your toes at quiet, awkward comedians who point out their every mistake on stage, you will love this total opposite, energetic show. Fri. June 26 @ 9:30, $7 adv/$10 door.
New Deal's Comedy & Cocktails occurs monthly if you missed it over Bridgetown. If you haven't made it to Distillery Row, taste from and see the grandest still in town.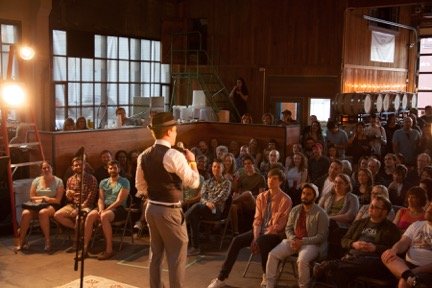 Always a great assortment of comics – Fri. July 10 @ 8, FREE ft. Steven Wilbur and Bri Pruett.
David Mascorro's storytelling showcase The Awkward Phase features longer sets that allow for your local favorites to elaborate on jokes and the stories behind them. Listen to his podcast on SoundCloud, where Comedian Nariko Ott talks about boredom and peeing with his girlfriend.
MIXED MEDIA
At Bridgetown:
Stand-up can thrive with the accompaniment of more than just good beer. Ken Reid's live podcast TV Guidance Counselor  took us behind the scenes of comedic genesis with guest Brendon Small, creator of Adult Swim's Metalocalypse and Home Movies. Anyone can have a podcast, but Ken Reid's deep knowledge of television – obscure series, production obstacles, special effects houses, writers' quarrels – was enough to fascinate listeners who don't even own a TV.
The OkCupid Show is a live interactive dating show. What's a bigger joke than trying to find true love…or even someone to like for 2 months? Upright Citizens Brigade improvisers Amanda Sitko and Eli Newell matched a user up on three dates using the site, and coached them along the way. The expected fails made for good, easy comedy – dating pro-tip: don't tell depressing stories with no point, bro. However, the triumphs created a bonding experience because good or bad, we all kind of hate dating.
Uncalled Four is a Cards Against Humanity like game show where four comedians answer audience generated questions with their own pre-written joke cards. Denver based comedians Jake Browne and Zac Maas host and ref the game awarding prizes to the crowd's "most terrible" participants.
In Rip City:
Comedy Bull at Brody Theater is a show for the avid stand-up fan looking to shake things up. Anatoli Brant shows no mercy when attempting to knock comedians on their ass. Competing comedians are under the pressure of creating material to pictures and topics at random. Sometimes comedians think better on their feet, but win or lose, the energy is always a lot less routine. Next show is Fri. July 10 @ 9:40pm.
For more visual entertainment, attend Hecklevision at Hollywood Theater hosted by Art Santana. Comedians make jokes throughout the best bad movies you love. Don't sit on your couch alone when there are Junior Mints and other stoners with better jokes. Next show TBD in early July.
Additional Bridgetown Memories:
Andy Kindler and Janeane Garofolo kickin' it backstage.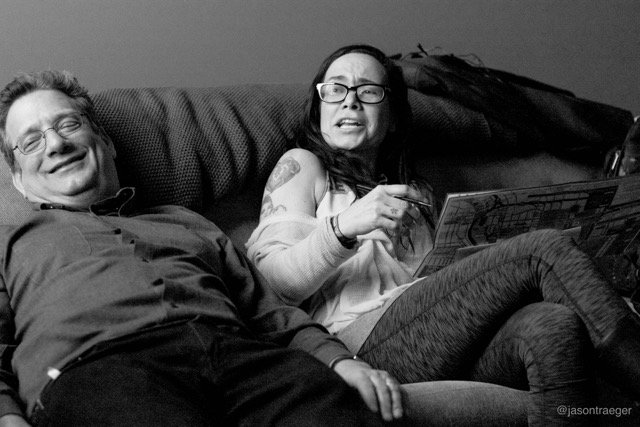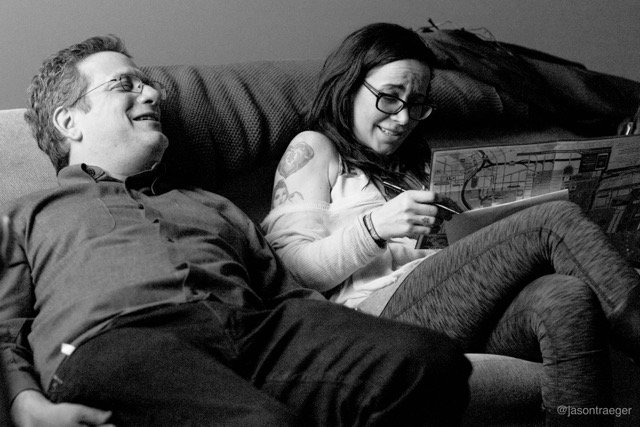 Photos:
New Deal: Arthur Ruckle
All other photos: Jason Traeger