Portland Poet Kelly Schirmann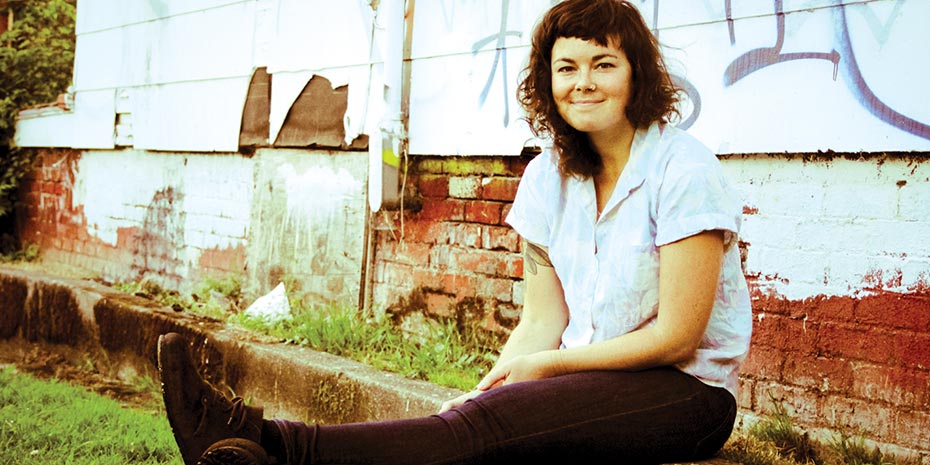 I met Kelly as she opened the doors of ADX, a community workshop for woodworkers, metal fabricators, and artists. She helps coordinate the Bad Blood poetry reading series there, which has become a can't-miss event for the local poetry community. We were lucky to hold the interview before the buzz of the shop's machinery filled the room. Kelly is a prolific writer, and has published several chapbooks (small-sized books of poetry). She's also a musician who sings in the band Young Family, a long distance collaboration similar to the Postal Service albums. Black Cake Records is her most unique project, a web label for spoken word poetry by some of the most talented contemporary poets.
ELEVEN: What do you think of the current lit scene in Portland?
Kelly Schirmann: Well last night I went to LitHop, which was a whole community going out to bars, listening to poetry, listening to all kinds of writing. It's amazing that that can happen here. . . there's definitely a special thing going on with the writing community right now—writers are making and sharing their work and publishing it. And most people seem really welcoming and inclusive. To me, it seems like that effort is encouraged, which makes me very happy to see and also makes it easier to participate in, and want to keep putting your work out there.
11: Even so, some aspiring writers might be afraid to start reading their work in that kind of environment. What got you started, and where was your first reading?
KS: Well I've always written poetry, and took a poetry writing workshop in college, but never considered it a serious thing that I would spend my life pursuing. I just wasn't ready to say "I'm a poet" or "I'm a writer." But when I started the program, I had had some things published already—some internet journals and stuff like that. I had my first reading at the IPRC as a part of our final presentations. I had written a chapbook called What I Can Prove and read a bunch of poems from that. One of the best things to come out of that was that I met my writing partner and really good friend Tyler Brewington. We still work together and have a full-length collaboration coming out with Poor Claudia this fall called Nature Machine.
11: How would you describe your poetry?
KS: [laughs]. That's the hardest thing to do, but an interesting question. . . I like poems that are accessible. I want people to say the big things, but I want them to say it in a way that feels real and doesn't feel clouded. And obviously there's an art to making things subtle, or in shrouding it a little bit with language. That's what's fun about poetry. The ones that really do it for me are the ones that communicate clearly and let that sentiment speak for itself. So I want to do that. But, like music, we read things because we want to experience what that medium is trying to communicate. So hopefully my poems are just imprints of how I'm feeling—and I'm not really concerned with narrative so much, but just transmitting that feeling.
11: Well that does comes across in Activity Book. The poems seem very personal, yet accessible. Can you tell me about that?
KS: I wrote that over a period of a few weeks, and I was really interested in the idea of writing in the second person, and writing something accessible which felt like instructions to myself. I was almost doing it as an exercise, and really love the way they turned out, and really loved their brevity. . . kind of an exercise in cutting out the extra. I kind of just wanted to pare it down and to get down to these base ideas that I believed in. I think that the length of the poems has contributed to its ability to travel easily. I've gotten a lot of positive feedback from it, and I believe that it's because they're just kind of bite-size—but also heavy, I hope.
11: That book is online, just like your project Black Cake Records. It's a really novel idea—making poetry available for people who usually wouldn't pick up a book of poetry. And I've heard that you've recently had one of the members of Typhoon record with one of the poets?
KS: Yeah! Black Cake is a project I started because I think there is an interesting disconnect, or a difference, between reading a poem on the page and hearing it read aloud. And if I could include video I would, because seeing someone perform is a huge part of who they are as an artist. So I started Black Cake Records to allow people to listen to poems as they were walking or riding their bike to work or driving. . . and selfishly because I love listening to poems and wanted to have those available. I'm hoping that kind of morphs into whatever the artists want it to be. I really don't have any guidelines for the recordings. And that's exactly what happened with our most recent release. It's a chapbook by Amy Lawless, who's a Brooklyn poet and is really amazing. And the one you were referring to is by Zack Schomburg, who is a local poet who has a book forthcoming called The Book Of Joshua. He read a large segment of that book, calling it Blood [blackcake.org/album/blood], with his friend Kyle Morton from Typhoon playing the guitar along. If you haven't listened to it, I recommend it. It's really beautiful and exactly what I wanted for the project—to see people experimenting with sound and spoken word forms. Because to me, there's not really a big difference between poetry and music. Poetry is just the way that it's transmitted. That's really exciting, and we have some exciting things planned for Black Cake in the future.
11: So you also sing. Is this a side project, or something more? Tell us about Young Family.
KS: I've been singing and recording songs since I was eighteen or nineteen. I've been recording them under the name Headband, and they're all corralled on my website. The way that Young Family happened is that I had been admiring the work of Sam Pink, who's my band-mate now. He's a great writer from Chicago. I emailed him to tell him how much I liked his work, and he knew that I had recorded some things and liked my voice, so he suggested that we should collaborate sometime. Basically he said "I made some beats, would you sing over them?" So I did about four songs, and I think we were both surprised by how well it turned out. That became our first EP. It was called You Ruined It—which is kind of a joke about long-distance collaborations [laughs]. That came out as a cassette from Dazzleships Records, and we finished our second EP, King Cobra, maybe a year later, which is seven songs and just came out also as a cassette from Spork Press. Most of the things I do is because I like to do them. I don't really have an interest in becoming a professional musician. It's definitely an outlet that I feel is necessary in my life, and I feel better when I'm singing or writing or making art. So I'll continue to do that, and I hope to have more Young Family projects in the future. Now I'm working on a covers album of Zack Schomburg's Fjords poems. I took them as text and am translating them into music and will be performing that live soon.
11: What is Boyfriend Mountain?
KS: That's the title of the manuscript that Tyler [Brewington] and I are working on now. It will be full length and split between us. I'm really excited about it. Nature Machine was pretty small, and we've evolved separately a lot since then. He's still a writer I admire so much, and I'm proud to be working on it with him. That will be coming out later this fall/winter.
11: Unfortunately we're going to be losing you for a few years. You're pursuing a graduate degree in Poetry, but will you still be involved with the scene here?
KS: I feel like this is definitely, far and away, my community, and has been incredibly supportive. I was offered a two-year degree, and it's something that I just couldn't turn down. So I'm looking at it as heading out to Tucson and taking a couple years to work on my art, but I'll definitely be back. This is my home. I'll continue with the things that I established here and continue to work with that community, and return a little more able to participate. »
– Scott McHale