Brittany Oliver of Fay Woods Designs
ELEVEN: Thank you for sitting with us! Can you tell us a little about how you made your journey into jewelry making? Did you have any formal training or schooling?
Brittany Oliver: I started making beaded jewelry when I was very young. In high school, I took 4 semesters of a silversmithing class but it wasn't till around the age of 30 that I decided to make silversmithing a big part of my life.
11: You're a Hoosier, originally from Indiana, what brought you to the Pacific Northwest?
BA: Actually, funny story, my husband and I are originally from Virginia but moved when we were very young to Indiana, where we didn't meet till we were in our twenties. We came here a few years ago and fell in love with the scenery and the way of life. After we got married last year, we decided to make the leap–we packed up our car and moved to this beautiful state!
11: Has moving to the PNW changed or inspired your designs or creative process?
BA: You have no idea, I have always loved nature, and it has always been a huge inspiration in my work. Moving here has intensified my love for nature; I didn't think a place could be so green!
11: You like to collect "natural treasures" from places you visit in the area. How do these little pieces of nature influence your designs or find their way into your creative processes?
BA: I like to take things I find in Mother Nature and make my own version of them out of silver. Sometimes I'll take a flower and draw it out, and then redraw the design till it becomes my own.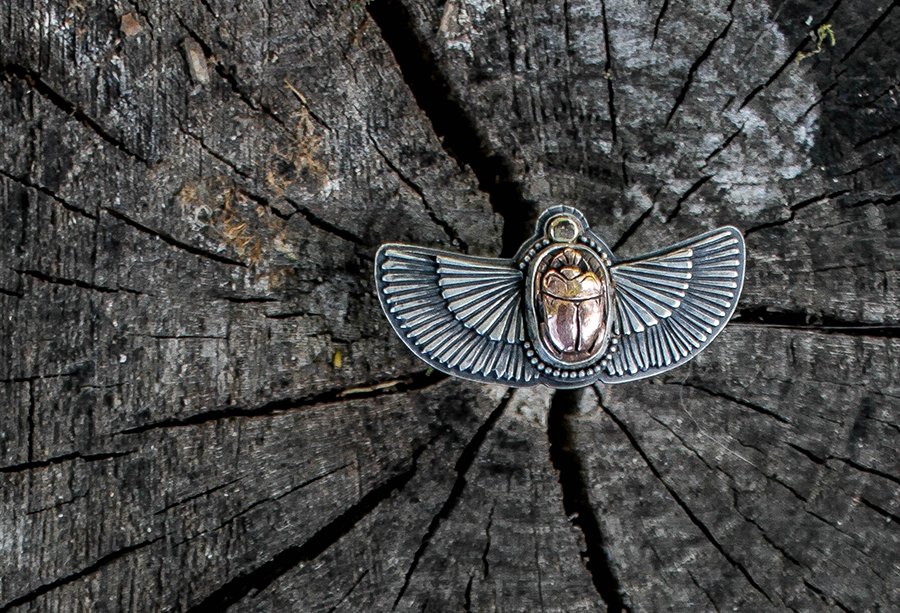 11: What is the process like for choosing the stones that you use? Do you build your pieces around the stone or the other way around?
BA: I always build my pieces around my stones, it's like my outfits; I wear my clothes to go with my accessories.
11: Do the metaphysical/energetic qualities of stones play a role in the use of them in your work?
BA: All stones have their own type of energy. I work with some stones more than others because their specific energy. I usually pick stones by the look and feelings I get from them, then I can just mix and match them however I want.
11: You also collaborate and partner with a lapidary by the name of Kristie Carlino who goes by the name _indianarocks_ on social media. She's also a Hoosier! How did your collaboration begin and how does that collaboration process work?
BA: A few years back, she found me on Instagram because she wanted to have jewelry commissioned for her wedding party. We would meet for coffee every few weeks to go over designs, and then we became close through our mutual obsession with stones. She had expressed to me that she wanted to start cutting and polishing her own cabochons and that's when it happened. We started talking about collaborating her unique stone shapes with my own twist on silver work, and just recently released our first collection together, with more to come this October!
11: Another piece that is quite captivating is a ring you made using a Poseidon Variscite. It seems to hold a special place in your heart. What is it about this stone that you find so captivating?

BA: Poseidon Variscite is a close cousin to Turquoise. These stones–like in life–show that such beauty and chaos can come from even the smallest of things.
11: Do you have any pieces you're currently working on? Where can we find more of your work?
BA: I am currently working with a lot of moonstone and labradorite stones, and will be releasing my Halloween/Samhain collection by the middle of October!
Find this artist online:
Instagram: @fay.woods.designs