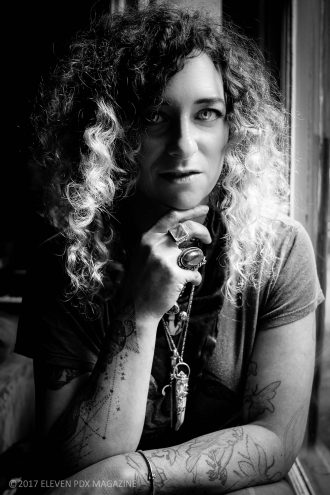 Artist Website: www.theethjewelry.com
ELEVEN: Reading the bio on your website, you state that much of your focus in life has been in stop motion animated puppetry. You go on to say that you have only recently taken jewelry-making as your trade. Your style and design is so seemingly advanced. What have you done to craft yourself into the artist you are today?
Kimi Kaplowitz: I kind of toggled back and forth between my interest in animation and metalsmithing. I wanted to make movies when I grew up. I was fascinated by the intricacy and the charm of the practical effects in my favorite films and TV. But as I grew up, I saw the effects that used to be handmade in films leaning more towards computer-generated effects. I've always been most inclined towards working with my hands, so I decided I'd focus my craft on sculpting and perhaps get into toy design. I attended a small fine arts college (Moore College of Art and Design) and proceeded to get my hands dirty in as many of the studios as I could and very quickly fell in love with small metalsmithing, particularly casting. But I still had that little bug in my ear. At that time I was not interested in creating adornment in metal, rather I wanted to create a narrative, create objects and characters that moved through space. I experimented in school and took a number of internships working in film, sculpture, robotics and puppetry. I made a stop motion film for my thesis project, in which I utilized the casting and fabrication skills I had learned in my metalsmithing classes to create puppet armatures, miniature props and mechanical insect puppets. After school I came to portland for an internship, where eventually, to my surprise and delight I ended up working in the animation industry. My knowledge of various crafts made me well-suited for puppet fabrication, and I was able to use my metalsmithing skills working in the armature department.
11: Being that your background is in animation, how has that training influenced your jewelry-making? Is that a medium you still produce?
KK: I think one of the most influential projects that got me into doing what I do now is a music video I worked on with Bent Image Lab for The Uncluded song "Organs." (Check it out, it's way cool!) We created anthropomorphized insect puppets from real insect specimens: A cicada, a locust, a forest scorpion. It was clearly a dream project for me. I undertook the task of creating some pretty complicated molds in order to cast the insect legs and bodies in silicone and resin. My obsession with making highly detailed molds of tiny objects like insect bits became very clear to me during this project. After it was over I injected wax into one of the molds I made of a scorpion tail, got it cast and created a bracelet for myself. This prototype became one of the first pieces in my collection. I had no idea that little experiment would lead to my going into jewelry design full-time.
11: You state on your website the symbolism of the scorpion as it relates to your work. Can you reiterate here how the arachnid weaves itself into your jewelry?
KK: One of the first specimens I incorporated into my jewelry work was a small life cast scorpion. As I worked with it I observed the tiny details; the delicate, aggressive looking pincers and mandibles, the elegant curve of the tail, a creature who influenced the creation of alien monsters and horror. It's a beautiful and terrifying creature. An issue I've always struggled with when making art is how I could create something that could be observed fully by the viewer. I want the viewer to experience my work from all angles and ideally be able to pick pieces up, feel them, really get in there. However most of the pieces I made in the past were too delicate to be handled. Making jewelry solved that issue for me. Furthermore, I am recreating natural objects that would normally require very delicate handling like a mushroom, or creatures most people would not dare touch like the scorpion and spider. I feel like the scorpion embodied this idea–when the scorpion is alive, it is not to be touched, but when immortalized in a metal talisman the scorpion can be safely embraced.
I have met many people who have a fear of scorpions or have been stung by scorpions in the past, they consider the scorpion in their jewelry as a protective talisman, and a way to come face-to-face with their fear daily. A reminder to conquer their fears.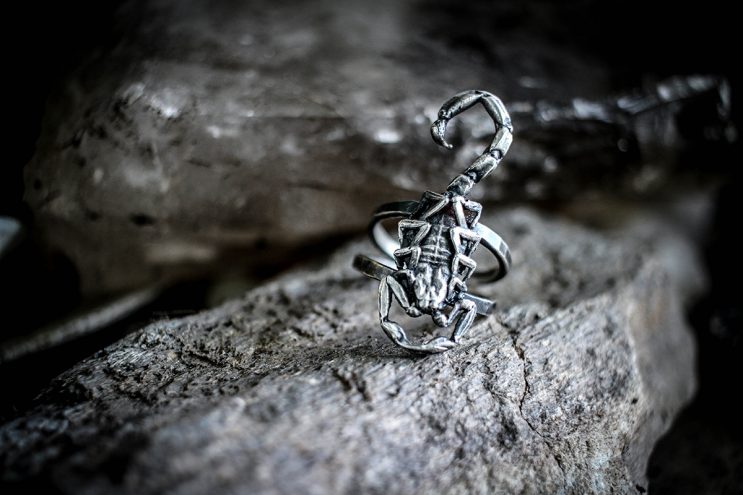 11: What portion of your jewelry is cast from specimens versus carved by hand? Looking at your work, the level of detail is incredible! How do you decide what to hand-carve and what to find specimens for?
KK: My jewelry pieces are collages of natural objects and sculpted elements. The high detail is extremely important to me, especially when casting from life. often I attempt to represent the original insect or mushroom as close to the original as possible. Most of the specimens I use in my jewelry need to be of a certain size to be practical for my designs. I do try to challenge myself to make molds of the smallest specimens I can possibly cast without losing strength and integrity in the final piece. Occasionally this means sculpting onto certain parts of the specimen to add thickness and strength in the final piece. If there's an image or character I want to incorporate into my work and I cannot procure a specimen from nature, that gives me a good reason to do some sculpting. I love modeling on a tiny scale, and would do it all day long, but it takes many hours of focused labor. I try to craft the sculpts with as much detail and texture as possible so they can integrate seamlessly with items cast from nature. I'm slowly adding more hand-sculpted elements into my work.
11: Your pieces have an interesting blend of both southwestern and northwestern influence (i.e. cattle skulls and scorpions vs. mushrooms). What are the aspects of each ecosystem that find their way into your work?
KK: I feel so much freedom to travel living in the northwest. When I have a chunk of time off and the means to do so I love to get in my car and take long road trips to explore the epic landscapes of the western deserts. The flora and fauna and geography of the desert both in Oregon and in the southwest is incredible. When I first travelled around the west I felt like I was driving in and out of different dimensions on alien planets. I have grown very fond of the intensity and diversity of the deserts and their sharp, wild alien creatures that party in the night. It's a beautiful contrast to the drip of the forest and its succulent mushrooms and lichens, and sleepy slime-trailing slugs. They are companions in my mind and can all be friends in my jewelry scapes.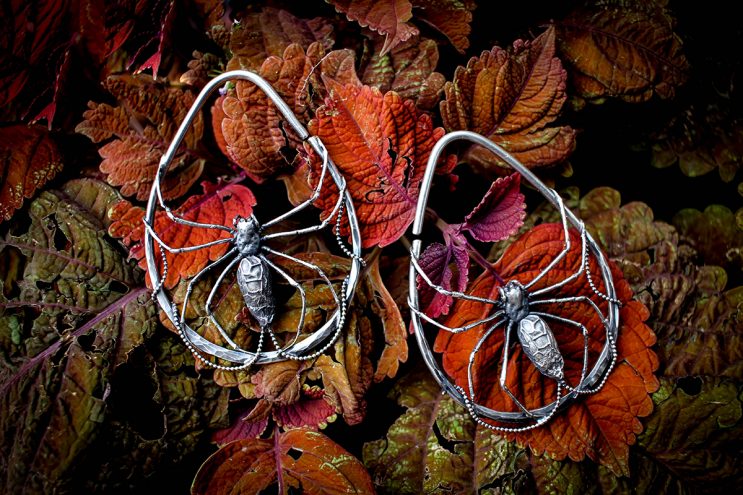 11: Both of your parents were artists–your mom a ceramicist and your dad a photographer. Was the life as an artist a natural progression for you? How did their art inspire or help shape you as an artist?
KK: I grew up under two artistic parents–my mom was a sculptor and ceramicist with a background in biology, my dad, a photographer and multidisciplinary artist. My childhood was spent collecting bits and pieces of nature with my dad from the forest next to our property. He assembled the stems and dead plants he collected to create three-dimensional illustrations which he later photographed. I incorporated stones and skulls and twigs and feathers into my room decor and used them to outfit dioramas with characters within them, who had full handcrafted wardrobes in their closets. I spent hours in my mother's clay studio sculpting creatures in clay, and would later help out in her growing teaching business. Later in high school, I crafted tiny insects from super glue and antique watch parts and learned the nuances of working in porcelain and oil paints. My parents always encouraged me to explore my love of creation and exploration. It's funny looking back on my childhood, I am clearly building on what I learned growing up with my parents.
11: You're from the East Coast originally, correct? What did that move symbolize for you as an artist and in your journey as an artist?
KK: I spent a great deal of my childhood in New Jersey outdoors. New Jersey is not all Jersey Shore and Sopranos. I grew up in the middle of the state among ripe forest and fertile farmland in Hopewell, a small town of 1000 people. I always found peace in the forest or on the water, observing wildlife, illustrating and collecting what I found. When I moved to Philadelphia for school, I somehow lost the connection with that important part of myself. I loved living in the city for the first time, it was exciting, the city became part of me. I thought that the city was where I wanted to be. I imagined myself moving to New York after school. An internship pulled me to Oregon. I had no intention of staying, but I quickly realized that this was the city I needed to live in to be content. A city from which one can be in the ocean, on the top of a mountain, on pristine rivers and lakes and the middle of nowhere in a relatively short amount of time. Whenever I feel trapped I try to get out and find peace in nature. Being close to the fruitful forest furthered my interest in foraging for wild foods and mushrooms. With all of my mold-making experience at my job, I was curious as to whether I could successfully make molds of the delicate ephemeral little mushrooms I found while moving through the woods. I did a bit of experimenting, and discovered a way to successfully preserve the tiny details, and then cast them in metal. I'm always in search of the perfect specimen to add to my mold collection. When I go out foraging or hiking I carry a small box with padding for harvesting select mushrooms to incorporate into my jewelry.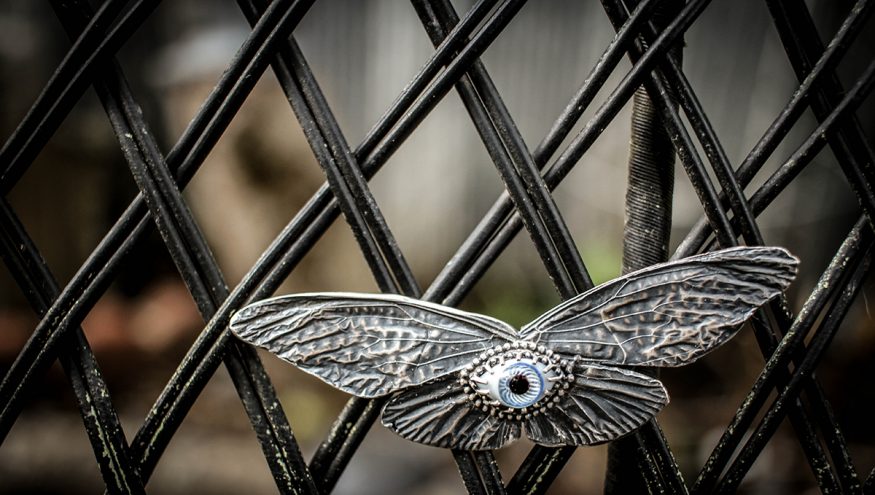 11: What are you currently working on in your studio? Do you have any special projects or showings coming up that we should know about?
KK: They're all a secret! I do have a long standing project that I've been chipping away at for years. Maybe putting it out here will light a fire under my butt to get it going. I want to create one-of-a-kind jewelry pieces that are miniature versions of some of the sculptures I made before I started my jewelry business… explore themes that might be more complicated to express in jewelry form: humor, horror, curious characters, sex and weird science. I want to incorporate these images into my jewelry work in the future, pieces which demand a story. Somewhere between sculpture and jewelry and animation I guess!
11: Where can we find some of your pieces?
KK: In Portland, my jewelry can be found at Altar, Paxton Gate, Wanderlust and Wildhearts, and Workshop Vintage. Each one of these businesses have a beautifully curated selection of handmade jewelry. All four shops carry a selection of my pieces that we've hand picked to fit their individual style. It's definitely worth checking out these stellar boutiques! »