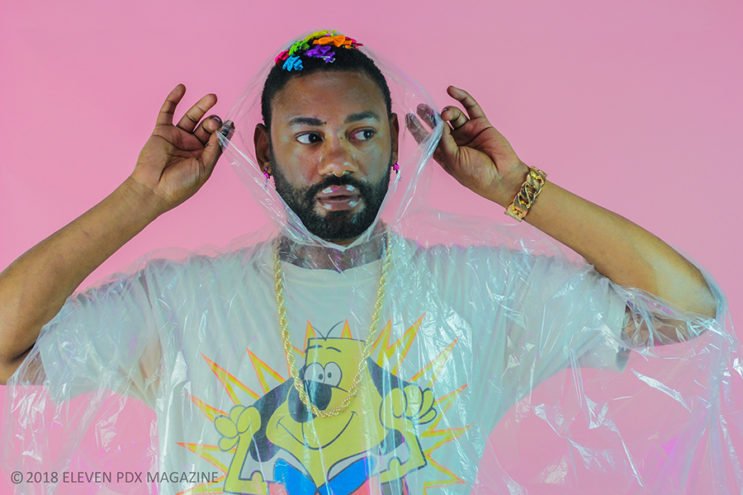 Live in Portland August 8, 2018 | Doug Fir
Chanticleer Trü is an amalgamation of every color you've ever seen mixed with every sound you could ever imagine. Stemming from classical roots, with a stunning background in piano, ballet, opera, jazz and musical theater, Trü loves to dance and is fueled by music that makes people move. Having lived all over the country, this boy knows how to make people get up and dance, and listens to everything from jazz to bumpin' house. Coming to Portland, Trü found himself DJing and promoting, thriving on the musical boom and upbeat social lifestyle. Having studied dance and musical theater in New York City, Trü wants to not only embody the human spirit through stories and art, but through the physical elements of dance as inspired by all forms of music.
Growing up in a musical household, his music, no matter what genre, is clearly influenced by the works of funk, soul and gospel. Alongside his impressive artistic resume, Trü has style out the ass with a confidence to match. Falling head first into a retro-futuristic reality, Trü's artistic vision is a blur of loud neon and sparkly disco under deep purple lighting. Sometimes he'll appear in a fringe leather jacket, busting out funky rock ballads (like in previous Portland project Magic Mouth), or maybe he'll be dancing on stage rocking out in bright colors, flamingo earrings, or really whatever the hell else he feels like rocking.
In collaboration with long-time friend Damon Boucher and local electronic music performer Natasha Kmeto, Chanti Darling is the pure expression of Chanticleer's full self, morphing day to day with inspirational ties to old R&B. Whether in the form of fashion, music, or dance, Chanticleer Trü makes sure to stay true to himself, expressing himself genuinely in all art forms.
ELEVEN: Where are you from?
Chanticleer Trü: I'm from a military family. My dad is from St. Croix, mom is from Chicago, we've lived all over the place. I went to high school in New York but we moved around a bunch. I lived there for a good part of my life.
11: New York City?
CT: Yeah, I went to high school there, and then a lot of my family is from the Gulf Coast, on my mom's side, so definitely a sense of home from there. My other family is all the way from Florida down to Houston.
11: Do you miss New York at all?
CT: Oh, sometimes. I've been in Portland for 7 years, which is the longest that I've lived anywhere consecutively in my life. So, I'm starting to get the itch kinda to test the waters again somewhere else. I've definitely considered New York again, but I don't know, maybe LA. I like the west coast a lot. I definitely want to spend more time in both of those places in the next year. I have some plans for New York in the winter, September I'll be in LA for a little bit.
11: How old were you when you started making music?
CT: Literally as soon as I came out the womb. My mom is a musician too and came from a very, very musical family. So everyone was kind of expected to, even if it's not something you do professionally–though most of them do, actually!
11: Any names that I would know?
CT: No, I don't think so, a lot of my cousins are session musicians. I have a couple cousins who've done backing vocals. My cousin, she's done backing vocals for Brandy. Singers like that, backing vocals on live tours like that. So we're a musical family. My mom put me in front of a piano as a toddler.
11: Was that your first instrument, piano? Do you play all the key parts in Chanti Darling?
CT: Yeah. I play some of them, it's a collaboration between me and Damon Bouche, my producer and my creative partner on this record, R & B Volume 1.
11: What other instruments do you play?
CT: I play some drums. Piano's my main instrument, but I'm proficient on a couple of others. I played saxophone in high school. I would say I started with jazz. Pretty eclectic musical household: jazz, gospel, funk. Those were things that would always play in my house.
11: Do you think that influences your current music?
CT: Definitely! I guess I consider myself a conceptual artist, so I go off of concept. I don't think I'm a musician that puts himself in any sort of musical box, I like to experiment. You'll hear that on this record. I was in a rock band before this, called Magic Mouth. Before that, I played in jazz clubs in San Francisco, musical theater–I just want to create an entire experience, a visual experience that is also partnered in the expression with whatever music is calling out to me at any given time. I don't want to be put in a box at all, I want to continue to experiment. Who knows, maybe make a noise record one day.
11: Do you make all the album art yourself?
CT: I conceptualized it and– don't know Photoshop–so my friend Eric Sellers, who's an exceptional designer, co-designed it with me brought out the image that I drew really crappily to real life. Also, I have this vision of collage that involved neon and retro-futurism, noir elements, you know like those '80s posters. Like you're in some weird astral plane and that's "The R&B" and there's this kind of bust of me and I wanted it to have a mixed-media kind of feel. I wanted it to come together really solidly. The illustration of me was actually done by my friend Carlos Reynoso, so I took that drawing and we built it out of that bust, with the neon and the weird retro-future graphic and the palm and the neon lights and all of that.
11: That's beautiful, and I think it pairs really well with the music. I'm excited to hear the whole album.
CT: I'm really excited for you to hear it! I'm excited for it to get to have a life of it's own out in the world, I've been working on it for a while.
11: When did you start working on it?
CT: I guess three years ago. Really really working, two years ago, but the ideas started three years ago. And even before that, you know how things start matriculating mentally? I think I made the first kind of contemporary funk song when I was still in Magic Mouth in maybe 2013-14 with Damon, just experimenting. That song is actually on this record too. It's been some time formulating coming together in my head as to what it could be, what it's turned out to be.
11: Is there going to be a Volume Two?
CT: Yes! Can't put a number out there unless there's going to be another part, so yeah. Already started working on it. I conceptualized the two volumes together, actually. At first I thought they might be three EPs and I kind of compressed them into two volumes, two LPs. Yeah Volume Two will definitely go in a different direction, so I'm excited.
11: I see you work with other artists in town. What local artists do you collaborate with on a regular basis?
CT: Damon Boucher, he's my biggest collaborator, producer, musical partner. We're really good friends, so he'd be the person I collaborate with the most. I did start working on a song with Magic Fades actually, for Volume Two, and I definitely want that song to be on the record. Natasha Kmeto contributed to Volume One. There's people I want to work with–I would say maybe Portugal. The Man, Marquii, who used to be a dancer in Chanti Darling, Blossom. I like to collaborate.
11: Does Damon Boucher produce all of your work? Recording, producing?
CT: Well, it was really weird because when I first started Chanti Darling, it's my solo project but I was wanting to try to maybe do it in a band format, which turned out to not be feasible–too many moving parts, too many people. Especially working with people who have their own projects too, no one could ever give enough time to it, but Damon has been a mainstay and a constant musical partner in Chanti Darling. We used to be roommates. So, he's the only constant in the project, Natasha Kmeto has a lot of stuff that she does. Me and Natasha throw a party together though, Jump Jack Sound Machine, it's all deep house music, it's every second Saturday at Holocene.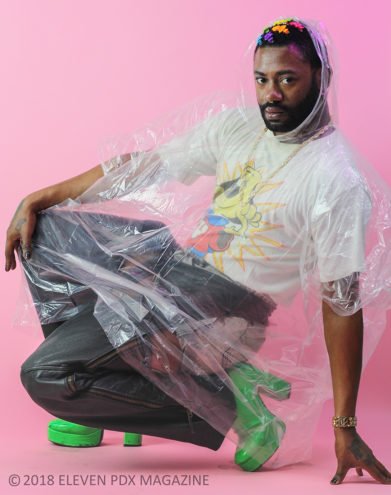 11: How long have you been dancing?
CT: As a kid I took ballet, tap, and jazz. I fell out of dancing for a long time though, until I started doing Chanti Darling. The last time I was actually studying dance was in San Francisco, so that was 2010. I guess around 2015 is when I started dancing again, and I always remained a part of the dance community, taking classes here and there. I studied dance as a kid. I studied dance in college. I was a musical theater major.
11: Oh, where did you go to college?
CT: I went to DePaul in Chicago. I did my first year at Tisch in New York and transferred to DePaul to study classical voice and vocal performance, so I studied opera. And then after that I went back to New York to get a degree in musical theater, so I studied dance on the regular, every day.
11: Is that something you wanted to do? Be an actor in musical theater?
See Also
CT: I have always just liked to perform! I like the dance, I like to make people dance. So, yeah, I've always loved that, I would like to do more of it I think one day. I did some musical theater tours after college. It's a very tedious, strenuous world. 6 days a week, doing shows–very intense, but very fun and rewarding. I was in the best shape of my life then.
11: Is that something you'd ever go back to?
CT: I think so. I would definitely like to do theater again. I would like to write a musical.
11: Tell me, what does your songwriting process look like?
CT: I'm constantly taking down ideas, recording melodies. We have this pocket computer with us at any given time, so you can take any notes that you need to, record any melodies that you want! There's even apps where you can go and record harmonies, if I want to flesh out an idea even a little bit more, on the fly. So, technology has made it very easy to be in a perpetual state of creativity, no matter what you're doing–I walk a lot, I take the bus a lot. At any given moment, if something strikes me, I can take it down, so I have notes, I don't even know how many. Sometimes I go back and read them, and I'm like, "What does this even mean?" That's one way that I continue to exercise and flex my creativity. I have lots of ideas, I'm inspired a lot by my relationships to people, but I'm also inspired a lot by my friends' relationships to people! Sometimes something might seem very familiar to a friend, 'cause it's kind of based off them like, "Remember that one guy you dated?" It doesn't have to be just me, I take from other people's lives too.
11: What are your biggest influences, musically? What were you listening to growing up?
CT: Prince, Sylvester, The Time, Patrice Rushen, Cheryl Lynn, Toto, Wham!, George Michael, Ella Fitzgerald, Sarah Vaughan, Diana Washington, the ladies of jazz–I was really obsessed with the ladies of jazz–Abbey Lincoln… Also, Queen, I loved Queen! Freddie Mercury was a huge inspiration to me, I love him. So beautiful too, everyone's past future husband.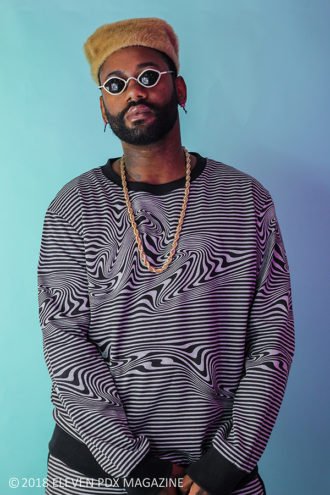 11: Did you see there's a biopic coming out about Queen?
CT: Oh! Who's playing him?
11: I'm not sure, it wasn't someone I recognized, but it looked good.
CT: I really can't wait! I love Freddie Mercury, I love his story, I love everything about Freddie Mercury. He's the type of freak that I want to be.
11: What about R&B artists?
CT: R&B artists! I completely skipped over that! Brandy, New Edition I liked a lot. Usher, Beyoncé, Destiny's Child, Santigold, MIA… Missy Elliot makes really great R&B music, even though she does rap. Have you heard some of the tracks she sings on? She's an amazing singer. Very inspired by her.
11: I feel like I should ask about your style and your outfits! You said you design a little bit, or you have?
CT: I have before, it's been a while. I suck at sewing, but I do conceptualize and design stuff with my friends who actually sew. I'm like, "I really want this, can you make it?" But I have lots of great ideas and I've kind of honed in on my own style. Every style is something that like, it looks one way to you, but to an outsider looks like this complete thing that is superimposed on this person, something you identify with that artist, and I guess I have some of those elements? People say I dress '90s, retro, or whatever. I don't really see that. People talk about '90s, but most of my clothes are older than the '90s. I'm not really trying to dress like any period at all.
11: Well I think nowadays there's this resurgence of loud color and people just assume that that's '90s. Just because '80s and '90s had a lot of color, but I don't think it's necessarily the same thing.
CT: No, I think it's an amalgamation–like, the color trends are definitely back, the pattern trends are definitely back, those are things I've always kind of fucked with, but there's a lot of new stuff with it too. A lot of shapes, new clothing trends that I never set out to be any sort of fashion. I like to just wear what I like! I like to express myself in clothing as well, and since I was a kid I've liked to dress up. I liked to stand out in that way and express myself through shapes and colors and patterns.
11: It's an art form, totally.
CT: Yeah, I think it just bleeds over from other parts of my life that I like to express. I'm an expressive person!