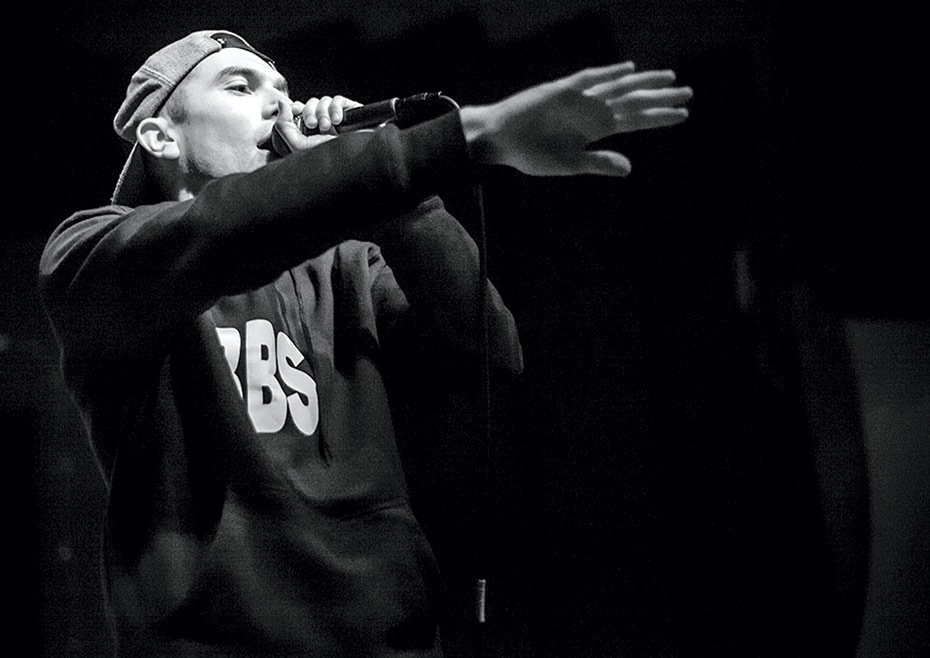 ELEVEN: I really feel like each record of yours represents a step forward (which is saying, something since they all are pretty dope) in a way. Is that a conscious decision, or is it something occurs totally naturally and randomly? Do you ever sit down and think, "I want this record to have more 'so and so' than the last one," or does it just pour out of you?
TOPE: I think every album being more and more personal is a natural process of maturing and becoming more comfortable being myself with my audience and in my writing. Every album I feel like I peel back another layer and tell another story of my life. I'm young, but my life has been crazy and I've seen a lot already—sometimes I even forget. I think after I wrote "Birthday Song" for my mom (RIP) on Trouble Man, I realized that I could be really honest and open while still staying in the pocket lyrically and timing-wise. After that I decided my story was enough, and that I didn't need to try to be anybody but myself or tell anybody else's story but mine.
11: What is the "Broke Boy Syndrome" to you exactly?
TOPE: Broke Boy Syndrome has a lot of definitions to me really. It's about people who work their entire life to break even. It's about people who grew up poor and had no one else to rely on for success but themselves. It's about people who finally start to see success/money and how difficult it is to maintain that success when you come from a dark place and everything around you is trying to bring you down. Broke Boy Syndrome is about the fact that most people never make it out of the social class they are born in. It's an underdog's story on trying to make it and maintain. "It's for my people who never had money, just got money, and they about spend money!"
11: BBS touches on a couple of very personal topics: your family, your father, the frustrations of an up and coming artist, money, etc. Yet your attitude remains positive throughout the record, which I found refreshing and engaging. Is it difficult to keep your mind right while dealing with all this? Is your music a positive outlet for your frustrations?
TOPE: I've always just been a believer in maintaining a positive attitude and trying to make a plus out of a minus. Especially with music. If you can't find a way to maintain your happiness through the ups and downs of trying to "make it," you're going to be in for a rough ride. I definitely deal with a lot of stresses; 2014 has probably been one the most personally up and down years of my life, but thankfully I've had my music this year to keep me moving forward and always having something to work on. The "rap game" in 2014 doesn't make ANY sense at all, and you can burn yourself out real quick trying to compete with these industry people with an independent budget. Music is my outlet for everything: positive, negative, and everything in between. I'm 100% honest in my music, so you get humor, anger, pain, party, love, everything.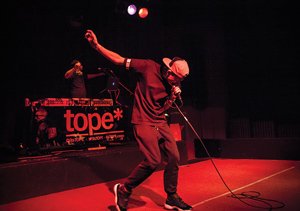 11: You mention Death Row and Tupac a couple of times. I was wondering what other artists inspire you, both past and present.
TOPE: As funny as it may sound or look, 2Pac was a HUGE influence on me as a kid. Same with Snoop, DJ Quik, Warren G, Too Short—west-coast rap was my favorite growing up, but I also loved BIG, Puff, Ma$e and that whole era. Ma$e still has joints to me. Bone-Thugs-N-Harmony was also a big group for me as a kid, as well as De La Soul, Tribe, and Wu-Tang. I don't think I really wanted to rap myself until I saw Eyedea (RIP) on HBO Blaze Battle in high school. He was amazing, the way he could use his humor and punchlines to humiliate his opponents. 8 Mile and battle rap were definitely making a comeback at that time, and I think then I knew it was something I could do myself. Later, underground hip hop like Hieroglyphics, Living Legends, Black Star, ect. helped me develop my tastes and what I really liked and didn't like in hip hop. J Dilla was the main factor to me starting to produce—I loved his work with Common, Slum Village, and The Pharcyde. Jay Dee helped me realize how much soul music was a part of the rap that I loved. After getting into production, I dove deeper into the soul music realm and started discovering world music (Fela!), gospel music, and most importantly jazz! Today I'm influenced by a lot of artists, but mainly life itself. New artists I check for, though, include Dom Kennedy, Drake, Logic, Elzhi, BJ The Chicago Kid, Terrace Martin, Overdoz, Kendrick Lamar, Troy Ave, Jeremih, YG, Nipsey Hussle, Fly Union, etc.
11: Follow up to that: who are your favorite Pacific Northwest hip hop artists right now?
TOPE: Favorite NW hip hop artists right now include HANiF f.k.a., Luck-One, Mikey Vegaz, Eighty 4 Fly, Thaddeus David, Stewart Villain, Trox, Cool Nutz, Lifesavaz, Wes Guy—to be honest I don't listen to hardly any rap from the NW.
11: Speaking of the Pacific Northwest, I've been wondering if it's ever frustrating to come from a place like Portland that's so synonymous (at least to the media) with indie rock? Have you ever considered leaving? You rep Oregon pretty hard on the record, which I thought was very cool.
TOPE: Making hip hop in Portland, OR is definitely not the easiest place to get recognized or even for people to take you seriously. I think a lot of Portlanders wish they lived or were from somewhere else, so it's hard for them to support a hip hop artist from their backyard as opposed to one from NY, LA, or even Seattle. A lot of people don't understand why you would even live in PDX and make hip hop because they tie the music to an urban culture—something that lacks in our city. I can't seem to make sense of why Seattle artists are able to come down here, tour, and sell out shows, while artists from this town have a hard time getting a free show to capacity. We have an incredible rock scene here, and the majority of people are white so it only makes sense that rock is the dominant genre in the media and around town in general. For every person that has a Radiation City album on their iPod, they probably have a Kanye West album on there too. I guess it's just a matter of getting the right music into the right hands of the people. As far as the media and other artists in Portland, I feel like a lot of people only want to support you when you're "up and coming." When you start to threaten other people's position of success, they start to get uncomfortable. This year has been an interesting one for me, because I've been trying to step out and really be my own artist, carve my own lane, and it's crazy to see who is riding with me and who has gotten left behind.
11: Do you feel like Portland's and the Pacific Northwest's hip hop scenes in general are getting more attention (finally) with the emerging popularity of acts like Shabazz Palaces, yourself, THEESatisfaction, and Nacho Picasso?
TOPE: I definitely feel like the NW scene is starting be recognized on a national scale. You have artists like J Pinder, who is writing for Dr. Dre, Royce The Choice, who just got signed by DJ Mustard, Trox producing for 50 Cent, DJ Fatboy djing for E-40, Illmaculate battling all over the world, and Macklemore and Ryan Lewis becoming international mega-stars. People are starting to check, but I think a lot of that attention is still focused on Seattle. They deserve it though—Seattle has a great scene– artists like Sol, Grieves, Mack, Grynch, BFA. I really respect those dudes' grind.
11: Was the massive success of Macklemore and Ryan Lewis a good or a bad thing for the scene here?
TOPE: I think Macklemore and Ryan Lewis' success was great for the region. I don't really see any negatives from the issue, besides the "next-Macklemore" issue everyone loves talking about. I'm proud of those guys. I've worked with both of them closely and see them rise, fall, everything in between. They definitely deserve all the success they are achieving in my opinion.
11: What are you plans following the release of BBS? Touring and whatnot?
TOPE: Plans for after BBS include touring (including a European run), more videos, remixes, and releasing more merch to go with the album. I really want to be able to tap into some younger markets and be able to share my story with high school and middle school aged kids. I think BBS is something kids trying to figure what they want to do with their life can relate to. »
– Donovan Farley