Goose & Fox 9/12/2013 @ Doug Fir
The moral of the fable about the fox and the geese goes something like this: Mankind have an enemy whom they well know, Who tempts them in every way ;
But they, too, at length shall overcome this foe, If wisdom's right law they obey. Local folk/pop duo Goose & Fox have a much simpler, profound interpretation of the story, one "about an age-old relationship, and about questioning who truly has the upper hand." Allison Hall's quote has got me thinking the past few days about those dynamics, which resonates with any type of relationship. Her and partner Noah Woodburn express these dynamics and everything that goes with it on their first self-produced and recorded album, My Mouth, the Sea.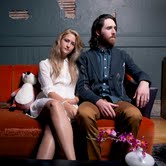 Recorded at Woodburn's Portland studio, New North Sound, Hall's voice has just the right amount of her Georgia twang and Noah's guitar work compliments her addicting voice nicely. Check out song previews on their website gooseandfox.com then come out to Doug Fir tonight and sing along with them, where they will be performing the new album in it's entirety with a full band, for a pre-release party, hooking up their friends and Kickstarter supporters with a chance to score the album a few months early (due out in November.)
This show will be sure to stir up some relatable emotions, like the very first lyric from the title track, "If I am so different to you now, then how did you did kiss my lips so slowly, slowly…" and "I just wanna call this home for a little while" on song "Alone Somewhere," which is an awesome track sung with Noah. Bring a lover, best friend or a stranger and enjoy an evening of original material. Goose & Fox will be supported by De La Warr and Ruby Pines.