The Newest Pixie: Paz Lenchantin, Legendary Alt-Rock Band's First New Member in 30 Years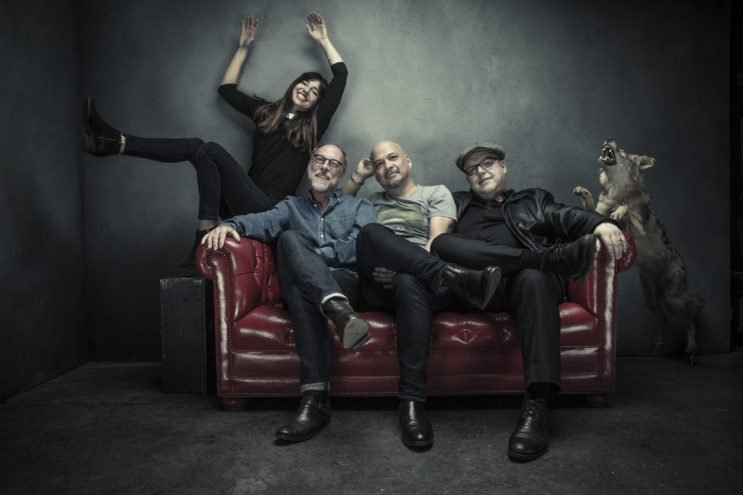 It can't be easy being the newest Pixie, and the first non-Kim to play bass and sing backup. After Kim Deal's surprise departure in 2013, Kim Shattuck of the Muffs joined as a touring member in the interim. Setting aside all the landmark Pixies albums Kim Deal contributed to, there's still the Dandy Warhols' literal ode to her coolness to contend with. A tall order, no doubt.
But Paz Lenchantin already had a storied career as a musician in Los Angeles before joining the Pixies for their new, searing reform to form, Head Carrier. Her violin can be heard on Queens of the Stone Age's Songs for the Deaf, in the background of Miami Vice (2006), and on Jenny Lewis's [best] album, Acid Tongue. But the piece of her resumé that caught my eye was not the most flashy; David Berman of The Silver Jews has called Paz, "the first fundamentally mystic person that's ever played in the band." That's quite the accolade, but it left me unsure what to expect. Chatting on the phone, I found Paz to be personable and thoughtful, quite content to find herself as the newest Pixie.
Read our interview below for the full picture, or catch the band at one of their three shows at the end of the month at Roseland Theater (11/30, 12/1, 12/2).
Eleven: Who were The Pixies to you before you first got to play with them?
Paz Lenchantin: Well, The Pixies were Joey Santiago, David Lovering, Kim Deal, and Black Francis. And now it's David Lovering, Joey Santiago, Black Francis––who I know as Charles––and me, myself. And that is quite the big difference: to see something from afar and then all the sudden you're inside of it.
What's your experience of it now?
The difference would be knowing something because of music and then knowing something because of a relationship. I have a great relationship with these fellows—they're like my brothers and it's been such a joy to collaborate with these awesome beings. They're not just great musicians—they're also great people that I enjoy hanging out with and making music with, touring around the world with. It's pretty romantic!
I gather from the press info that they all give you credit as the not-crazy one. Is that how you see it?
Oh! Um… that I'm not crazy?
Or the least crazy, the one that balances things out.
Okay—well that's good to know… that I'm not crazy. Maybe I should stop paying my therapist, then. Tell her, "You know what? I think I'm cured.
Yeah, show her the press release.
I'll show her the press release [laughs]. "I'm not crazy! It says so right here."
I was listening to Head Carrier and I was really surprised by how much it sounds like an older Pixies album. I'm wondering if, working on it, there was either an effort to sound different or to sound more like the roots of the band. Did you pick up on that either way?
I think that there's a few ways of looking at something. On one hand, yeah we didn't really talk about anything. We were just four people in the room playing music. On the other hand, there is a new member and this new member is me—I'm talking in third person because I'm crazy [laughs]. The new member, myself, has been obsessed for the past few years––since I joined the band––with The Pixies. I was listening to every song, every single nuance. I pretty much dedicated all my listening time to embody the sound and really care about everything that The Pixies had done to date.
So my main influence, unlike them—their influence could be anything—was the Pixies. So maybe you can blame me for bringing back some of that sound. It wasn't anything forced.
What was your favorite album when you were in this preparation mode?
It was constantly changing—it's so cool. I'm sure I'm not the only one to say that. I'm sure there's a lot of Pixies fans out there who'd say, "Yeah, it's always changing for me too." And that's what's so ever-cool, how surreal all of their records are. Like you could be staring at something and it's literally changing in front of your eyes. My first favorite was Bossanova, production-wise, just the way it sounds. It's so full of colors, they added strings, and it has an A/B feel to the record. To me it just sounds so complete.
Of course, my first record was Doolittle, but I'm nostalgically in love with Surfer Rosa…. I can go on and on—it's like every single record offers something different. But I will have to say, at this present moment, my favorite record is Head Carrier. It's kind of a little treasure for me. It's my first Pixies record. It's one of the things I'm proudest of that I've done to date, so I can't turn my back on that.
I'm sure you can listen at a lot more depth, too—having heard it in pieces before it all came together.
Yeah, and we pretty much play every song off it on the road. We don't do the entire record at every show, but every song is in rotation. It's just really fun to see how those songs blend in with others from the back catalogue.
A couple years ago I was living in Boston and everyone's favorite rock club there, TT the Bear's Place, was closing and the Pixies did a surprise show. That's a room that, especially in Boston, is just way too small for this band. I'm wondering if you get many chances to play intimate spaces on the tour?
There's been a few and we really have fun with it. We definitely do a lot of radio shows too, which is a real intimate setting, acoustic shows. We played Hyde park two months ago, and then we played a small, little club for a radio show with an audience.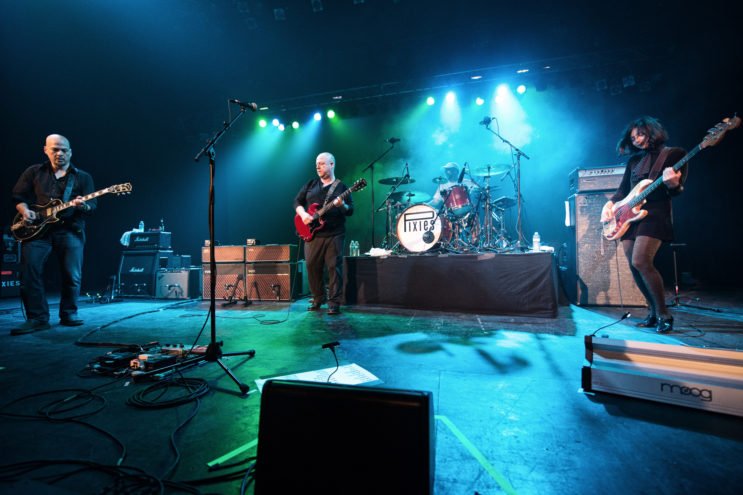 Well that's cool.
It's super fun.
You grew up in LA, right?
Yeah, actually just today, September 14th [we talked before the band hit the road], is my 40th anniversary of living in California.
And your dad was a professional musician, right?
Both my parents—they were a piano duo. My mother just texted me the program photo—I wish I could send it to you, it's pretty incredible––the promo shot for my parent's concert duo. They're a pretty stunning couple… the piano duo from Argentina coming to conquer Woodland Hills, California.
Did you see much of the workings of the music industry in LA? How did it seem to you as a kid?  
It's weird being a kid, you just think everything's normal. I was raised with literally like twenty pianos in the house. I mean every room had a piano mainly because my dad would also refurbish them, so growing up I'd have a soundtrack to my life—the piano tuner. There was always Ludvick––that was his name––Ludvick the piano tuner. After school I'd come home and hear the A that was sharp, and then it was flat, and then it was almost right, and then he'd finally get it. Just banging on notes—that was the soundtrack of my life.
I thought that was normal and my friends would come over and think that was really weird, but there was a point where they'd say, "Wow you're so lucky—so lucky you get music." I never really understood this "lucky." I was like "What do you mean? Aren't we all lucky?" Now I see how lucky I am and was—I had an awesome upbringing in music.
My mother, when she was pregnant, would do competitions. She did a Bach competition with me six months in the womb. When I was born, she would sit me on her lap, little baby Paz, and she would put my hands over her hands while she practiced the piano.
Oh wow.
It was a very natural thing in the house, music just like a language.
So I saw that you helped work on the track "All I Think About Now" as a tribute to Kim Deal. What were your goals when you were helping to write that song?
No goals. It was the last song we recorded for the record. We were doing a lot of pre-production for the other songs. We had a good twenty that we had learned and were ready to record when we went to RAK Studios in London.
There was actually one other song, "All The Saints," it was a little bit of, for lack of a better word, a problem child. We just didn't know how it was going to pan out. There was talk about it being totally stripped down, acoustic, and something didn't sound right to me about that. Something was just like, "Wait—I get it, it's kind of a softer song and all, but I don't know." I almost felt like that song was not going to make the record because it's not strong as an acoustic song, in my mind.
Right before we went to record "All the Saints," I was with Joey [Santiago] and Black Francis. We three lived together in a little apartment attached to the studio. So we'd make coffee in the morning and talk about music, and what we were going to do that day. Anyway, I sat down with Black Francis and we had some coffee and I was like, "Listen—I have to voice something. I'm just not feeling this acoustic thing and I really, really love this song. It's like one of my favorite songs. I just feel like we're approaching it the wrong way, trying to make it go 'here's a chorus, here's a verse, here's another chorus.' Instead why couldn't it just be a poem, a little bit more surfy, like the song 'Ana' on Bossanova. It's kind of just like a little ditty that comes by, and has a little instrumental. It's surfy with its guitar, and it's just not trying to be anything."
He agreed. We got really excited with our seventh shot of espresso and went into the studio and kind of cornered Tom [Dalgety, producer]—we might have scared him. We were like, "Listen we've got this idea." And we explained what I explained and he said, "Alright, let's try that." And I was so happy to see it, track twelve, on the new record, definitely one of my favorite songs.
I know you were asking about another song, "All I Think About Now," and I gave you "All the Saints" instead. "All I Think About Now" was literally last-minute, Charles and I were kind of getting inspired in the apartment and I came up with a little demo that was kind of influenced by something he was working on. Just like, "Hey I wrote this thing, I think you should listen to it." He listened to it, was like, "There's something special about that song. I think you should sing on it." I was like, "Really? OK. You write the lyrics." And he was like, "OK, what do you want to sing about?"
I was like, "Wow, what do I want to sing about?" And then it was so easy––it just came out. I want to sing about Kim. I feel like it's super important to pay her respect on this record, knowing there's a new chick on it. I just wanted to give her thanks for everything that's she's done. He went upstairs, wrote a little thank you letter, and I sang it. I was also happy to see that on the record because it was literally just thrown together, last minute. All the other songs were really thought about, and here was just this last-minute song that always fun to have when you do a record.
Just natural.
Yeah, really natural. It was really exciting for me to do it, to sing lead on a song on a Pixies record. I know there were other songs that didn't make the record and to be like, "Wow, my song made it" is really cool. That's one song that we have played every single time live. So expect it when you come see us in Portland!