Preview: The Antlers @ Crystal Ballroom
It's ELEVEN's first big spring show, our first show at the Crystal Ballroom, AND it's kicking off KPSU's "30 Shows in 30 Days"!
Eleven PDX, KPSU, and McMenamins Presents
The Antlers, Shaprece, and Musée Mécanique
McMenamins Crystal Ballroom
Last year's MFNW headliners The Antlers return this Wednesday, April 1st – no foolin'! Supporting the show is the talented Shaprece (Seattle, WA) and local favorites Musée Mécanique.
This ALL AGES show is $17 adv / $20 at the door of the Crystal Ballroom.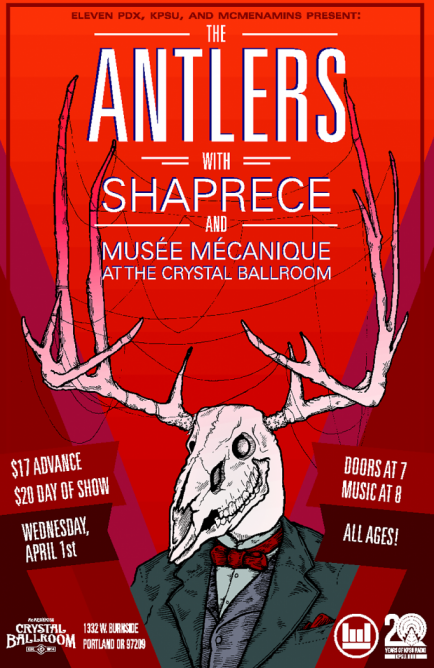 [soundcloud url="https://api.soundcloud.com/users/30342759″ params="auto_play=false&hide_related=false&show_comments=true&show_user=true&show_reposts=false&visual=true" width="100%" height="450″ iframe="true" /]
Regarding the Antlers:
Sometimes your craft develops in ways you never thought imaginable. Sometimes it's out of our inner darkness and the muck of our lives that leads to understanding, salvation and a greater curiosity towards truth, whatever the hell that means. That's precisely what happened to Pete Silberman and The Antlers. What started out as a place to create works based on internal and external conflicts eventually grew into a beautiful musical endeavor. Silberman self-released his first nine track album Uprooted in 2006 and followed up with a second release In the Attic of the Universe on Fall Records in 2007. The Antlers then expanded, adding members Michael Lerner on drums and Darby Cicci on synths, trumpet and upright/electric bass. The band released Hospice in 2009 and a remastered re-release was put out by Frenchkiss Records the same year. Burst Apart, the band's fourth studio album was released in 2011 with critical acclaim across the board, including the likes of The Guardian and The New York Times.