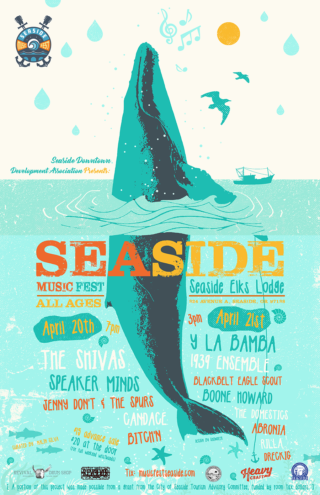 What could be better than a small music festival of dreamy Portland bands? How about listening to these tunes along the gorgeous Oregon coastline?
The Seaside Downtown Development Association thinks so too, calling on Portland native Nalin Silva to gather a solid crew of musicians to perform at the first ever Seaside Music Festival. With the help of KMUN Coast Community Radio, Revival Drum Shop, Revolver Studios and Owen Walz, the event will be held at the Seaside Eagle's Lodge (324 Avenue A in Seaside) on Friday April 20 and Saturday April 21. Tickets start at $15 for pre-sale, $20 at the door.
Need more reasons to check it out? Well, the line-up couldn't be more drool worthy. The bill is stacked with some of Portland's best bands: Y La Bamba, 1939 Ensemble, The Shivas, Speaker Minds, Bitch'n, Candace, Dreckig, Boone Howard, Rilla, Jenny Don't & The Spurs, The Domestics, Abronia and Blackbelt Eagle Scout.
This event is all ages, so bring your family and friends.