Show Preview: Sundown In Bridgetown Featuring Night Beds (7/31)
Night Beds, the brainchild of Winston Yellen (with assists from his brother Abe) first appeared on most music fans' radar after his sparse and gorgeous 2013 release Country Sleep.  Although that record was considered by many (myself included) to be one of the best alt-country records of the new millennium, Yellen told me in a recent interview that the record was largely not indicative of who is now musically, or what he was raised on.  Enter Ivywild, the stunning new collection of R&B tinged songs from Night Beds that owes more to J Dilla, Beach House and D'Angelo than Gram Parsons.
Burned out by success and touring- and the excesses of both- and at the tail end of a relationship, Yellen buried himself in his work, with marathon recording sessions that featured 30 minute, largely improvised versions of eventual album cuts.  Gone were the strings and rustic feel of Country Sleep, replaced by sensual, collage-like R&B about heartbreak, existential loss and what to do when it's after the after party, and you're the only one still awake.  Featuring the work of over 20 musicians and the debut of newcomer Heather Hibbard, whom Winston discovered via a YouTube of her covering one of his songs and subsequently flew out to the sessions.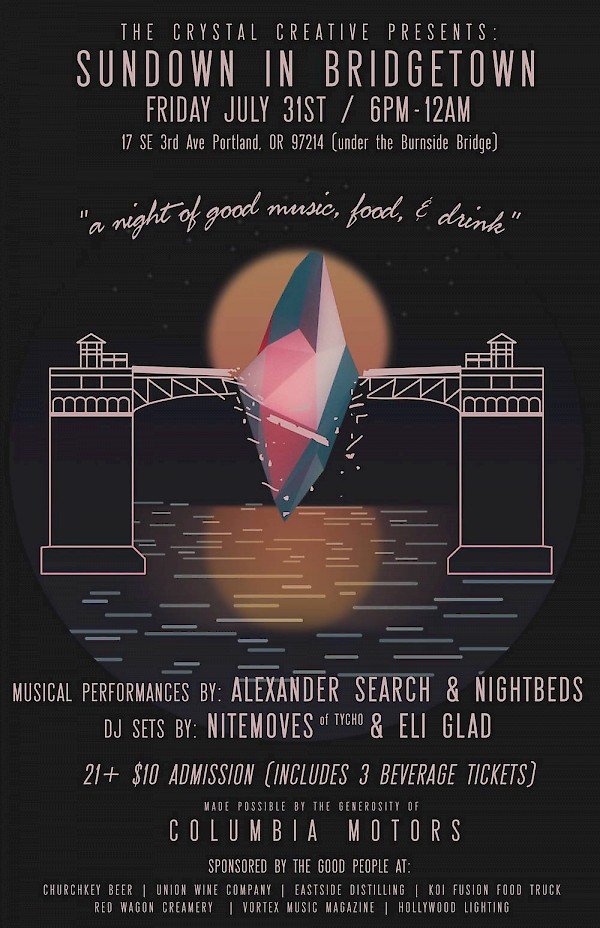 Ivywild is a stunning work: opulent and excessive in all the right ways, intriguing, sensual and heartbreaking.  The record also places Winston Yellen as one of today's more interesting and obviously talented performers, whose creative output won't be ruled by what's expected or sells.  This event promises to be very cool, with other acts on the bill, a very affordable price (which includes three beers!) and the Burnside Bridge providing shade… but for me this is mainly an exciting treat to hear these songs debuted live by Night Beds.  Yellen is strongly considering a move to PDX, let's give both he and Night Beds a reason to stay tomorrow night.
https://youtu.be/hnrEV4PI0WU