Down The Rabbit Hole at Pickathon 2015: Encounters with a Hip Hop Heavyweight, a Canadian Shaman and a Punk Rock Angel
Editor's Note: since we already posted a more traditional recap of Pickathon 2015's wondrous festivities right here, we thought we'd let Donovan run a little wild when sharing his experiences Saturday night at Portland's (and the country's) best music festival.  Things got a little weird, but as the saying goes, "When the going gets weird, the weird turn pro."

It had been a rough start to the summer: my girlfriend and I recently broke up, I'd moved out of our apartment into a new place, I'd just had a very serious health scare, and then there were all the usual "How am I going to pay rent???" concerns inherent with bohemian existence.  In short, my psyche and I needed a cleansing, a baptism of the soul via the power of the live music experience and amplified by the one-of-a-kind magic that is Pickathon.  And with a minor assist from eating enough mushrooms to make Ken Kesey blush (more on that later), I found just what I was looking for.
Saturday night's festival schedule immediately stood out to me: There were bands playing that I was dying to see from noon until about 1:30 in the morning.  Of particular interest for me was the trifecta of future-retro soul sensation Leon Bridges, ever-prolific shredder Ty Segall and post-punk mind-blowers Viet Cong playing back to back in the Galaxy Barn, followed by Malian rebel rockers Tinariwen (who are literally rebels) playing a late night set, and some Shabazz Palaces thrown in for good measure.  Viet Cong in particular held a great deal of interest for me as I'd heard many stories about their amazing live show, and figured it'd be a good idea to be in an altered state of mind for the occasion.
What I did not count on, however, was running into a friend before Shabazz Palaces and devouring the mushroom chocolate she handed me.  Normally this in and of itself wouldn't be that big of a deal; however, on this particular evening I'd already ingested some psilocybin of my own, and for the next six hours or so the opposing mushroom factions would wage a war in my brain to rival our country's own battle with the actual Viet Cong.  I, of course, should have taken a little and seen how I felt before devouring the thing like a gluttonous madman.  When I asked my friend how strong they were and noticed her formerly blue eyes had darkened to crepuscular discs through which no blue nor light could escape, I knew that my spiritual passport was about to get another stamp.
But this being Pickathon, and I being me, I knew (hoped) things were going to be fine, and almost immediately the universe started throwing cool shit at me.  As I walked backstage, I noticed Ishmael Butler of the gloriously strange and creative hip hop duo Shabazz Palaces pacing back and forth, rhyming to himself and getting hyped for their set while puffing on a joint like it was an oxygen mask and he was deep sea diving.  I heard the hazy, hip-hop-from-outer-space beats began to emanate from the stage and followed Butler, now visibly charged up and nodding his head, up to the side stage area.  The visual was akin to a boxer approaching the ring for a title fight and I half expected Butler to start shadow boxing and to suddenly hear Michael Buffer cut in with, "In this corner: hailing from Seattle, Washington and weighing in at…"  As Butler climbed the stage to rapturous applause, I became aware I was standing there with my arms aloft in a victorious, Rocky-esque pose when the girl next to me could no longer contain her laughter at my joyous enthusiasm.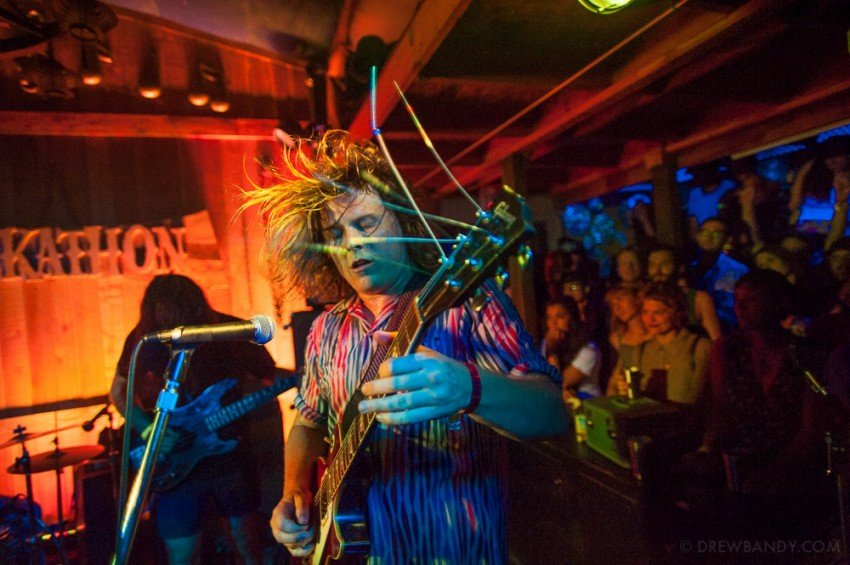 After catching most of Shabazz Palaces' excellent (yet again) set, I floated over to the jam-packed Galaxy Barn for Ty Segall's set with the "Roling Stons" backing band he'd assembled for the fest.  The previous day in the Barn I'd caught a band (who shall remain anonymous) and I'd been very impressed with their set…I was also mightily impressed with one of their members- both her badass musicianship and the fact she was quite the babe.  I thought (half jokingly) to myself that I should set up an interview with the band so I could meet her (maybe not joking at all, actually).
I mention this because as I waited for the bartender backstage to pour my beverage, while I tried to reconcile the fireworks show going on in my brain with being in a public setting, I turned around to see the aforementioned badass gal standing right beside me.  I think I muttered/shouted something genius like, "Hi! …It's you!" and tried my best not to mention that beyond the fact that her hair was seemingly floating in the air of its own accord, she also had what appeared to be a golden halo not unlike the Madonna's floating above her head. Fortunately for me, this Punk Rock Holy Mother was a benevolent one, and took pity on me– probably assuming that I had some sort of speech impediment or that I was Ty Segall's "special" brother.  As I strained to comprehend and navigate the basics of our conversation a strange and wonderful thing happened: I looked up at the screen showing the action on stage and noticed Ty Segall himself had stopped shredding in the midst of the chaos in order to address me personally.  "How lovely of Ty", I thought (not stopping to wonder how he was seeing me through the TV…or the wall) as he turned and gave me some sage advice.
"Hey dude," said Ty wisely, "Just tell her you took too much shit and are high as a kite man.  Look at her, she's cool!  It's like Saint Patti Smith the Benevolent over there!"
"Oh cool," I thought, in a psychedelic haze,"Ty can see her halo too."
So, taking heed of Mr. Segall's life coaching, I blurted out something along the lines of how I thought she was super cool and endlessly charming, but that I was on enough mushrooms to make The String Cheese Incident seem tolerable, and while I was capable of maintaining my wits, there would be no charming banter from Donovan Farley on this day.  Fortunately, Saint Patti Smith the Benevolent again extended her angelic kindness, and as I began to ask the bartender for a pen so I could get her number, she patiently reminded me I had a pad and pen in my front pocket and I'd been using it to take notes (you should see these "notes" by the way).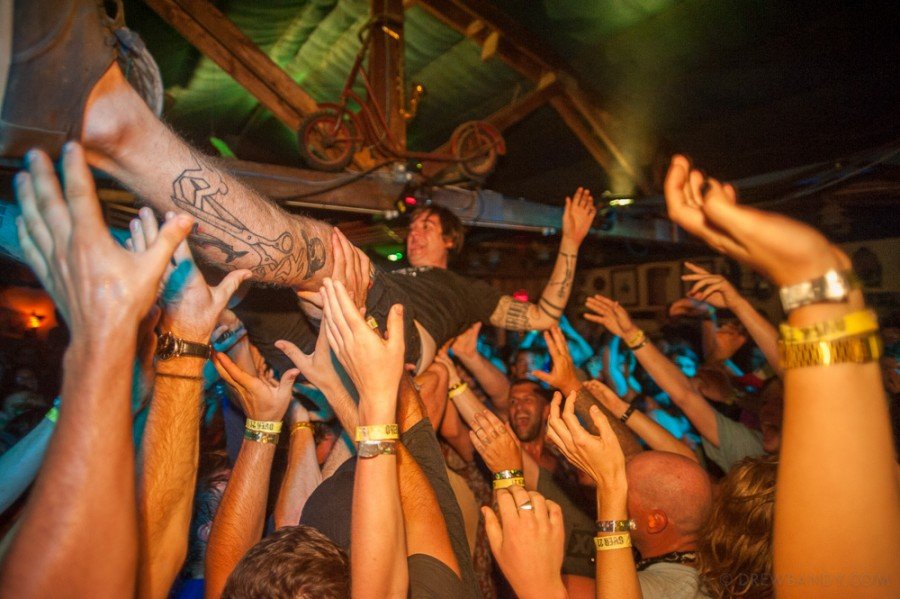 After this somewhat embarrassing (but mostly rather hilarious) encounter, I hung out on some clouds for a while enjoying Pickathon's majestic Happy Valley scenery until it was time to float back down to earth for Viet Cong's set.  Viet Cong's powerful music feels like a buzzsaw through your psyche when you're sober, so to say the aural assault perpetrated upon my ears was impressive would be like saying there is some water in the ocean or that a few dudes in Portland have beards.
Vocalist/bassist Matt Flegel and drummer Mike Wallace started the Viet Cong project out of the ashes from the gone-too-soon Calgary band Women.  They then joined forces with guitarists Scott Munro and Daniel Christiansen to form one of the most awe-inspiring rock bands in today's scene.  The muggy atmosphere in the Galaxy Barn was not unlike that of the Mekong Delta that evening, and in that setting, Viet Cong conjured up an ocean of gorgeous and challenging art-punk so intense I thought the barn was going to ascend into the heavens at any moment (Good thing I already know that angel huh?).  For the ensuing hour in the vision quest-like setting of the Galaxy Barn,  there was no poverty or hunger in the world, our leaders were honest and benevolent, and no one was lonely.  Dogs and cats got married (equal marriage rights!); Jews and Muslims lived in peace, and every terrorist spontaneously combusted.  There was only art, expression and thunderous, unadulterated joy.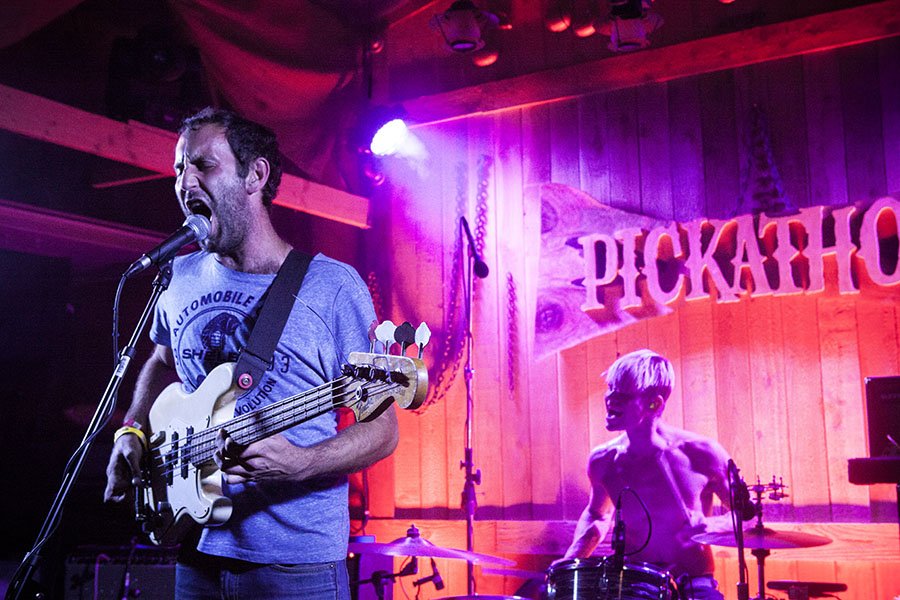 I emerged from my kaleidoscopic reverie and Viet Cong's shamanistic spell feeling like I'd just received the benediction I'd been looking for: something beautiful and filled with universal truth had just occurred.  So did I stumble back to my tent to quietly reflect upon my newfound knowledge?  Nope.  I went and saw a band of guys from Mali dressed and looking like they expected to stumble back into the Sahara and start waving AK 47s around at each other at any moment.  I mean, look at these guys:
Although the members of Tinariwen look as though they might saw you in half with a machete at any moment, and despite the fact that II don't have a clue what they're singing about, their joyous desert folk-rock is something to behold in any live setting.  And unless you're able to catch them the next time you're summering in Mali, I'd wager there is no better setting to experience Tinariwen in than at Pickathon, during a late night set, on a headfull of shrooms.  Having just survived the Battle For Donovan's Mind with some help from my Viet Cong allies (never thought I'd be typing that sentence) and reached a peace accord between the warring psilocybin factions in my mind, I just sat back and took the whole amazing scene in, as happy as I've ever been to be alive.
Pablo Picasso once said, "The purpose of art is to wipe the dust of daily life off our souls," and never in my own art-filled existence on this earthly plane has that held truer for me than this year's Pickathon.  Pickathon exemplifies what it means to live life as art, existence as art.  From the massive effort the organizers put forth to be a completely sustainable festival, to the expressions of awe and wonder on little kids' faces as they watched a band and thought, "Hey, I could do that!", to the fact that the stages themselves are works of art: Pickathon is a testament to the possibilities of life and art and very much a reflection of nearby Portland.  It's an oasis of selflessness in a world that often feels utterly doomed- a place where you see life's potential (and your own) shining on like the craziest of diamonds.  It's a place that makes you realize this is a beautiful world, and it's worth fighting for.
It certainly doesn't take a trip on a rocket ship made of mushrooms to comprehend these truths, it's just that I'm a professional you see, and these are the sacrifices I'm willing to make for art.
Check out two big galleries below from the entire festival.
Caitlin Webb's photo gallery:
Drew Bandy's photo gallery: