GZA Brings Good Vibes and On-Point Delivery to Star Theatre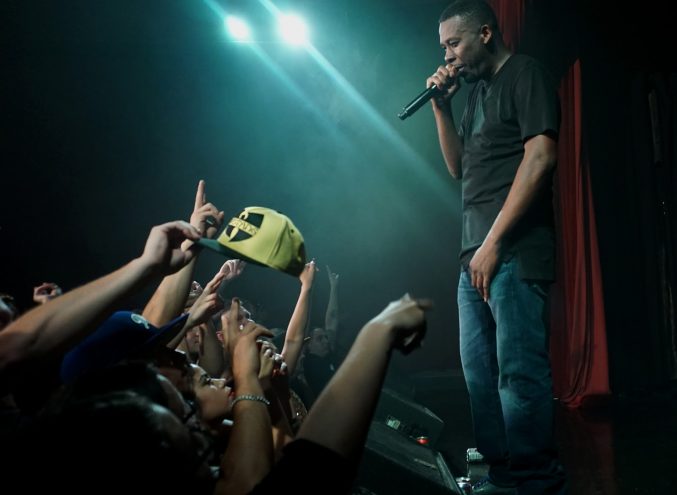 Founding member of the Wu Tang Clan, GZA/Genius, rapped for adoring fans downtown at the Star Theatre last Wednesday. He delivered classic verses from 36 Chambers and his cousin Ol' Dirty Bastard's solo hit "Shimmy Shimmy Ya," along with his own hottest tracks off Liquid Swords and more recent albums. He teased an a capella verse off his much-delayed album, Dark Matter; the songs are said to build off his conversations with leading physicists on the origins of the cosmos.
Wu Tang Clan's nine emcees hit a certain mark of rowdiness in 1993 with their seminal debut Enter the 36 Chambers. But GZA's role in the Wu Tang was always as their sharpest lyricist, never as hype man. On stage he energizes the crowd by leaning back, not forward. He casually cued his screaming fans to spit back the rhymes at the end of his lines, coordinating with his DJ to mute the track each time. As the crowd loses their minds with excitement, GZA is bemused and affirming, as though babysitting our collective acid trip. Often he'd stop the music to deliver verses at an elastic tempo, slowing down on the tightest and thinkiest turns of phrase. Getting older hasn't hurt his chops any–his voice came through loud, clear, and rhythmically rock solid.
GZA availed himself to the crowd with a good-natured chill. "Let him live, let him live. Don't kick him out. No one's gonna get hurt in this motherfucker," he assured Security after an over-ardent, heavyset fan failed a stage dive. GZA stooped down to let another fan tell him a secret. He also signed records, towels and old photographs handed to him from the crowd, never missing a beat. He pocketed a couple joints as well, West Coast tokens of appreciation.
I was glad to hear GZA rap through other Wu Tang members' verses, but this was tinged with a bit of sadness. He closed the show with some verses off the classic, "Da Mystery of Chessboxin'," ending on the late Ol Dirty Bastard's line: "In-truh-doocing the GHOST FACE KILLLAHHHHH." But Ghostface never came.
Written by Tyler Burdwood
Photos by Jared Andrews