Show Review: Project Pabst
It's hard to think of a better way to end the summer festival season
than on the banks of the Willamette River in Portland, Oregon, at an affordable festival with an amazing lineup, sponsored by the company that makes Portland's favorite non-craft beers: Pabst Blue Ribbon, Rainier and Olympia. Project Pabst, as the celebration was christened, was a superbly curated "love letter to Portland" (in Pabst's words) that was perfectly befitting of this wonderful city. Pabst has long been the beer of the workingman/woman/artist/musician, a true product of the people, even if in recent years it has become somewhat derided a symbol of "hipsterdom" (whatever that silly word means now).
Rare is the city that so utterly and completely backs up its lofty goals of social progression and forward thinking as Portland does, and perhaps rarer is a city so filled with truly amicable and kind, creative people. Mix that with an amazing nightlife that includes top-notch food and drink options, a nearly unrivaled music scene and vegan strip clubs and it's easy to understand why a Milwaukee-based company decided to throw a party here. Mother Nature even gave her approval to the weekend, which featured perfectly sunny skies and temperatures in the mid 70's each afternoon.
Project Pabst truly celebrated Portland as well, by featuring all local food trucks, late night shows at four different downtown venues, free rides towards downtown on the trolleys and local artists competing on-site to design next year's unique can. Project Pabst also featured fun, weird things Portlanders enjoy like massive unicorn statues and a free barcade tent with tons of rad old school video games. As entertaining as these distractions were, I honestly was only able to give them a cursory glance and walkthrough, as the lineup intrigued me to no end going into the fest, and almost every act we caught lived up to the excitement.
A few highlights from the fest, of which there were many:
The Violent Femmes are just fantastically fun. The band shares Pabst's hometown and provided a wonderful performance that was spot-on and accentuated by horns and additional instruments at all the moments. The band also seemed to be having the best time of anyone in the joint, with Brian Ritchie telling the crowd he first drank PBR 49 years ago when he was five and that his father drank it for 60 years. Once the doctor told him to stop, he explained, "He croaked. Moral of the story: drink Pabst or die."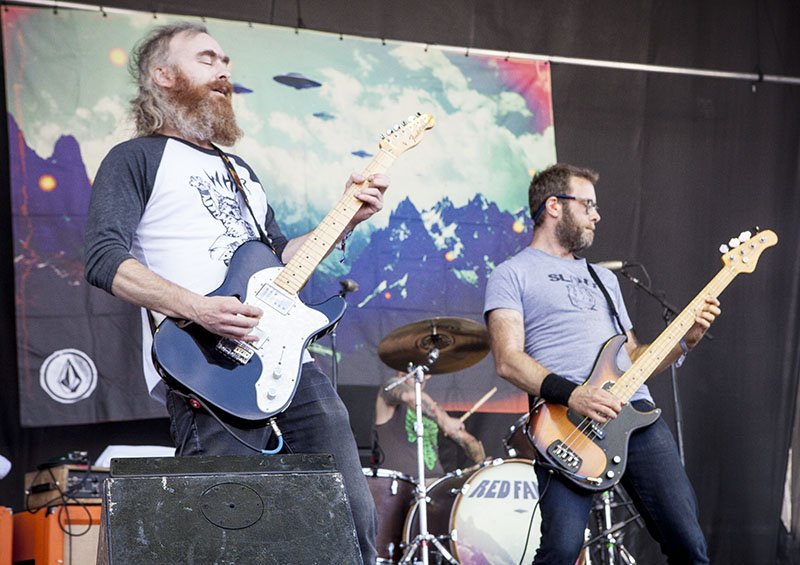 I was only vaguely familiar with local metal act Red Fang, but was instantly charmed by their performance, which was somehow both brutal and melodic. Frontman Brian Giles has quite the voice and was totally unfazed by some temporary sound problems.
I've now seen Phosphorescent at a few festivals and in clubs large and small in Denver, Brooklyn, Portland, Tennessee and a couple places in Georgia, and each time has been astounding. There are few other bands that can so easily traffic in heartbreaking frailty and thunderous distortion, and often do it in the same song. This set was no different, as Matthew Houck and company didn't waste a minute of their allotted time, playing stellar versions of "The Quotidian Beasts", "Wolves" (at the request of a gal in the front row), "Los Angeles" and several others. Houck's project has grown in popularity and scope sense the release of the masterful Muchacho last year, and it's great to see this amazing band getting it's due.
I was beyond excited to catch Wooden Indian Burial Ground, Deep Sea Diver and Built To Spill at Crystal Ballroom later that night, and none of the acts disappointed. Wooden Indian Burial Ground and Deep Sea Diver both appear headed for bigger things, and Built To Spill? Well, they're Built To Fucking Spill, masters of the bearded guitar jam. Same as it ever was (thankfully).
Two of Sunday's main highlights were highly anticipated sets by hip-hop acts; Shabazz Palaces and GZA, who performed his classic Liquid Swords.
Having added to their fantastic cannon of material with this year's excellently spaced-out Lese Majesty, I was excited to see what Ishmael Butler and Tendai Maraire would have in store live, having caught their transfixing act a couple of years before. The Seattle-based duo answered with a fantastic set filled with tribal drums, plenty of knob turning and all sorts of wonderfully looped madness that felt like we were all dancing inside of some sort of opium-induced hip hop dreamscape. It seemingly took a moment for the stunned audience to totally grasp what was going on, but when they did a wonderfully trippy dance party broke out. I'd particularly like to shout out to the Indian fella in the Ichiro Mariners jersey who danced for every second of the set, only temporarily breaking his wobbly rhythm to hit various joints passed his way. You sir, are The Crunkest Dude In Portland.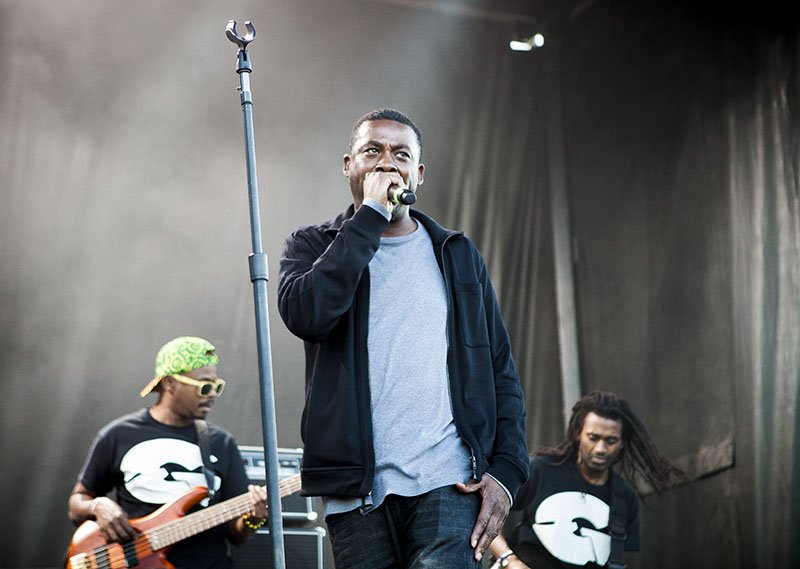 Far less experimental, but just as amazing was GZA's performance that featured full backing band. GZA and his band were amazingly on point, and the crowd went bonkers literally from the moment he took the stage to the moment The Genius ran out of time. I say, "Ran out of time" because neither GZA, nor the band, nor the audience wanted the set to end when his allotted time was up. Beyond the majesty of Liquid Swords, the set featured rowdy covers of "C.R.E.A.M", "Shimmy Shimmy Ya", "Hard To Kill" and The Sugarhill Gang's "Apache" as well as an excellent freestyle.
My festival season began in May in Atlanta at the very successful Shaky Knees Festival, and one of the highlights there was Modest Mouse's triumphant Saturday night headlining set, so it was very fitting that both the summer and festival season ended with Modest Mouse playing here in Portland on Sunday. Much like the Atlanta performance, the band was beyond tight and played an interesting set that mixed the "hits" with some deeper cuts, all the while reiterating the idea that at this stage in their career Modest Mouse headlining band in every sense of the word.
All in all I'd have to give Project Pabst a resounding endorsement and certainly hope they return to Portland next year, and I can definitely vouch they'll be welcomed back. Musicfest Northwest would be wise to study Project Pabst's operation, as Portland isn't the kind of place where people expect to be price gouged for waters and Heineken by a pushy staff while constantly being bothered by people shilling corporate wears left and right. It's the kind of place people are supposed to write love letters too, right Frank?
Words by Donovan Farley
Photos by Caitlin Webb (http://caitlinwebb.tumblr.com)
Full photo gallery below, click any image to zoom.