The GOASST + Syd Arthur @ Mississippi Studios 5/24/2014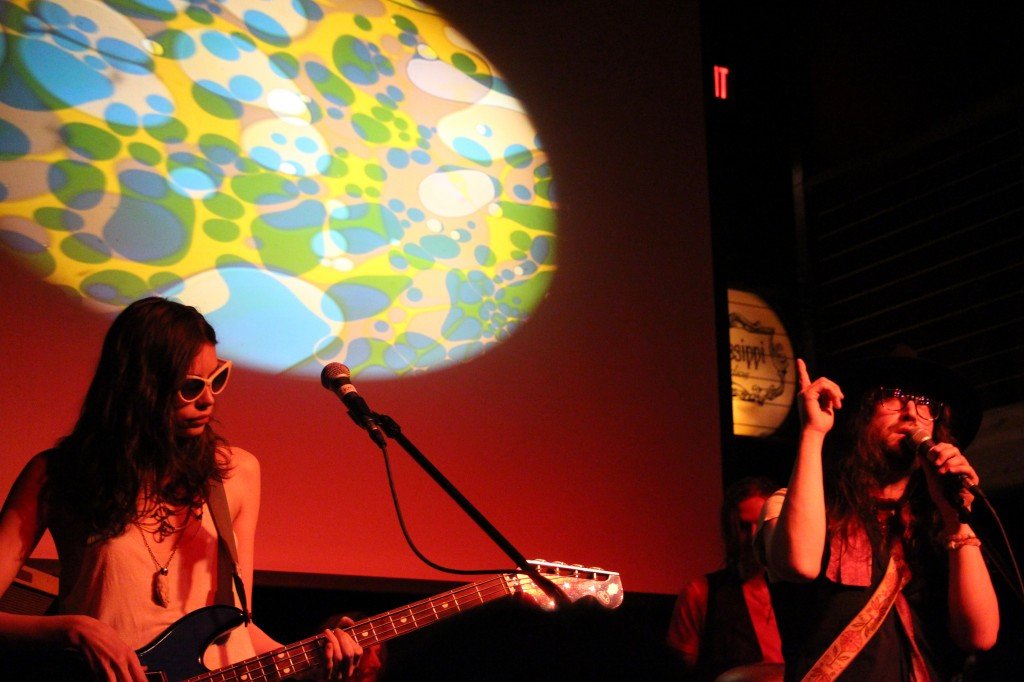 The crowd at Mississippi Studios spanned listeners of many ages, some boasting how far they had travelled to see the evening's psychedelic show. Two big names in the contemporary psych movement filled the house quickly.
The first act, Syd Arthur,  took the stage rather neatly and began to share music akin to jam-band meets prog rock with warm vocals and intricate arrangements.  If not familiar with this quartet from Canterbury, England,  it could be easy to assume that the front man, a lanky, long-haired  fellow in a woven bucket hat could be Syd. But this is not the case. Syd Arthur is all four fellows, the name venerating Syd Barrett from Pink Floyd and The Kinks album, Arthur. It is also a reference to Hermann Hesse's  enlightening novel from the 1960's, Siddhartha.  Say it with the English accent. Get it?
 Their music is layered with a lot of influences. They just released Sound Mirror a week ago, and instantly "Hometown Blues" enlists blues and soaring, spacey background fuzz, all romanticized with Liam's vocal magnitude, his brother Joel's bass, and the multi-instrumentation (violin, mandolin, and keys that sometimes break into funk) from Raven Bush (incidentally Kate Bush's nephew).  
 "Garden of Time" is full of shifting beats and guitar play that definitely inspire close dancing, and "Chariots" is truly a psyched out power play . All songs stretch, and unfortunately some of the music and mostly lyrics fell muffled, boxed in by Mississippi Studio's acoustics. They are laid back, but full of powerful energy, one that in it's truest form, may carry best across outdoor festivals, such as Lounge On The Farm back home in Canterbury, Coachella, and the upcoming Bonnaroo music and arts festival in Tennessee. 
As for the headliner, apparently many Beatles fans will flock to a show knowing that the son of the late John Lennon is playing. Sean Lennon, the youngest of John Lennon and Yoko Ono, does carry the art of his parents within his music. It is more of the avant garde "Magical Mystery Tour" selection; sometimes trippy, full of eccentricities and light-heartedness. There seems to be some heated controversies though, listeners either love or hate the psychedelic nostalgia with an art-house aesthetic. Most of the songs are deeper musically than lyrically, and their themes are expressed stronger  in accompanying videos.  The GOASST are experimental, artistic, and colorful. There are true harmonies and a sweetness that cannot be denied. 
Along with Sean's playmate, Charlotte Kemp Muhl (model, bass maven, and pouty vocalist),  whimsical songs full of theatrics emerge. The band is said to be named after a play Charlotte wrote when she was seven years old, a story about the ghost of a saber tooth tiger that haunts a museum. The couple began making bedroom recordings and videos, decked out in elaborate costumes. And so it has went on for several years now, except moving into the acronym of The GOASST and adding members of Brooklyn band  Invisible Familiars: Drummer Tim Kuhl, Jared Samuel on keys, and Robbie Mangano on guitars. 
The set opened with  "Animals", a cultish song concerning peaceful anarchy, and continued into mysticism and lovely songs like "Candy Necklace". They also played one of the first songs (with xylophone!) that Sean and Charlotte wrote together, "The World Was Made For Men". A standout was the cover of "Golden Earrings"- the main theme from 1947 spy film of the same title. There were plenty of organ keys, guitar slides, and Muhl seducing the audience in her cat eye glasses and sway of her bass guitar. 
A huge charm is how Lennon interacts with the audience. Answering questions and telling stories, as well as hanging around afterwards. He recited to  us his own version of The Canterbury Tales about a "Sir Barry Mantilow who lived in a magical pond of pop magic", and then about his experience in "Cana-dia", playing in a run-down venue that was bought by Bruce Lee in the 70's, and watching a fight outside his dressing room: 
  " Yeah I watched this one..um..battle between a rat and a raven.  That's kind of like a song title.  And, it was really epic to me.   'Cause I…you often don't see a rat go after a bird right?  In broad daylight.  Anyway so, um…I do prefer Portland. This is our best sold out shows – we don't usually sell out. I  had the best meal of my life here. Right off the plane. We are happier here."  
Photos and Words by Brandy Crowe