Oh Boise, Idaho, why have you forsaken me for so long? There may not be many trees left in the so called "City of Trees" but it hosts Treefort, the most fun-filled music festival I've experienced in a long time. Just like how MusicFest NW used to be, the performances at Treefort are laid out across a series of venues in downtown Boise. This year's festival was full of musical talent ranging from teenagers like the Regrettes to the 74 year old George Clinton. Local singer/songwriter Haley Heyderickx stole the show with her uniquely sweet sound, the legendary Built to Spill were amazing (as well as its precursor Treepeople), and Andrew W.K is still partying, hard. Portland is always properly represented by bands like Mascaras, And And And, and Typhoon, who took the main stage by storm. And I still can't seem to get in to see Pussy Riot. Oh well.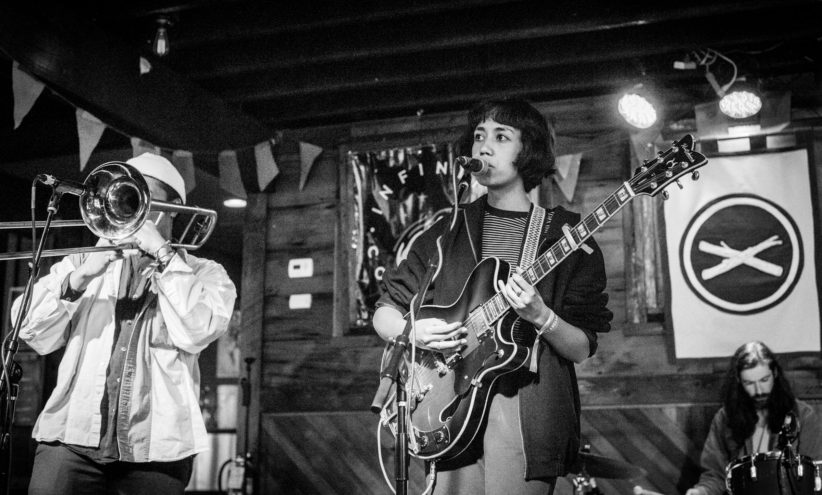 Haley Heynderickx
Out of all the talent I witnessed in Boise this weekend at Treefort, Haley Heynderickx lingers the most. Her singing voice is hauntingly beautiful, imbued with a crosscurrent of sadness and joy. Her style defies easy categorization – it's kind of like a young Joni Mitchell in that you get a sense of her gentle nature and inherent kindness just by hearing her sing.
It's Haley Heynderickx's songwriting ability that sets her apart from many of the musicians to have come out of Portland in years. This songwriting was on display in a Saturday afternoon performance at the Olympic at the Portland Party. The band looked like they were having so much fun in the intimate setting, playing songs from her new album I Need to Start a Garden, as well as some unrecorded gems. The performance of Bug Collector was loose but precise, with beautifully delivered vocals. Haley Hendrickx pairs vocally so well with Lily Brashears (of Sheers), creating a hauntingly gorgeous kind of vibe, balanced off by Daniel Mendoza's sometimes plaintive, sometimes bombastic trombone. It was nice to look forward to hearing a few songs from a fairly new artist and then being blown away from what's been put together in a such short amount of time. I've heard a raw version of Bug Collector before but to hear it as a fully formed piece of music with the help of her collaborators was one of those performances that you wish would never come to an end.
If Haley Heynderickx and company don't show up on Tiny Desk Concert soon, the people at that public radio station are crazy. If you're in Portland you probably won't be able to hear Haley Hendrickx until Pickathon this summer, as she and her band are on the second leg of a national tour and set to take off as one of this years best new bands. Next year she should be one of the first few names listed on the Treefort bill.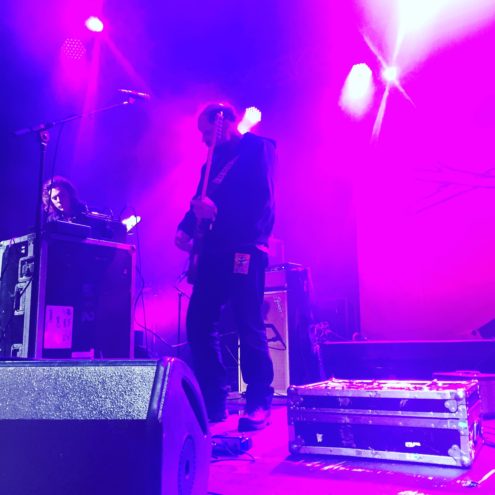 Built to Spill/Treepeople
The crowd on Sunday night on the main stage was packed to the gills for hometown heroes Built To Spill, who did not disappoint. They played classics like Carry the Zero, Time Trap….. Lead man Doug Martsch wowed the audience with his signature low slung guitar solos and his high pitch vocalizing. Seeing the legendary Built To Spill play live was a definite highlight for this writer, but what I witnessed two nights before was something truly special. A friend had told me about an "Old school Boise night at the Neurolux". I hurried over to the venue and waited on a line that had just wrapped around the corner. Somehow I never bothered to ask who was actually playing inside but when I finally got in, I heard that familiar high pitched voice of DougMartsch who performing with Treepeople. It was like the entire city crowded into this venue to hear their uncle Doug play songs from his youth. Calmly extatic is the only way I can describe the look upon the hometown fans' faces. I felt like an outsider who was invited to a gigantic family reunion, and welcomed with open arms.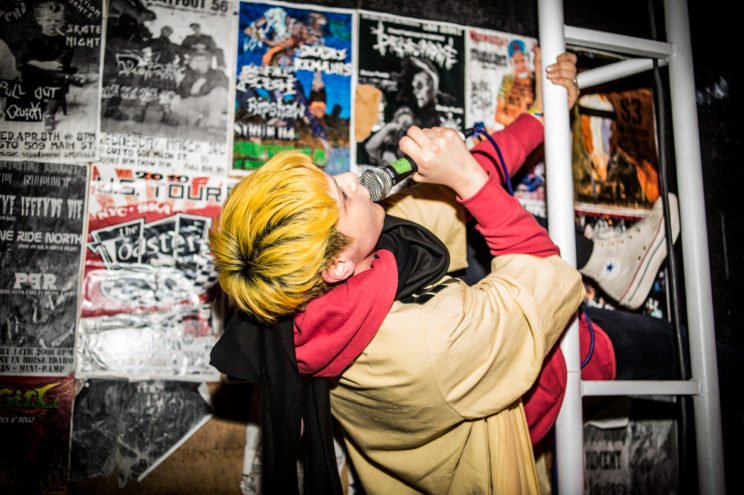 Childspeak/Mascaras/Kelli Schaefer
Mascaras were another band that I've heard play many times, but would never pass up on an opportunity to see live because always bring so much raw energy. And they couldn't have played at a more aptly named venure as the Shredder, a dive bar that resembled the old school Portland punk rock haven, Satyricon. And Shred they did, showing Boise was Portland hard rock is all about.
Opening the bill that night for Kelli Schaefer at the Shredder was the Eugene based band Childspeak. I first saw Childspeak play two summers ago at a Fourth of July mega house party called the Crawfish Boil. This band has such a fine tuned, layered sound. Classic prog rock meets jam band with a punk attitude. A move to Portland would suit this band well, as they would surely find an audience.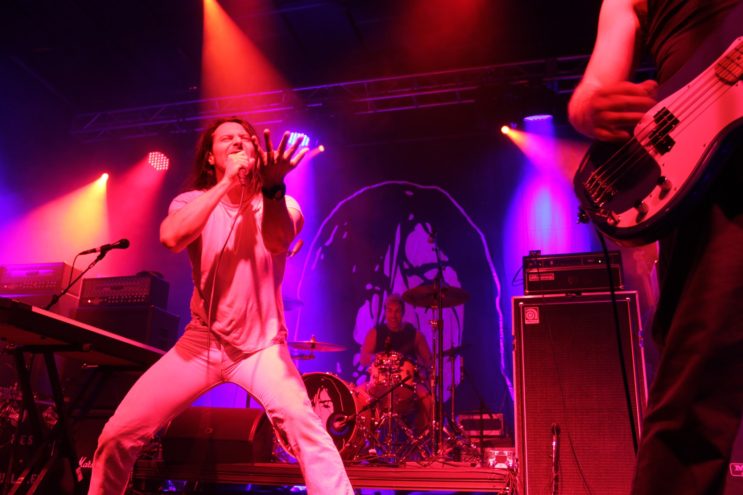 Andrew WK
At the surface, Andrew WK may seem like an overly stimulated hipster version of Danzig. When his actions and intent are looked at further, he is all about focusing only on positive aspects of life, and encouraging others to do the same. His anthemic songs already bleed a major chord with a "ready to throw the night away in a rager" sentiment. But it's his statements in between songs that speak of acknowledging one's demons and overcoming them. "Those who persevere, even in the darkness. You are worth it." He exclaimed to the crowd. With his latest album entitled "You're Not Alone" it's obvious that he has his fans in mind with his newest piece of work.
Typhoon
The Portland ensemble Typhoon opened its set on Sunday afternoon with a thunderous version of "Rorschach" off their ambitious new album Offerings – An appropriate album name for some of the most musically imaginative and thought provoking songs the group has ever released. This is the best Typhoon has to offer, and to hearing it live only confirmed that notion. The new album is musically complex and stunning, and shows how the band has advanced and challenged itself to produced something different. On stage, Kyle Morton's earnest delivery and passionate guitar stylings wowed the crowd. He appeared much more at ease on stage in Boise then his last show in Portland at the Crystal Ballroom and called the show "A victory lap at the end of a ten week tour."
They ended with one of their earliest and quite possibly most memorable songs, Young Fathers. "Young people get old every day," sang Morton in the mid-song refrain. It's true, the band has matured and has been pared down to it core members, including dual drummers Pieter Hilton and Alex Fitch, guitarist Dave Hall and cellist Shannon Steele. There are no horns or multi-layered background vocals in this current iteration of Typhoon, but that didn't detract or make the songs sound sparse or watered down. The double drummers and the gracefully delicate backing vocals and gorgeous strings delivered by Shannon Steele added just the right amount of symphonic structure to the rock band that is Typhoon.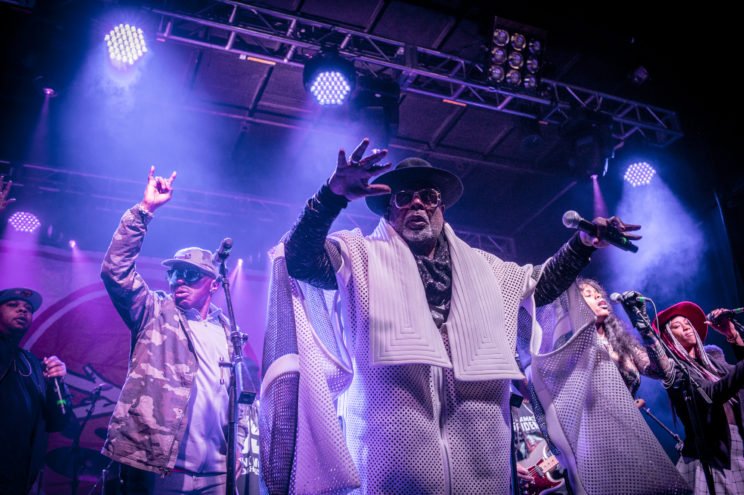 George Clinton & Parliament Funkadelic
George Clinton has been playing music in one form or another for over sixty years now, starting the Parliaments as a teenage doo-wop group in the mid fifties. Longevity aside, George still is laying that funk down really hard with the current version of Parliament-Funkadelic. Eddie Hazel and Bootsy Collins are long gone but George keeps going, waving his hands and directing his crew as the grandmaster and grandfather of modern day funk. Parliament Funkadelic is very much grounded in the genre but also have a psych rock band feel at times, playing to all the young folks and making them dance their asses off. I don't have much to say about the performance that night except is was exactly what I expected it to be — a full-on dance fest, full of funktastic energy.