Portland Artist Jesse M. Ellis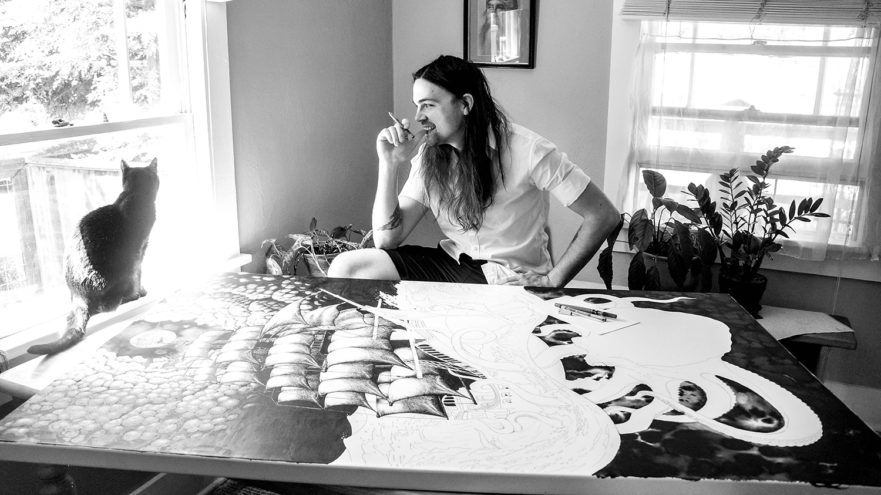 ELEVEN: Have you had formal training as an artist? Where did your passion for art stem from?
Jesse M. Ellis: I've never had any formal training as an artist. I've spent a lot of time researching and studying different art techniques, and I found that my best method for learning is figure study and life drawing. I spent a year or so doing that under my own regiment before embarking on larger works and deciding to put my own work out there. I am driven by some sort of creative imperative. At the risk of sounding dramatic, I feel like my whole existence will fall apart if I can't be creative. At least that's how it was, but luckily I've found a creative avenue in visual art that has allowed me to express myself, and the further along I get the more my drive evolves into a celebration of creativity and art. I find inspiration in nature, fantasy, science, and the human experience and the struggle that goes with it. I've definitely become more focused on the latter recently, even if it hasn't fully manifested in my art yet. My art is always evolving.
11: You appear to have a beautiful fascination with the human/female form. What do you find intriguing and what inspires you as a muse?
JME: I am fascinated by the human form and continue to study it so that I can better portray our experience through art. It is one of my major goals as an artist to effectively capture the emotion and our experience through gesture. I have always appreciated the feminine form and gravitated toward female figure study for sure. It is the strength and intelligence of woman that I am most inspired by, and my recent sketchbook series is a way of visualizing that strength in thought and creative energy. I want my art to be a celebration of the human experience, and especially woman.
11: Does most of your work stem from live models or are the characters in your sketches purely imagined?
JME: I always work with live models or reference photography. As much as I am trying to create something new with my art, I am also striving for a better understanding of form and gesture. I've found that when I'm drawing from reference,there are unique details in every person that I could never come up with on my own. There are so many subtle gestures that I don't want to miss, and I discover new things every time I work on a portrait or figure drawing.
11: You work with a lot of pen and watercolor. What is it about this medium that you find so appealing?
JME: I love the fine detail obtainable in ink/watercolor and graphite illustration as well as the chaotic and messy nature of the mediums. I have been obsessed with this idea of controlled chaos when using ink washes with detailed portrait sketches–a kind of juxtaposition of detail–simple shapes and a free form flowing background. The process of creating the background is messy and mostly unpredictable. I've had to come to terms with the fact that I may ruin the work in the process, but I've learned what to expect and often the results are pretty sweet. Learning to lose some control with my art has been a new, and I think necessary endeavor.
11: You have an absolutely spectacular dinosaur skull series! Your attention to detail is captivating. How did you decide on which species to feature and how long would you say it took to complete each of them?
JME: I had a ton of fun doing this project! I chose the T. Rex because it was my favorite when I was a kid, Triceratops was my kid's pick and the Brachiosaurus I picked because it is so interestingly weird. This series was one of my first serious art projects, and I learned a lot about what it takes as an artist to commit to something and finish it. This series took somewhere around 70 to 80 hours of pen to paper time to complete all three.
11: Do you have any current projects you're working on?
JME: Yes. I have been working on a large scale ink illustration that I'm really excited about! This piece is more about storytelling than one subject or figure study. It is an epic tale of struggle and the human condition. It's called "Leviathan," and I can't wait to finish it and show it. I've already put somewhere around 200 hours into this thing and it has very much so become my own struggle and test of my skill and patience as an artist. I am also a bit obsessed with process, and I like to document my work and make timelapse videos. It is a lot of fun, but adds a whole other dimension to the work that makes things take a bit longer. If I count filming and video editing on this one it's probably been more like 250 hours.
11: Art is not your "day job," what advice or encouragement do you have for artists that are struggling to find that balance between day-to-day obligations and the "call of creation?"
JME: It's always easier said than done, but putting one line on a piece of paper is better than nothing. I try to set up small goals so I can celebrate small victories. Eventually things get done. I try not to pressure myself too much either. I think it's good to get some work done and spend time chillin' with my people, rather than get no work done and be sucky around my people or work too hard and neglect my people. Stay busy, but not too busy.
11: Where can we find some of your work?
JME: I will be hanging some work at Coffee Time in NW and some other shops this summer but I am mainly in create mode. I'm trying to focus on finishing big projects so I can break ground on some new large projects that have been floating around in my head. For now the best place to see my work and get updates on shows and current projects is on Instagram.
Find this artist online:
Web: jessemellis.bigcartel.com
instagram: @jess.m.ellis