Sufjan Stevens @ Aladdin Theater 12/06/2012
Never has the Christmas spirit touched Portland so much as when Sufjan Stevens rolled into the Aladdin Theater with the "Surfjohn Stevens Christmas Sing-A-Long: Seasonal Affective Disorder Yuletide Disaster Pageant on Ice." An ugly Christmas sweater party on the juice, the crowds seemed to forget that the holiday was not for another 19 days and rejoiced as if Sufjan was Kris Kringle himself as he entered the stage that was throughly coated in silver tinsel and all matter of Yuletide bric-a-brac. As the electric snowflakes from the discoball began to swirl…

the stage curtians were lifted to reveal a wheel that puts Pat Sajak's to shame. Emblazoned in glitter paint, the Wheel of Christmas featured a dozen of the season's standards. Leading his seven piece band including Frosty the Snow Woman, Sequin Nun, Christmas Chicken, and Yuletide Skeleton, Sufjan started with 'Christmas Woman' off his latest release Silver & Gold. Even those of us jaded by the horrors of Christmas' past were won over by the joy of Sufjan's exalted melodies, his deft musicianship, whit, and humor. Every character on stage was feeding off of the good will towards man being generated in the hall.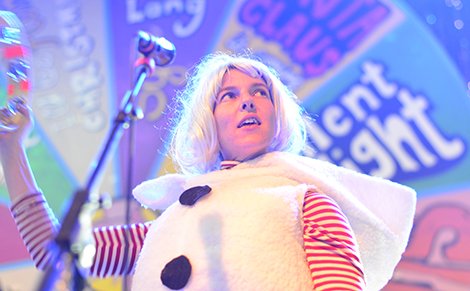 A few songs into the set the [chant it with me:] WHEEL OF CHRISTMAS was spun and the crowd was instructed to sing "robustly and drunkenly with the Christmas spirit," as he pounded out a classic "Joy to the World" tune on the piano. A wild sing-along ensued. Sufjan proved to be the best director of drunken choristers, busting out tunes on this soprano recorder and inciting a stop clap. The set, comprised mostly of tracks from Silver & Gold and classic carols from the Wheel of Christmas, also tackled the tough holiday facts of consumerism with an angry frost punk rant, and was concluded with the playful song 'Christmas Unicorn.' Complete with unicorn horns for all on stage, blowup unicorns were tossed to the audience as confetti cannons, streamers, bubbles and trombones bombarded the theater.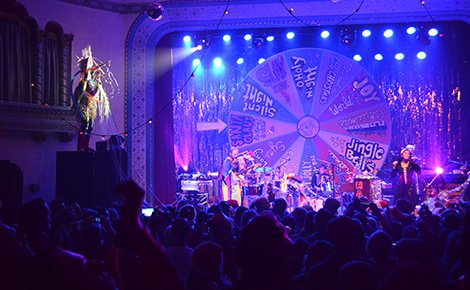 Following the Christmas mayhem, the encore was dedicated to a few of the classic Sufjan Stevens tunes the audience had been hoping for all evening. Though there were no lyrics printed in the program for 'Chicago,' the audience quietly sang along to the lone man on stage at his piano, making it the most poignant moment of the evening and proving that the 'Seasonal Affective Disorder Yuletide Disaster Pageant on Ice' may have produced the most audience participation Portland has ever seen.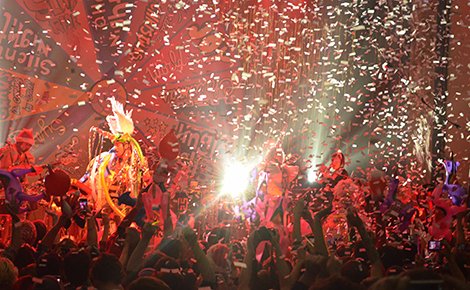 Words by Bex Silver.
Photos by Ryan Dornfeld.