The Growlers w/ Allah-Las @ Mississippi Studios 02/01/12
There must be something magical in the waters of Southern California because the area keeps churning out psychedelic wonders that seem to be from another place in time. Perhaps it's the sunny disposition, but whatever it is keep it comin'! The Growlers and Allah-Las are currently touring down to SXSW where both bands will play a showcase for management group Danny Rose, and lucky for us that included a stop at Mississippi Studios Thursday night.
Dressed to the nines and kicking things off just right were The Reservations with their unique brand of soul-smothered garage rock. Rex Marshall and company just keep getting tighter and tighter with every show—between Chris Hoganson's keyboard antics (i.e. playing with his feet), brother Thomas' kit work, and Matt Dawson's thick and seductive bass lines—the new tunes (especially "Worms") will make you salivate in anticipation for the upcoming album.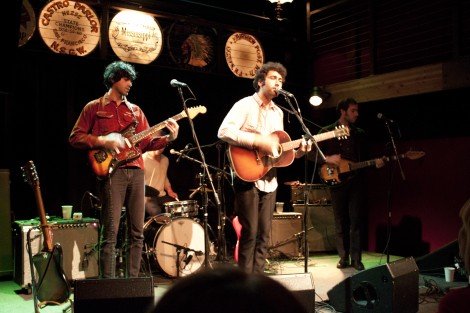 The show stealers, Allah-Las, took the stage will full force, cultivating attention with their near flawless take on 60s garage. Seriously. Free of gimmicks and full of talent, this quartet embodies the spirit and soul—quite refreshing if I do say so myself—of the psychedelic era. As longtime friends, the cohesiveness was undeniable. You could feel the movement of their music and it was heavily reflected in all the swaying hips and dancing feet.
After such an awe-inspiring set from Allah-Las, The Growlers held on to the momentum and delivered their reverb-filled beach psych-pop performance with slowed-down grooves and an ever so slightly spooky organ. Lead man Brooks Nielsen seemed to dip in and out of consciousness as he crooned and moved slowly along with the rhythm. Playing tracks from the last couple of releases—and a few new tunes from their upcoming Dan Auerbach-produced album—it was a solid set to say the least. The crowd ate it up and demanded more even after the encore.
It was a spectacular night, and it's bands like these that make writing reviews a walk in the park. If you're lucky enough to be heading down to SXSW, make sure to put The Growlers and Allah-Las at the top of your list.
Words by Wendy Worzalla. Photos by Cory Dimitriou.