The Hood Internet @ Mississippi Studios 07/27/2012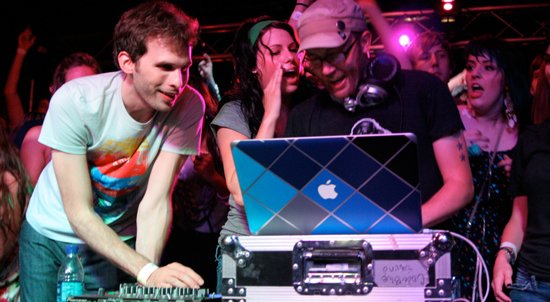 Dichotomic x (Reciprocal / Inverse) x Juxtaposing = The Hood Internet = The synergistic effect of most things music. These big words and formulas describe the elite duo made up of Chicago boys Aaron Brink and Steve Reidell. Friday night STV SLV (Steve) came as a lone wolf to Mississippi Studios bringing the team's thehoodinternet.com postings of damn good (Band X vs. Band Y vs. Band Z) mash-ups.
This equation quickly resulted in a full fledged dance party, complete with drunk girls falling on stage. I usually don't throw my head back and sing along at the top of my lungs to timeless hits like Cyndi Lauper's "Girls Just Wanna Have Fun", but I did. Everyone was winning just by listening to music that we otherwise might not have, and loving it. Don't be surprised to hear A$AP Rocky versus Purity Ring. Ghostface Killah up against Beirut. Beastie Boys with Matt & Kim, Deadmau5 and Lauryn Hill…
Their new album FEAT, out in September, will bring ten new songs in similar format, but with entirely original content, completely sample free. Listen for Tobacco from Black Moth Super Rainbow and Class Actress (the complete track listing is available here.) While their Portland show is over, the album is something to look forward to and this feat might usher in a new phase for the guys, prompting another visit to our fair city. Fellow Chicagoan Psalm One and rap duo Tanya Morgan opened.