Ty Segall @ Star Theater 05/03/2012


Let me start off by saying hats off to the East End kids for booking this show at a larger venue—I can't imagine the night would have been the same. It was a fantastic evening, bumping into a slew of old and new friends. I mistakenly assumed the show would be in true East End fashion and not start until after 10pm, but we managed to get there in the middle of Nucular Aminals set. The Star Theater was already fairly crowded, and the line to get in didn't stop for another hour.
 I grabbed a reasonably priced pint and began meandering through the sea of smiling faces—everyone seemed to be starting their weekend a day early. In between bands I stepped out onto the spacious patio area for a smoke with a few friends and before we knew it, Tim Presley (White Fence) was bumming a light. After he put out his cigarette, I knew it was time to head back in.
White Fence played a solid 45-minute set of old and new (recently released Family Perfume Vol. 1 & Vol 2, as well as a collaboration with Ty Segall). His guitar stylings are unique and grab hold of your attention with conviction. As a full band, the distortion-laced psychedelic pop tunes come to life in a whole new way.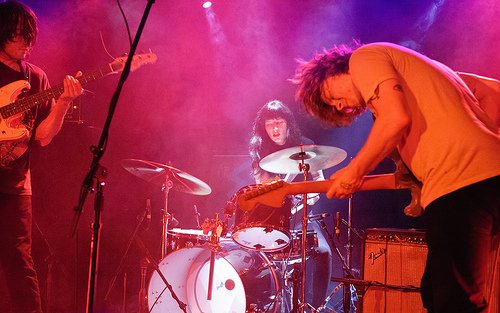 Once Ty Segall and company took the stage, the venue suddenly felt like it was at capacity—just an illusion as most people had moved up trying to secure a close spot. What's soon to be known as The Ty Segall Band (Ty Segall, Mikal Cronin, Charlie Mootheart, and Emily Rose) played a ripping 30-minute set before the line-up shuffled to include Tim Presley. Playing four tracks off their collaborative effort, Hair, standouts included "Scissor People" and a tune obviously penned by Presley, "I Am Not A Game".
The evening ended with The Ty Segall Band players ripping out several more songs before being encored back to the stage. Segall greeted the anxious and sweaty crowd with, "Hey! We're gonna play a Beatles song!" After a punked-out version of "I Saw Her Standing There", Segall stepped up and bantered, "Do you like rock'n'roll? Do you wanna $%!* rock'n'roll? You wanna take rock'n'roll home with you tonight?" He gave Ted Nugent a cat scratch fever shout out and ended the set serving Bo Diddly justice with a cover of "Diddy Wah Diddy".
Words by Wendy Worzalla. Photos by Mike Herman.