"Edge of the Sun" by Calexico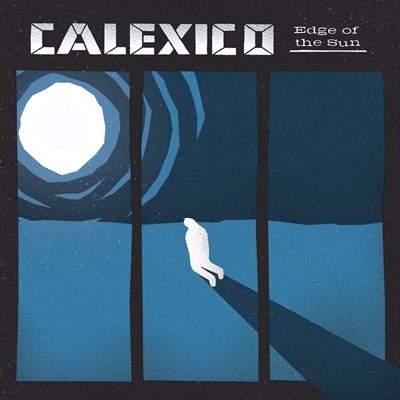 Calexico have occupied their own corner of the indie rock world for the better part of two decades now, dealing in the more "Southwest" elements of the alt-country movement than most, with charging mariachi trumpets and lonesome steel guitar. After spending the latter half of the '90s and first half of the '00s developing their signature brand of Tex-Mex alt-rock, they adopted a more straightforward indie-pop approach with 2005's collaboration with Iron & Wine, the EP In His Reins, which managed to break into the Billboard charts, and their 2006 follow up Garden Ruin. 2012's well received Algiers saw Calexico moving away from their home studio in Tucson, Arizona to New Orleans with solid results. Calexico return this year with Edge of the Sun, recorded back home in Tucson, and it's a welcome return to the rowdier sound of the earlier recordings, with a few curveballs thrown in.
Leadoff track "Falling from the Sky" is classic Calexico, a stirring folk-rock anthem with a melancholy lilt, sharp hook, and is dressed up tastefully with layers of synth and mellotron. "Falling" is really the best of "both" Calexicos, containing the energy of their early material with the sharp pop sense that have graced the last few records. The entire first half of the record is similarly solid, with "When the Angels Played" tunefully Dylanesque and the more cosmically inclined "Bullets & Rocks." "Cumbia de Donde"is the red herring, with it's almost radio-ready contemporary Latin pop being the biggest departure from their traditional sound that Calexico has taken yet. While it may turn off some listeners, it's actually a pretty brilliant little homage to cruising around East L.A., with catchy as hell call-and-response vocals, strutting trumpets and funky synths. They'd be wise to push it as a single.
The rest of the record doesn't quite reach the highs of the first half, but there are plenty of great moments, like the Latin surf-rock of "Beneath the City of Dreams" and the slinky synth-reggae of "Moon Never Rises" being particularly strong. But what's most impressive about Edge of the Sun, is its almost complete lack of "off" moments. Having been around since '96, Calexico know what they do best and they do it well. Edge is the sound of a band completely comfortable with itself. Having explored the ins and outs of their sound, Calexico and their listeners are reaping the benefit of their veteran status, and it sounds like they have plenty more in the tank. »
– Casey Hardmeyer