"Hope" by Manchester Orchestra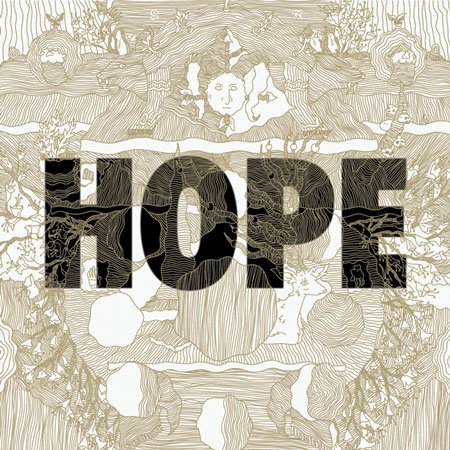 In early April 2014, Manchester Orchestra released Cope, their fourth studio album. Five months later, they released Hope, an acoustic remix of Cope. It was an interesting decision—not to mention a surprise release—and according to lead singer Andy Hull, the band decided to move forward with it after receiving positive feedback on a stripped-down version of Cope's lead single, "Top Notch."
So what do you get when you take an album that lacked much of an edge and strip it down? A compelling and tender upgrade is what you get.
We can get the inevitable Band of Horses comparisons out of the way early. Both Cope and Hope certainly call to mind early Band of Horses, but the former less favorably than the latter. Where Cope leaves you wanting a little more, Hope provides a clear glimpse into the soul of the songs.
"Top Notch" opens with muted piano chords and soft guitar strums—soft enough that the sound of the hand sliding along the guitar neck comes across as almost percussive. It rolls gently into ambient crescendos of strings and floating vocal harmonies as Hull's vocal ostinato fades out. As the song that inspired the entire acoustic version of the album, it's a fitting encompassment of tone, detail, and restrained élan.
The most noticeable aspect of Hope's instrumentation is the deep presence of Chris Freeman's piano work. It is refreshing to hear a bottom-up approach to an acoustic proceeding, as tenor-heavy instrumentation seems to be the trend of the moment. Freeman brings necessary gravity to these tracks, and it's hard to imagine how the album would have come off had the group decided to feature guitar as the driving chord-carrier.
"The Ocean" effectively illuminates the multi-layered approach taken on Hope. On an acoustic album like this, there's really no place to hide, and the subtle addition of strings and light reverb on group vocals provide enough solid differentiation that the track manages to feel both weighted and ephemeral.
It's hard to say where Manchester Orchestra completists will ultimately slot this album. It's a stark departure from other work, but it exposes a depth and attention to detail that, while present on previous albums, manages to find a new voice and disposition here. Where Cope came across as a little lackluster, Hope fleshes out the soul of the album and redeems the effort admirably. »
– Charles Trowbridge