"Hot Fool" by The Lower 48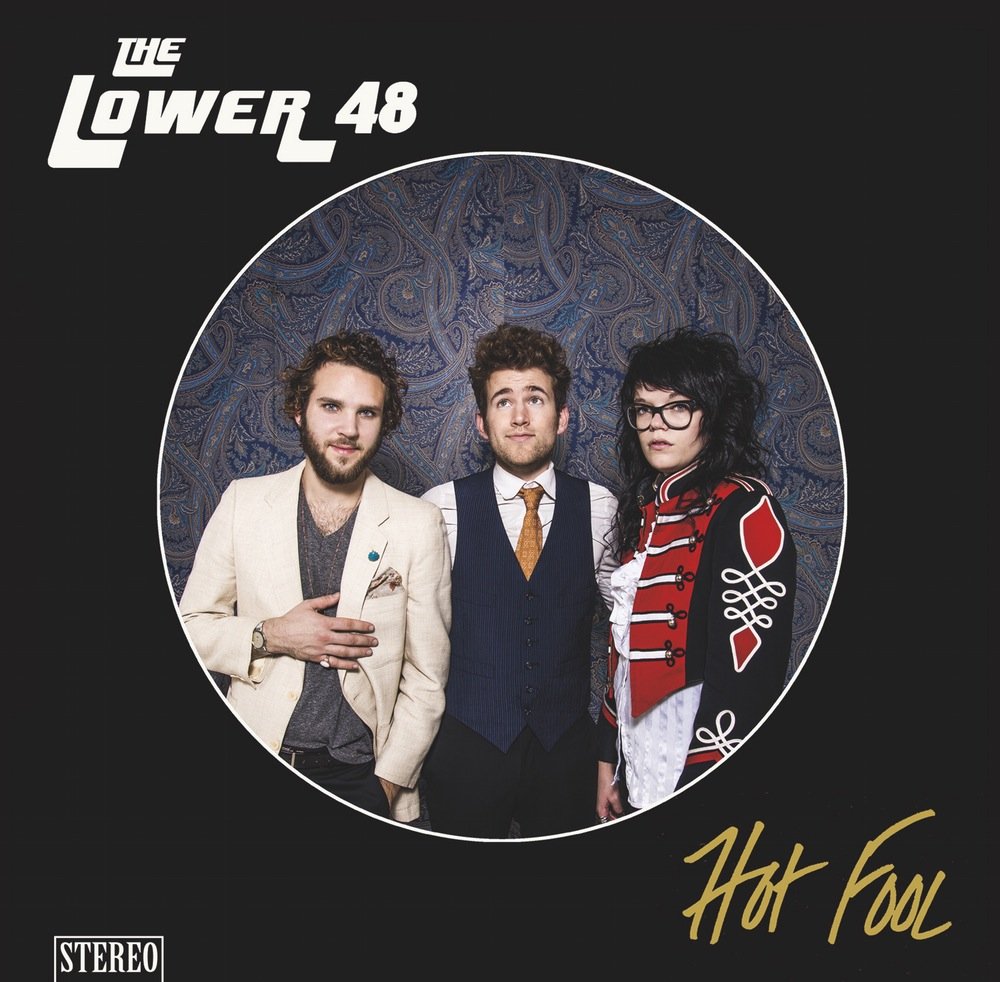 Since shedding their folky roots in Minneapolis years ago and recreating themselves in Portland, The Lower 48 have been playing to packed houses ever since.  2013's self titled album was short and sweet, with six catchy songs reminiscent of The Beatles.  With the new release Ben, Sarah and Nick have expanded their horizons without abandoning their signature sound. Just listen to the first single "Hot Fool" and you'll hear it. The title track opens the album sounding low-fi and muddled, like you're listening to an old tape. Then they breaks through with crisp, clean harmony that is familiar yet very fresh and new. There aren't many bells and whistles on this album, but that bit of compression adds that punchiness that really sets the album off in the right direction.
Ben Braden's lyrical ability is on display throughout the album, notably on the title track where he casually drops the line "Went through a fence made out of wire", referencing an accident that put his career on hold for awhile. "Threw It Away" is another track that highlights Ben's musical sensibilities. While it clearly derives from a classic sound, the lyrics and delivery make it feel genuine and relevant to this time. Less is more on this track, and it's apparent that Ben tapped into his own experience to create the tone of the song. In typical Lower 48 fashion, the song ends on a positive note with some feel good harmonies.
    The Lower 48 gave themselves more breathing room with this collection of songs, exploring many styles of rock. They have expanded to into other genres with "I Think You've Got It", which is the most impressive new track on Hot Fool. It verges on the edgier sounds of the punk/new wave bands of the Seventies and early Eighties (Television comes to mind). Sarah Parson's vocals are backed by a heavily fuzzed bass and creative drum beats, topped off with bright harmonies making it a truly dynamic piece of work. This is the song that should get some exposure for it's originality and experimentation.
    Sarah vocals have always given the Lower 48 the right balance, and she shows off her range throughout the new album. She's soft and sweet in the ballad "Shape Of Two Spoons", accompanied by a soothing rhythm guitar and flowing strings, and quite the opposite on "Turn Back Around" where her vocals build to a seductive snarl, providing the necessary swagger that many performers lack.
      There are some transitional tracks on Hot Fool as well. At first they may seem out of place, but they work as connective tissue to the overall collection. The surfy guitar riffs, the funky beats and hard driving bass all seem fit to be used as segues, or just to keep bodies moving as they are excellent dance songs on their own. This will only enhance the party atmosphere of their shows.
    It's great to see The Lower 48 delve into some heavier areas – The deeper baselines, bolder attitude, and edgier vocals have rounded this band out nicely. The band continues to evolve and reach to new levels musically while maintaining the sound that is so important to their appeal.  Above everything, The Lower 48 is all about the performance, and this new album gives them so much to add to it. They must be as stoked to play their new material live in Portland as their audience is to hear it.