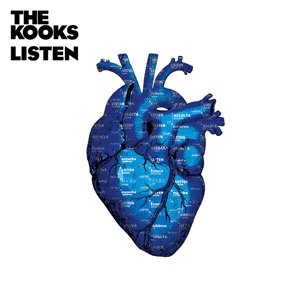 The Kooks burst onto the indie scene back in 2006 with Inside In/Inside Out, a well-regarded debut that immediately positioned them as 'next' of whatever the next thing was going to be. While they didn't disappoint, they never managed to hit that same peak with their successive follow-ups. The Kooks had a sound—melodic, up-tempo indie rock—but while the group's songwriting skills grew, that sound never really managed to grow with it. It's not a new narrative for a band. Most never recover. The Kooks? Yeah. They recovered.
Their upcoming fourth studio album, Listen, is an entirely entertaining, rollicking, and funky collection of musical joy. There is no easing-in moment with Listen. From start to finish, the energy is palpable. It's not go-for-broke so much as go-for-great. The album has a distinct rhythmic flavor that pops up again and again, notably on the opener, "Around Town," and the first released single, "Down." The vocal lines—courtesy of Luke Pritchard, and impeccable from beginning to end—careen around the backbeats, buzzing on the 1 and popping on the 2. The guitars flit in the background, bubbling to the fore to build easy crescendos. The rhythm section attacks, on point every time.
"Down" is easily the truest funk on the record. Backed by staccato guitar picking, the vocal line wends its way with some real soul. Its funk is restrained, relying solely on the depth of Pritchard's voice to convey the necessary feel. It falls in the middle of the album—a suitable midway point—bookended by "Bad Habit," a rockish tune that pushes the pace, and "Dreams," an acoustic-backed track that hints at spaghetti Western.
"Sweet Emotion," the final track, is a thoroughly interesting conglomeration of all the singular elements present on the rest of the album. There's the high-fret guitar pick, the bass thump/kick drum backbeat, the piano, and Pritchard's flawless vocal work. It clocks in at five minutes—almost a full minute longer than any other track. But as a conclusion, it's got it all: restated thesis, main points, final thoughts.
It's not too often that a group manages to not only step out, but embrace the jolt that a reworked sound offers. Some bands lose themselves, and some reinvent. In The Kooks' case, it's easy to see how they could have arrived at this point. The phenomenal part of it, though, is that they did. »
– Charles Trowbridge