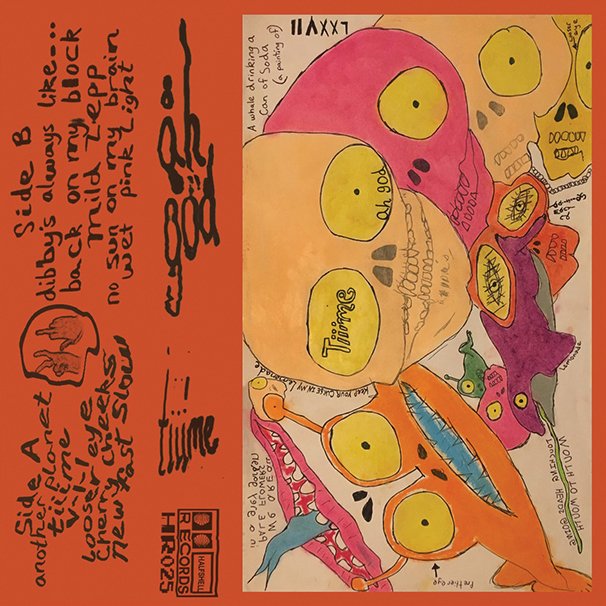 Live in Portland August 23 | Doug Fir
Ever wondered what a time-bending, state-altering wormhole sounds like? This is what Portland noise-rock trio, Ah God, has managed to do in the most nonchalant way on their third LP, Tiiime. The album encompasses that feeling of stumbling across something out of the ordinary… or perhaps, otherworldly. Just from looking at the album cover, one can't help but think that someone dropped acid, found a time machine, created a psychedelic cave painting and voila, the album art for Tiiime was created.
Opening track, "Another Planet," sets in motion a voyage into some unknown with trumpeting vocals and a whirring melody that welcomes listeners. "V-I-I" showcases raw yet surprisingly sweet and innocent emotions of love, inner thoughts, fears and doubts.
"New Fast Slow" has a drone-y melody and vocals that are seeping in warm and fuzzy lo-fi glory. "Dibby's Always Like…" follows and hits the ground running with heavier percussion and a melody that sounds and feels like neuronic fireworks going off in your head. Towards the end of the track the melody evolves into a hypnotic and perfectly distorted downward spiral.
See Also
At this point in the record, you can't help but think this might be what it would sound like if Ariel Pink and Arcade Fire had a baby inside of a wormhole. "Mild Zepp" has a ritualistic sound and feel, almost as if it is signaling the end of a journey.
Conceptually, Tiiime is a ballad consisting of echoing drums, organ-like synth and endless distortion, telling the tale of an intra-universe odyssey.