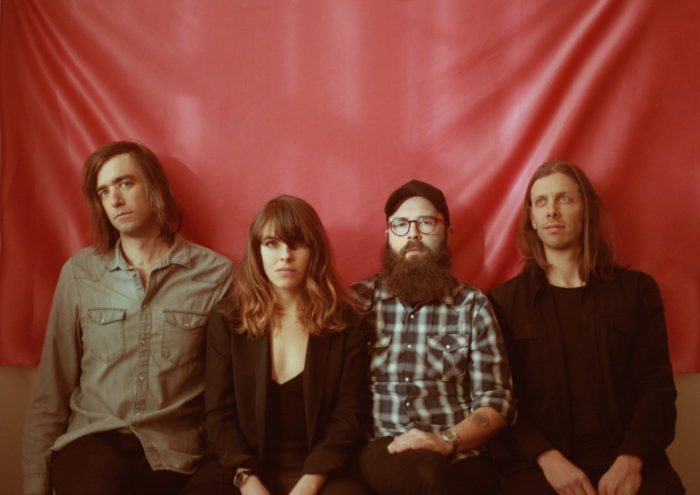 Live in Portland August 10 | Wonder Ballroom
Frances Quinlan says she isn't interesting enough to write songs about herself. She writes about a woman dying inside her apartment, unfound until the apartment building starts to smell ("Sally II") or even from the perspective of a mattress ("Laments"). Hop Along's lyrics don't fall easily into traditional verse-chorus-verse type writing, they're more sprawling tales. She's singing contemporary flash fiction dealing with timeless problems. In "Well-dressed" from 2015's Painted Shut, the narrator is reflecting on coming back home to their small town in Louisiana. Quinlan sings "I read about you and came home to/find my mother/Staring deep into the dark, dark web/She started begging me/Not to give my social security number to anybody else/There goes the sound of the freeway." A lazy writer would simply give a roate blues-rock lyric like, "I'm going down the road, momma don't worry." Instead we're given the nuanced modern portrait of a very old emotion.
Hop Along started as Quinlan's solo project in 2005, going by the name Hop Along, Queen Ansleis. Her brother started playing with her and they got a full band together, putting out 2012's emo-revival album Get Disowned. Their latest album and third proper release Bark Your Head Off, Dog quiets down the sound, experiments with adding strings ("How You Got Your Limp" and "Not Abel") and showcases quite a bit of angular math-rock guitars. Quinlan's voice is the catalyst for everything. She has several sides to her, disarming in a tender high-register that at anytime can change into a whiskey-soaked growl. The most effective use is how she'll commit to the raspy-but-soft delivery, overflow with emotion, and crackle to a silent whisp on a note above her register. It's a heartbreaking delivery that shows a physical need for something that can't be attained. Quinlan has such an intimate sound, and maybe she doesn't write songs about her, but they are of her.