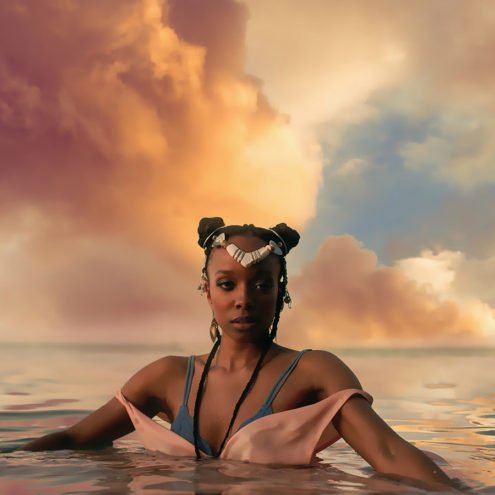 Live in Portland December 4, 2017 | Holocene
Jamila Woods's HEAVN is her first solo album after two releases with M&O, and guest starring on attention-grabbing singles like Donnie Trumpet & The Social Experiment's "Sunday Candy" and Macklemore and Ryan Lewis' "White Privilege ll." A breakout on SoundCloud, the full length was re-released this year physically and digitally by Jagjaguwar, the indie Midwestern label that likes to push avant sounds past their niches. Her new independence as an artist at 26 years old allows the suavely autobiographical record debut to show evocative strength and originality.
Woods grew up singing in the children's choir at her grandmother's church, and though she soloed a lot, that energy of community and spirit invigorates HEAVN. But the sung and rapped narratives of songs like "VRY BLK," "LSD," and "Lonely" reveal the love for poetry that also started when she was in high school. Although she is busting into the music mainstream, she still works full-time at Young Chicago Authors, mentoring spoken word performers. That knack for empowering others seems a sweetly sisterly spirit in her own words and music. She had to take a break as Associate Art Director for the institution, but she's bringing that same fire to audiences that she shares with fellow scene alums Chance the Rapper, Saba and Noname.
Her various influences make HEAVN a richly creative delight, which folds in lyrics by prog and punk pop bands, friends' tweets and the works of authors like Gwendolyn Brooks and Toni Morrison. Having officially graduated from Brown with majors in Africana Studies, Theatre and Performance Studies, Woods moved back to Chicago. Her solo work draws deeper from her childhood, using black folktales and children's hand games, creating pop from spiritual hip-hop to help the cause for black liberation from violence and despair. Don't miss her live, as the elemental beauty of her lyrical imagery is also evoked in the shimmering awesomeness of her soulful voice and physical performances of her imaginative musical compositions.