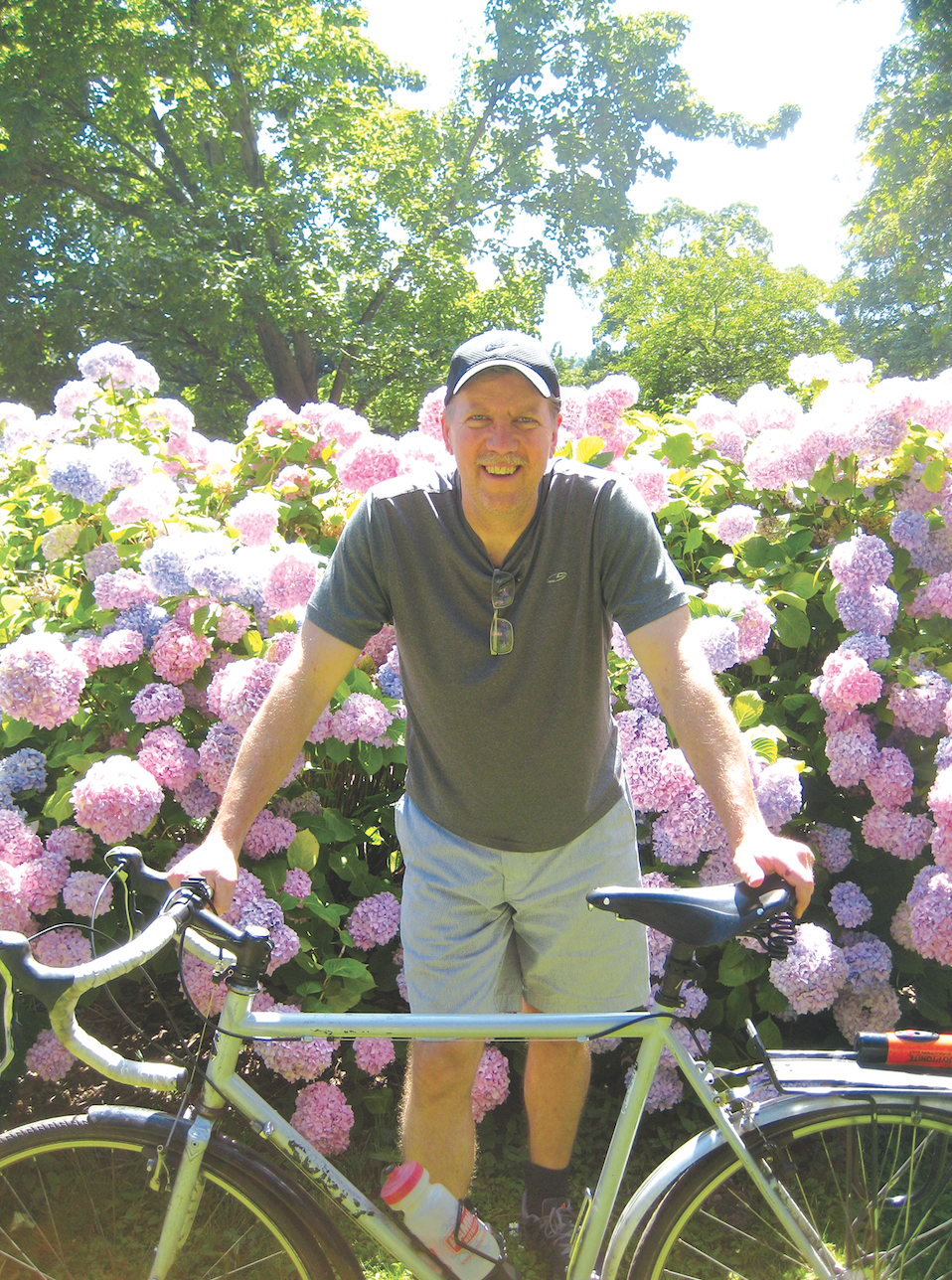 Joe Kurmaskie, the "Metal Cowboy," has put over 200,000 miles on his bike over the course of his life. He's ridden across the U.S., Canada and Australia, pedaled numerous countries in Africa and Europe, and trekked across parts of New Zealand. It's an impressive feat for any cyclist, but, though he's written numerous books about his exploits, what you're most likely to hear Kurmaskie expound upon these days, if you're lucky enough to hear him spin his crazy tales in person, is the family he is raising: four boys, with the help of his courageous wife and a small fleet of bicycles. In 2007, Kurmaskie took the whole clan, just three boys then, on a trip across Canada when his youngest son was only five years old. The resulting book, Momentum is your Friend, is full of stories any touring cyclist can relate to, and a few they probably can't. His latest work, A Guide to Falling Down in Public, covers a broad swath of stories from Kurmaskie's days in the saddle. These days he's happy to call Portland home, although, as Kurmaskie's said before, the adventure "doesn't have to end in one zip code."
ELEVEN: You wrote about an experience as a young man that nudged you toward ditching your car in favor of a bike. I had a similar, if slower, rediscovering of the bicycle after a short dalliance with the automotive lifestyle, but I was curious about the suddenness of your conversion. Was there always a latent cyclist in you, just waiting to burst forth?
Joe Kurmaskie: Yes, and not latent but out and about. I was an avid cyclist growing up in a very dangerous place to ride: Florida. But the pressures to conform as a teenager in Florida to the car culture were very strong. So I like to think that I was always a card-carrying cyclist–since the day I learned how to pedal at five years old–with a brief period of falling off the saddle and being a gashole for several years in my late teens.
11: You've been fairly honest in your resentment of cars and the people who drive them, and you've written about the occasional bout of road rage. What do you do to keep that frustration from boiling over in unproductive ways?
JK: Flip the peace sign every time I feel like using a different hand gesture. Also, I work on tangible changes to our transportation infrastructure with local groups, and the biggest thing I do to be productive is ride my bicycle every day. By being another bike on the road it helps push the paradigm shift. If everyone would just dust off those bikes in the garage and ride them to as many activities as possible in their daily lives, the shift would be incredible and quick.
11: You write a lot about what it means to be a dedicated cyclist while simultaneously raising four boys, who are, themselves, often with you on the road. Sometimes you even make it look like a lot of fun. Any advice for new parents who are considering ditching the car?
JK: I make it look like a lot of fun because it is. This is time with your kids that you can't get back, manufacture or buy at any price. And when you spend time together on bicycles, you are getting exercise, exploring the world sans hermetically sealed environment, and you're able to have rolling family time rather than carting kids around as they slum in the backseat with a screen in their hands. We get to stop and play in creeks and ponds and playgrounds and see all sorts of things you wouldn't trapped in that rolling cage.
11: You said that you feel like something of a pioneer in the Portland bike community, as far as committing fully to the life, and transporting your sons, and hauling groceries and sports equipment etc. Now that you're not alone, (and being occasionally mistaken for homeless), do you ever miss those days, or are you happy others have started to join the party?
JK: I don't miss being the lone wheel in the wilderness. I could coat it in nostalgia, and maybe I do in a story or two, but I want a future and a present where bicycles outnumber cars and as many of us as possible are enjoying the exercise, the joy of cycling, the environmental aspects of cycling over petrochemical transportation.
11: Any thoughts on what next steps Portland should take in order to stay near the top of the country's best bike cities? Any advice for incoming mayor Ted Wheeler?
JK: Embrace bikes, pedestrians, and light rail like it's a Manhattan Project-level priority. We must turn away from a car-centric community and look to parts of Europe and a greener, cleaner direction. We might be one of the top towns in the USA for bikes, but in other parts of the world we are average at best. I'd love to see Ted pour attention and funding into more green/ bike/walking infrastructure and challenge businesses to see the positive economic impact of cycling and embrace projects such as the Salmonberry Trail to the coast, etc.
11: You played a little trumpet back in the day. You once stole a motel suite from Elvis Costello. Any favorite bike jams?
JK: Music is at the core of my being. I love all sorts of good music from Petty to Miles Davis to Curtis Mayfield's "Move on Up" to Vampire Weekend, to Black Sabbath's old stuff. I'm such a music fan and was a DJ at my college back in another lifetime. From Paul Weller to Weather Report, Midnight Oil, the Church, Redbone to Bowie… and of course Zeppelin is always a good lead out for the start of any ride.
11: You recently had a health scare after being diagnosed with hemochromatosis, an iron disorder. But, as is your style, you didn't take it lying down. Care to talk about how you grabbed the bull by the horns?
JK: I was circling the drain and didn't know it. Hereditary hemochromatosis is a genetic mutation that, when it kicks in, usually during middle age, it causes the body to load iron in the organs and tissues. The body normally expels any iron beyond its daily needs, but with this disorder–the most common deadly genetic disorder in the world, that few have ever heard of — your body can't expel the iron so it stores it in the heart, liver, brain etc. and it triggers all manner of chronic and deadly illnesses: 12 cancers, heart failure, heart attacks, liver failure. And worse still, in the early going, when it can be treated and folks can be given a full life expectancy, only one in four get detectable symptoms, and when you get symptoms they are vague and mimic middle age; so one in nine are affected by this in the USA — it's a larger group than diabetes — but only eight percent worldwide get diagnosed. We are looking to change that. I got very luck but decided to turn my energies to helping others through a massive awareness campaign and action network centered around ironitout.org. We are gunning for nationwide standard testing through simple blood tests on the BCC panels and a large media campaign. »
– J.P. Kemmick