Portland artist Nolan Restivo
ELEVEN: Are you originally from the Pacific Northwest?
Nolan Restivo: I grew up in Southern California. I moved to Bend in my early twenties. Bend was a lot of fun, and it's where I built a lot of solid friendships that I have today. After 10+ years there, I was ready for change and headed to Portland. I have been here for close to 6 years now. I love it here.
11: Where does your love of woodworking stem from?
NR: I love working with my hands. I was completely addicted to ceramics throughout high school. Constantly trying to throw bigger and bigger pots on the wheel. I got really good fast, although I didn't have the patience at the time to really focus on it. I was just a little shit, and didn't take it serious. I never considered myself an artist, but those years opened my eyes to what is possible with the right tools and a little time.
11: Have you had any formal art training? How has this creative endeavor morphed into what it is today?
NR: I got a job setting tile with a friend when I was 22, and that was when I first really learned anything about tools, and construction. From there I slowly learned other trades, and eventually bought a house, pretty much gutted it, and remodeled it. It was on a budget, second hand, and total D.I.Y style. If I still had that house today, I would have to redo everything, it was pretty half-assed, the way I did stuff then, but it was all I knew. Fast forward 15 years, I see a piece of art online with a tutorial on how to build it. So I pull my chop saw out, and give it a go. I butchered it, but within a week I figured it out, and made a pretty large wall piece. My wife convinced me to start an Instagram and post it, so I did. A year and a half later, I somehow, someway, managed to quit my bartending job, and make a living as a woodworker. I have so much to learn, and feel so lucky to be where I'm at.
11: What about the Pacific Northwest provides you with inspiration for your pieces?
NR: The people, the people. I could easily say, "the trees, and the outdoors", but that's getting old. The Northwest is constantly showing the world how progressive and forward thinking we have become. You are constantly seeing, reading, and hearing about amazing people, doing amazing things. There is just so much creativity here, that It opens your eyes to more of what is possible, and helps give you the nudge to go for it.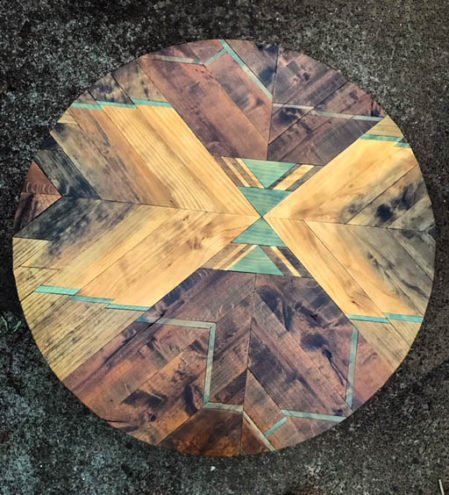 11: What is the creation process like – how do your ideas precipitate into a physical manifestation?
NR: Most of my design happens during the build. I usually go into it with a rough idea of tones and style, but that often changes during the process. I rarely sketch out my work beforehand. I have found that I spend too much time trying to replicate the sketch up, and it limits my creativity. A lot of it just doesn't translate from paper to wood either, so that throws a wrench in the design as well.
11: Many of your pieces incorporate different stains or colors of wood. How does staining work its way into the process of putting these pieces together? How do you choose colors?
NR: Staining always happens before each piece is glued into place. Once I have my cuts made, I will start staining and gluing down. I use a mix of oil based stains, along with spray paint. I like to spray and then wipe, that way you still get the wood grain to pop. I keep a full spectrum of colors in the shop, that way I can play around on sample pieces, and try different things. I really enjoy switching it up. As gorgeous as a dark walnut coffee table is, some people would prefer some teal and black in their space, so I like to make sure my work speaks to different crowds. Different flavors for different people.
11: Where do you source the wood from? Is it locally-sourced or do you work with wood from around the world?
NR: I work with a couple different distributors here in Portland. As much as I would love to be using reclaimed wood, its just not the right product for what I do. I do my best to use all my scraps for smaller projects or burn for firewood.
11: Are there certain kinds of wood you prefer to work with? I noticed you use a lot of Alder. Is that due to preference? Accessibility?
NR: Yeah, I have found the Rustic Alder to be the most practical, durable, and affordable material for my process. I love it when I hear that my tables are affordable. It's because I'm using Alder. If a client wants to spend a little more and go with oak, or cherry, then I have no problem doing that, but as far as custom pieces, I go with Alder. Solid wood furniture, locally made, is not cheap. So keeping my cost down means that I can continue to offer quality pieces at a price that is not only reasonable but doable.
11: What do you find challenging about working with wood that you might not have with other mediums (i.e. clay, watercolor, metal)?
NR: Oh man, every medium has a thing. For me, it's the dust. Lots of it. Keeping the shop clean, and making sure bags and filters are attended to is super important. I feel like half of my time in the shop is dedicated to cleaning.
11: You also do a lot of custom pieces. What is that process like- working with the client to create both their vision and yours?
NR: If a client gives me full creative freedom on tones and style, I like to get pretty creative, and see how far I can take the design. Most often the client sees a piece I have already made, and either asks for a similar piece, or something with the same tones. I always ask them to view my work and show my their favorites and least favorites and then go from there. Seeing pictures of the space where my piece will be living is always helpful. That way, I can try and match tones up, and also stay away from colors and patterns that may clash.
Find this artist online:
Web: www.juncturewoodworks.com
Instagram: @juncturewoodworks