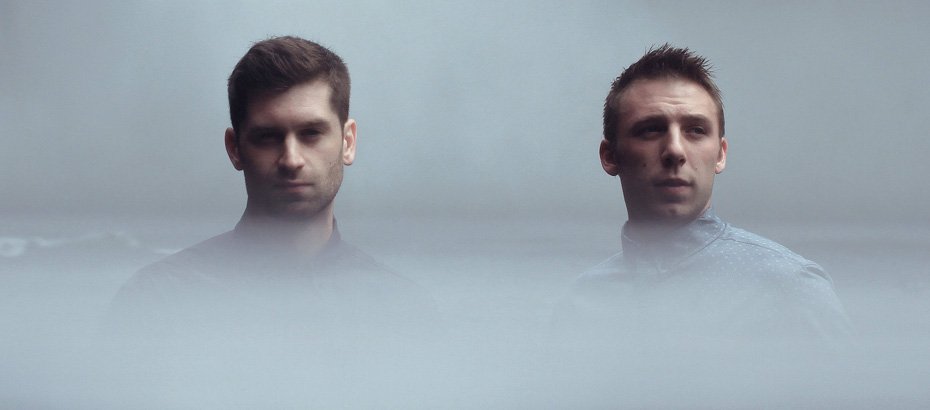 Although Seattle still brings to mind grungy images of rock's past for a lot of people, there is a busy electronic dance music scene in the Emerald City and the surrounding Pacific Northwest. It's not the heavy, in-your-face, industrious beats that drive clubs, raves, or dubstep dance music that EDM is generally known for. Instead it's a chilled out mixture of dreamy pop melodies with ambient, hip hop and trap music, blended with live instrumentation, varied electronic percussions, and an array of manipulated vocals and unique samples. Artists in our geographic corner such as Emancipator, Giraffage, and Slow Magic all provide experimental sounds that wash over their audiences while also encouraging them to move.
Back in 2012, Harrison Mills and Clayton Knight were acquaintances that were both about to graduate from Western Washington University in Bellingham, Washington. They had taken different educational paths, with Mills learning graphic design and Knight pursuing a degree in physics. They each had a similar penchant for music, though, and were both active as solo electronic musicians; Mills as Catacombkid (a nod to an Aesop Rock song), and Knight as bedroom artist BeachesBeaches.
It was only a matter of time before Mills and Knight found that they shared similar tastes in their musical style, and that they easily connected on a creative level to create layered tracks with luscious effects, vocal loops, and invigorating beats. They named themselves Odessa, after a sunken vessel in Harrison Mill's family, but changed the name to the Hungarian spelling and stylized it Odesza, along with a symbolic pulsing icosahedron. Their first release Summer's Gone was created within a short time and was well received for its unique style and skillful nature from such a new group.
The duo immediately gained a following from underground electronic and experimental music fans, garnering over a million online plays, and earned bookings to play as openers for Teen Daze and Beat Connection within a few months. Within a year they had released a second album My Friends Never Die, which by all accounts was a bigger, more energetic release to the ambient notions of Summer's Gone. This led to touring as a supporting act with artists like Pretty Lights and Bonobo, and their reputation began to grow as they took over crowds within the festival circuit. On the side, Odesza was also enjoying remixing as well as being remixed with many other artists in the electronic universe, making an ongoing remix album dubbed No Sleep. 2014 soon found them headlining their own sold out tour with a new album called In Return.
In Return carries traces of both things classic and things visionary. Although each song on the album carries sparkling components that can be somewhat recognizable of each other as that of Odesza, such as layers of digital sounds with exotic rhythms and shifts in tempo, each track is also unique by a featured vocal artist or theme. There is an array of contributors, like the sexy Shy Girls, the soulful Madelyn Grant, the spritely voice of Zyra. Some parts are sped up and contrived to create infectious hooks and intrigue, but some tracks still rely only on the instrumental, bringing in clear and concise sounds like stick percussion or scraping dishes, as well as world elements like the Eastern qualities of "Sundara" and Japanese harp on "Koto."
This year Odesza re-released In Return as a deluxe edition by working further with Counter Records (an imprint of independent London label Ninja Tune). This included the addition of a new track featuring Little Dragon called "Light," as well as 3 live recordings. Live shows have expanded to include live instruments to accompany the electronics, including a guitarist and most recently a three-piece brass section. The show also includes impressive visuals to accompany the eloquent sounds, an experience that many fans have described as emotional and even spiritual. In just three years the work of Harrison Mills and Clayton Knight as Odesza has created a demand for their art, which is so calming and awakening simultaneously. This autumn has found them on another fast paced tour, selling out international venues with enthusiastic, captivated crowds.
As Odesza's tour readied itself for the last leg of the tour, in return to the West Coast, ELEVEN got a moment to speak with Clayton Knight about how Odesza got started and how they have moved through the momentum of their success.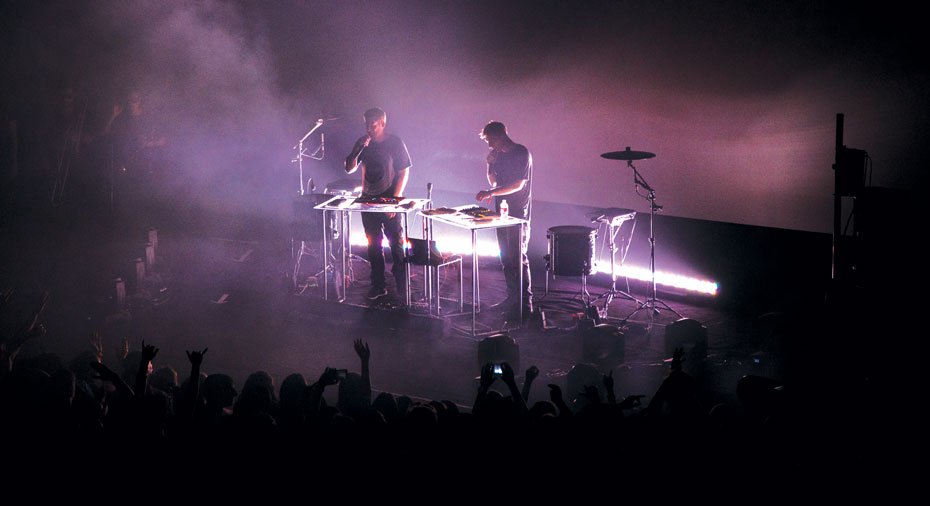 ELEVEN: Your style has been described as a more classy, emotional style of EDM. Do you think there has been a shift in electronic music performances and how do you define your sound?
Clayton Knight: The live show is definitely a different animal. There is a lot more going on than what most people expect when they think of a big electronic show. We have taken a more live band approach, so we have some heavier moments, but we also have some low key moments and even ambient moments. So we kind of do a wide range of styles and sounds throughout the entire set, which gives it a dynamic range, which can be perceived as more emotive. As far as our sound, It's definitely different and it's hard to put a genre on it.
11: How did you and Harrison meet?
CK: Before forming Odesza, we both went to Western Washington University and were each making music under our solo projects. Harrison went by Catacombkid and I was BeachesBeaches. We found we had similar tastes in music and just started messing around on some tracks together.
11: Who are some of your influences?
CK: Our influences include artists like Four Tet and Animal Collective, also M83 and Gorillaz. There is a lot of hip hop stuff. We are all over the map. Many of those names influenced us from an early age and we learned a lot from them.
11: Who are some of your current favorite acts or obsessions?
CK: We just toured with a band called Rufus Du Sol, and they have a great live show. We love some of our former band mates and collective artists like Jai Wolf, Hayden James, and Big Wild. It's a really eclectic group on the road and that's why we bring them on our tours. We really enjoy their sets and watching them do what they do.
11: You do a lot of remixes with many of these artists as well as popular tracks like Sia's "Big Girls Cry." What is the process of writing new arrangements versus remixing?
CK: We approach remixes a lot of the same way we approach the original stuff. We throw a lot of effort into the remixes that we do and try to take them into a very new direction. With both we never like to do the same thing twice, we really like to experiment.
11: Is there anything that you are dying to get your hands on for a remix?
CK: I am a big fan of Leon Bridges. I love that new soul that he is bringing back around, and I would really like to hear some spins and try to do something with his tracks. I think we could make something really cool. However, we are trying to focus more on original material and our own productions, so we have put remixing on the side for now.
11: You definitely bring in a lot of different people to collaborate for samples and hooks, from Pacific Northwest artists like Jenni Potts and Shy Girls, to vocalists like Briana Marela and Zyra, and even a track featuring Little Dragon. And that's just naming a few.
CK: Yes, we definitely like to be involved with other artists and have a lot of features.
11: There have been a lot of stories surrounding why you chose the name Odesza. What is the meaning behind your title?
CK: It's the name of Harrison's uncle's boat, Odessa, which sank a while back. We really liked the name Odessa, but we couldn't use it seeing as there was was already a popular UK screamo metal band using it. So we changed the spelling to the Hungarian version, Odesza.
11: In addition to the scream metal band, there is also a Scottish Synth band and a melodic female vocalist named Odessa. Do you think you could do a triple Odessa remix using all three of the different styles?
CK: Well the heavy metal is not really our thing, but we could think on it and see what we could figure out.
11: You also incorporate a lot of other sounds. There is tribal drumming, chirping birds, and sounds of dishes in the track "For Us."
CK: We are big fans of world music and love world instrumentation and using unique sounds. We love blending them with electronic elements.
11: The songs "Koto" and "Kusinagi" are very unique with Asian elements; "Koto" does incorporate the sounds of the Japanese stringed instrument, and "Kusinagi" is a beautiful song with the sounds of nature and branches snapping. I love the title "Kusinagi" because it is a legendary Japanese sword that is representative of virtue or valor. That has a lot of narrative for the music.
CK: That was the goal of those two songs, and "Kusinagi" was actually written by our guitarist Sean, and "Kusinagi" is his last name so it's named after him.
See Also
11: Does your degree in physics play a role in how you see your art, or create your arrangements? Like how some people study fractals in music?
CK: In the mixing stage, sure. Doing the arrangements can turn into a mathematical, scientific process, especially when it comes to mixing getting, things finely tuned.
11: Do you think Harrison's studies in graphic design and your studies in physics help to make you guys a more powerful duo?
CK: It definitely helped with the design aspect of everything. More than anything, my degree in physics really taught me how to learn and how to have the discipline to really sit down and really figure stuff out. There is no class you can take to really learn the music industry or for mixing or for the technical stuff. A lot of it is just trial and error.
11: You guys did a remix with Pretty Lights for the sci-fi film Divergent, do you foresee yourselves doing more soundtrack work in the future?
CK: We would love to. I think that could definitely lead to some really cool projects down the road.
11: You and Harrison met and formed Odesza in 2012. Within three years you went from playing venues in the Pacific Northwest and festivals like MFNW, to blowing up the festival scene and playing a sold-out world tour. How does that feel?
CK: We have been touring pretty fast for about two and a half years now, coming home off and on. The response has been really good, the rooms have gotten a lot bigger, and everyone has been really supportive.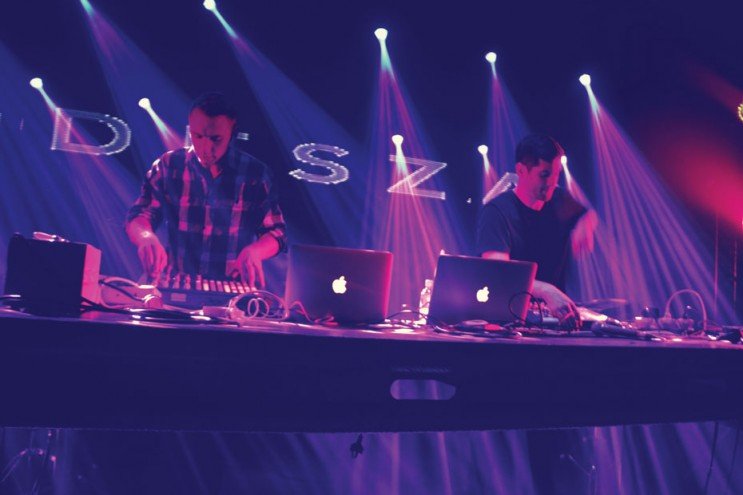 11: You guys often book multiple nights in each city, is this in response to the demand?
CK: When we first started putting the tour together it was just one night. But the tickets just went so fast and people were obviously wanting more, so we added more.
11: Your live shows are definitely different than your studio work. Some fans refer to the shows as a magical experience, where everyone is dancing and going crazy. What do you think it is about this music that packs in these very involved, enthusiastic crowds?
CK: We have a fan base that is very loyal and pretty open minded, which is really refreshing. There are a lot of special moments.
11: Why did you name your latest album In Return, and how did that album grow from your previous album My Friends Never Die?
CK: Well, starting out, our first album Summer's Gone was more of a project that Harrison and I put together in college, it wasn't meant to be too serious. It just grew from there. With this album, In Return, we were definitely trying to do different stuff and make a more unified sound. In the turnaround we were always on the road, and working on a lot of new material that year. It was always nice to come home and be around family again, so that is a lot of where the title came from. It was an ode to our friends and family that have been so supportive throughout the whole process. »
– Brandy Crowe