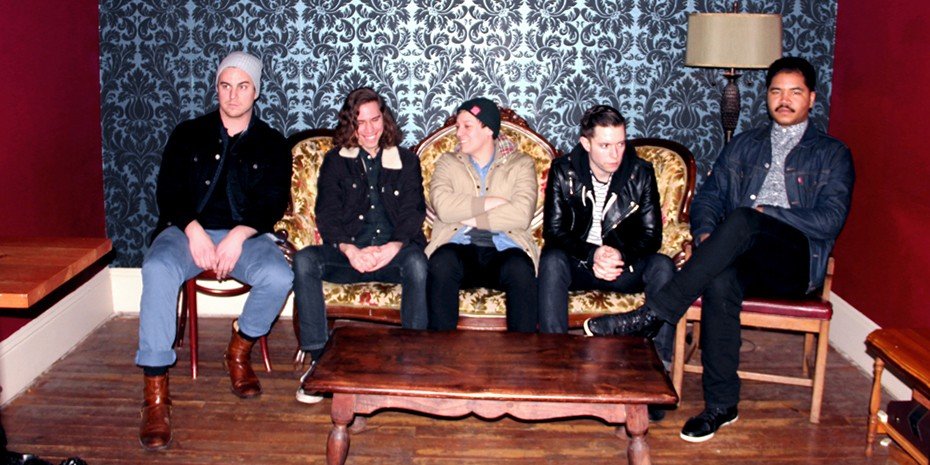 Portland's Rare Monk cut their teeth playing packed U of O dorm parties half a decade ago, but since those messy, jammed-out shows, they've chiseled their sound into concise, progressive rock songs ready for the airwaves. On December 9, 2015, they released their third EP at Mississippi Studios, backed by their label mates Hunny, from L.A. With the new EP they've evolved out of the spacey, reverb-laden aesthetic of previous singles like "Splice," and into a more straight ahead pop rock. Threading its way through the catchy choruses of songs like "California (Will Burn)" and "The Only Reason to Tour the Midwest" is a lyrical sarcasm that pushes them past pop clichés and into the company of groups like Modest Mouse and Cold War Kids.
ELEVEN: How did your EP release show at Mississippi Studios go last Wednesday?
Forest Gallien: We had a lot of people come out, which was nice to see. We took a break for a little bit, weren't playing shows for eight months or so, and this was the first show where it felt like we were back. It's a good venue, and a lot of our fan base came out, rather than just our close friends. I feel like we've gathered a pretty good following here over the last four or five years. All the bands we played with are great. We played with another local band, Mothertapes. And then the headlining band was on the same label as us, B3SCI Records, and they're called Hunny, from Los Angeles.
11: Are you guys building up steam to take on a new tour, or are you mainly trying to get people's attention again?
Dorian Aites: Well, we just released that new self-titled EP, and I think we're gonna be going into writing and recording mode again. Seems to be the way of it. Write new stuff again, and take a break from logistical things.
FG: There's a lot of rehearsing for the EPs. We actually recorded this EP last November. Our producer was in the UK, so we had to mix overseas back and forth with emails. And in the middle of that cycle, our original guitar player left and that's when Hugh joined, and that was about four months ago. So yeah, I think the plan is just to start fresh. We want to try and pump out as many demos as possible.
11: [to Hugh] How do you feel about joining Rare Monk?
Hugh Jepson: It's great, it's a new experience for me. Especially going on tour, I've never done that before. Never played Mississippi Studios before. I've known these guys since college, so it's great to play music with them…
FG: And hang out in a bunch of sketchy motels together on tour…
11: In the song "The Only Reason to Tour the Midwest," the chorus goes "Orlando's sinking underwater, San Francisco too, it's time we toured to the Midwestern states again, both the coasts are through," clearly a reference to climate change and the reality of rising seas. How did it feel writing about such a subject?
DA: A little dicey. A lot of charged opinions there. But I dunno, it's kinda something I fixate on, whether I'd like to or not. Seems to be pretty relevant to everybody's future.
11: Do you feel like it's either gonna resonate with people, or that it'll come off as preachy?
DA: I think it's a mixture of both. Then on the other side you have the staunch opposition to anything being talked about like that. But yeah, it did feel a little risky. Because you're trying to listen to an album, you're not trying to get preached at.
11: It's very tongue-in-cheek though. The whole EP's theme is post-apocalyptic.
DA: A lot of it is jokey. It plays on happy songs that in most cases would be like a love song or something, but instead it's a love song about the end of the world.
11: You have another song on there, titled "California (Will Burn)," and it's loaded with apocalyptic imagery, cannibals at the gates, seas piling up with garbage, survival, pandemics and hunger.
DA: Children eating their parents…
11: You mentioned that the lyrics are tongue-in-cheek, but do you feel elements of sincerity in these lyrics as well?
DA: Absolutely. It's a fun way to play with a potentially really scary reality.
FG: When we came out with "California (Will Burn)," we were supposed to release it right when the fires were happening, so we actually had to postpone the release of that song for a little bit. We didn't want people to be upset.
DA: But to be fair, I mean California's always going to burn every year.
FG: And we did write that song two years ago, really.
11: Do you think as the reality of climate change sinks more fully into our heads that artists will begin drawing more and more upon it for content?
DA: I'm sure. Already it's becoming a part of our consciousness of WHAT IS. I think the ranks of anybody saying that it's not a real thing will be dwindling. It's not even so much about climate change, it's about people not caring about what happens in general–politically, anything, you know, not giving a shit or giving up I guess. Which is a pretty real thing. I think it's pretty easy to feel like there's no real thing that a single person can do about anything… recognizing that feeling, and approaching that as a trap, hopefully that is gonna be less common. Don't just give in to the feeling that you can't do shit about anything. Gotta do something. Even if it's a tiny little thing.
11: As a band you've toured your fair share, right?
FG: We've done three or four national tours. Toured the UK once. We've done about twelve tours. I think we've played forty of the states, and seen a lot of America. Stayed in a lot of Motel 6's, and ate at a lot of Denny's.
11: So you've toured the Midwest. Other than a sinking east and west coast, there must be another "reason" to tour the Midwest?
DA: Well, when we were on tour with The Dangerous Summer, we encountered a lot of the young-uns out there, and they're all really fun. You know, the twenty-one and younger crowd always give a lot of hope for humanity.
FG: And out in the Midwest there are not a lot of bands coming through, so when you play there you get a lot of people coming out cause that's the thing to do there that night. Whereas in L.A. or New York there's a hundred shows happening at any given moment. We also get called out immediately wherever we go in the Midwest just for how we dress.
11: They just peg you as Pacific NW  hipsters?
FG: Yeah. Immediately, all the time. We don't even dress that crazy. Feel like we are on the mild side of that, but when you get outside of Portland and go to the center of the country, you get a lot of funny looks walking into the subway.
11: The new EP has mature and progressive instrumentation though still dwells in the realm of accessible pop. Do you strive to strike a balance between accessibility and artistic independence?
FG: Yeah I think that's exactly what we're trying to do. "California" and "Midwest" are both pretty poppy, predictable A-B format songs, but then the lyrics are all fucked up. And I think that contrast is something we've been consciously moving towards. But yeah, we do want to write music that's accessible but still fulfilling artistically. It's a difficult balance to nail down, but I think this EP is the first time when I think that was more fully realized.
HJ: But also the process for writing songs is very experimental because we often just jam on an idea until it sounds right, and then we try and make it fit more of a pop format. Since I've been in the band, at least the new stuff, we jam on it for a good amount of time before shrinking it down into a song, and that's where the more progressive stuff comes out of.
11: How do you feel about this new EP compared to past releases?
DA: It's definitely more just straight rock, than the previous spacey escapades.
FG: I think it's the most complete thing we've done in terms of songwriting. I think we really hit our stride, and honestly, working with the producer (Tom McFall) he helped us really bring everything together, stripping everything down, and letting certain parts shine.
DA: Tom took us through the ringer. It was cool. We broke everything apart, crystallized it down to its most amazing form and then reassembled it.
FG: Definitely the most intense recording process we've ever done. Seven days for four songs. And Tom was the first engineer we've worked with who has done work for bigger bands, like Weezer and Bloc Party, Snow Patrol. He had a lot of experience with what it takes to write a song that can be on the radio.
11: Has one member played a stronger role in shaping the music, or have you all evolved collectively into the sound that Rare Monk now plays?
FG: Definitely as a group. We go through musical phases, more experimental phases, and more pop ones. But it's an evolution as a whole. No one ever brings a song that's completely finished, and so then everybody gets a chance to put their stamp on it. Trying to write accessible music, but keeping ourselves happy with artistic merit.
DA: Yeah, couching little artistic parts inside more accessible wholes.
11: What bands in the local Portland scene do you typically bill with?
FG: It's kinda all over the place. I don't think we've found a specific pocket, like these are the bands we play with every time. I feel like every show is a different group every time. I think the music is somewhat hard to pin down into a certain genre, it's not indie rock, it's not alternative rock.
DA: Well yeah it's kinda tricky. We're a lot scarier than others, and not as scary as some.
FG: I think when people think of Portland indie rock they think of folk-tinged music, and we definitely aren't in that sphere.
11: Are there any local bands you really admire?
FG: that new Mothertapes album that just came out is fucking awesome.
HJ: Months. They are just so nice. The drummer in Months just kills it.
FG: I really like Wild Ones. I think they're great and that they deserve every element of respect and admiration that they're getting these days. »
– Ethan Martin