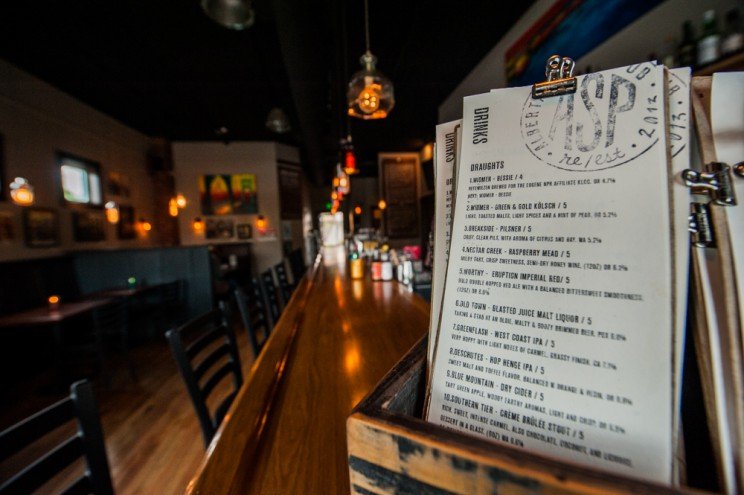 After finishing a dinner on Alberta Street recently, a friend and I landed in front of the aptly named Alberta Street Pub. "Wanna go into this dive bar?" he asked? "Heck yeah I do!" I said, but after I slipped inside and perused the bourbon list I realized that it was not a dive bar.
When I returned  for a live music performance, I was double checking that I was at the right place. There are a few other places on the street with "Alberta" in the name, and from the outside, the pub looks like a small, simple block of a building.  As it turns out, Alberta Street Pub is an illusion, a hidden small venue gem in Portland. 
The establishment was once called The Love Train, and one of the disco-pink signs still hangs out back. It was later owned by Mikey Beglan, who hails from Ireland, so it became the Alberta Street Pub as an Irish-style bar. Beglan discussed selling with friend Django Amerson, an Irish fiddle extraordinaire who came from a family of artists and musicians which also flipped houses. From there the Amerson siblings began a nine month remodel in late 2012. With the help of other musicians, they set out to fine-tune the sound aesthetic of the performance space to its best.
The stage was moved and a great deal of sound treatments were added throughout the house. The nice striped panels on the wall are actually quadratic diffusion for acoustics. Ear Trumpet Labs, a local craft producer of condenser microphones for stage and studio use, was secured for new mics to aid with intimate performances. ASP's booker Chris Andersen says they are just trying to provide a great space for musicians to come and perform in, and that the kinds of shows are pretty broad: There is some rock, with a lot of bluegrass, Americana, singer-songwriters, and showcases like "Control Yourself," a stand-up comedy night on Sundays. The venue  is cozy, with a capacity of about 100 standing. The residential noise ordinance can be tricky to plan around but has led to some early all-ages shows.
Today everything is operated by Laina Amerson and her partner-behind-the-bar Robert Bouchard. They have completely reworked the decor (a group of musicians also re-built the bar), the lighting, and the menu. They  cleared the unused lot out back to make a huge, heated patio space. The Alberta Street Pub has a familial feel to it, and some warm nods to its Irish pub past. There is an extensive whiskey list, housemade ginger beer, and Shepherd's pie as a winter favorite from their completely scratch kitchen. There has been an attention to detail and craftsmanship from both sides of food and drink and performance venue. Laina says they have done a pretty good job keeping things secret while they settled in, but they have a New Year's resolution to invite more people to visit their place for great food, drinks, and live music. »
– Brandy Crowe