Crystal Stilts @ Mississippi Studios 7/22/2012
Brooklyn-based quintet, Crystal Stilts, paid Portland a visit Sunday night at Mississippi Studios. You should already be kicking yourself for missing out on the post-punk neo-psych awesome that ensued. With heavy-hitters Blood Beach and Nucular Aminals starting the night off, you can go ahead and kick yourself a few more times.
Needless to say (but obviously I'm going to anyway), with such a stellar line-up only great things were in store for the entire evening. With pipes reminiscent of Ian Curtis, Morrissey, and Jim Morrison, vocalist Brad Hargett wore all black and delivered his lyrics in his signature deadpan way. With eyes closed and hands held behind his back, he gently swayed from side to side in front of a swirling projection of colors. Spaced-out drony echoes filled the Studios thanks to JB Townsend's wielding of a magnificent Vox teardrop guitar.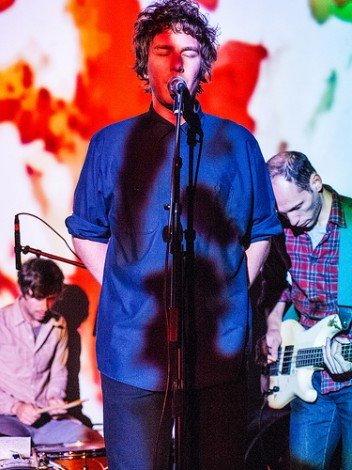 In between songs here and there, keyboardist Kyle Forester was the most vocal with antics about the current tour and props to the openers, "Thanks to Blood Beach who were great and for letting us use a bunch of their equipment as well as Nucular Aminals. Aminals. AKA the greatest name of all-time."
After a 50-minute set mixed with 2008's Alight of Night and 2011's In Love with Oblivion, the band was quickly encored with endless applause and requests for just one more song. A few ambitious fans demanded, "Just ten more songs!" With smiles plastered on their faces, Crystal Stilts took the stage once more with Forester adding, "I like you guys!" Taking a few moments to tune up, the band played a crowd-pleasing unreleased track, "Sugarbaby". Laced with an evocative keyboard line and crisp backing vocals (both provided by Forester), it was the proverbial cherry on top of the evening.
Words by Wendy Worzalla.
Photos by Mike Herman. More can be found on Flickr.