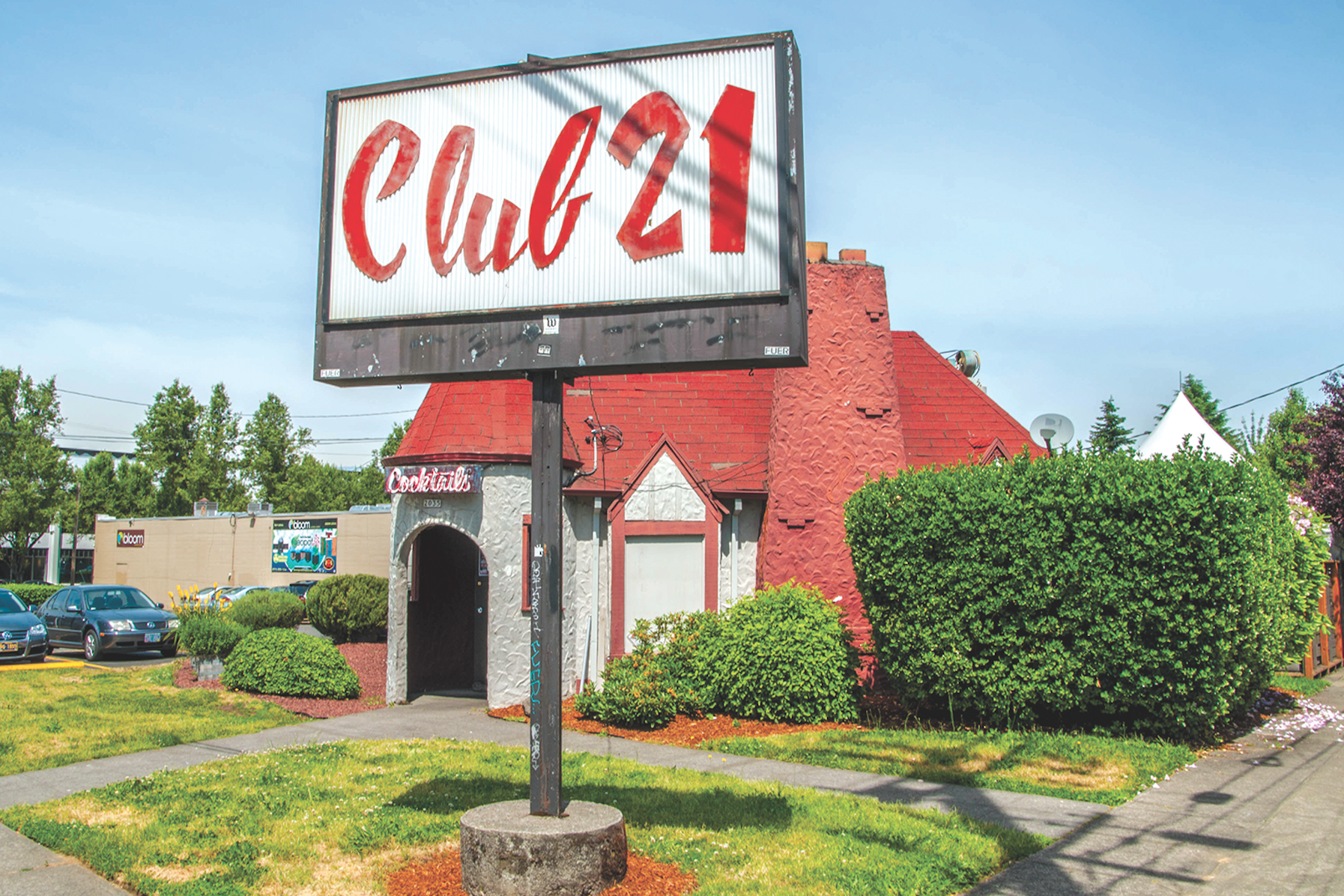 It's hard to miss Club 21's storybook cottage façade and arched doorways, with a neon sign advertising "Cocktails" glowing underneath a red gnome hat tower. It looks like a magical bar that belongs on the edge of an enchanted forest, but it lives on a large lot in the Kerns neighborhood where NE Sandy Blvd. meets NE Glisan St. at 21st Avenue.
The building began as a 1930s Russian Orthodox church, but later patrons could order from the altar-turned-bar as it became the East side addition of Jake's Famous Crawfish and later a club called Shadows. In 1958, in relation to its location, it gained a new owner and moniker as Club 21.
These days, Club 21 is under the same ownership as Gold Dust Meridian and Double Barrel Tavern. That's Marcus Archambeault and Warren Boothby, who are also in the process of taking over The Sandy Hut, another popular dive down the street. When I asked about his vision for the local bar scene, Archambeault says, "People in this town love the old bars and charm of Portland past. We are trying to preserve that with our places."
Back in 2014, The Mercury reported concerns from Portland Preservation Society about Club 21 (and the area in general) facing the feared redevelopment wrecking ball. Today, the venue's show booker and Portland musician Joey Prude (The Cry and Slutty Hearts) echoed the reassurances of the owners in that Mercury story.
"We have a long lease and aren't going anywhere," Prude says.
The bar has been revamped, but maintains its original charm. Inside are vaulted ceilings with exposed dark wood beams, antlers, and Gothic light fixtures above a cozy bar. There is vintage paraphernalia and pinball, and the menu: Club 21 is a must try for bar food and stiff-drink specials. Their "Build Your Own Burger" menu averages less than 10 bucks and is full of delicious options–pick your bread, your meat (free range organic beef), sauces galore, and toppings (I'd recommend the pickled habanero). Sometimes they grill them made to order on the patio, which is quaint but still roomy enough to be a great dog-friendly spot.
It's a neighborhood favorite with many loyal customers who have frequented the bar for decades. At one time, the late Elliott Smith was a regular, Archambeault says. What a lot of people remember about Club 21 has to do with its relation to former raucous spot EJ's, which back in the '90s, was one of the main punk/rock clubs in town besides Satyricon. But EJ's didn't have a liquor license, so in between bands everyone would run across the street to Club 21 to get their shots and maybe play a game of Frogger.
"That's why it's cool that we still put on shows," Prude says. The space is tiny, with capacity at only around 50, but three to four times a month they make it happen, moving tables and poker machines to make a small stage for bands like Wampire, Autonomics and Bubble Cats. Every show is free.
"It's like a house party vibe," he says "We basically just use a PA, and the crowd is right up against the band. The shows that I put on are 90 percent punk rock, so it's cool to have a small venue where the room gets packed." »
– Brandy Crowe