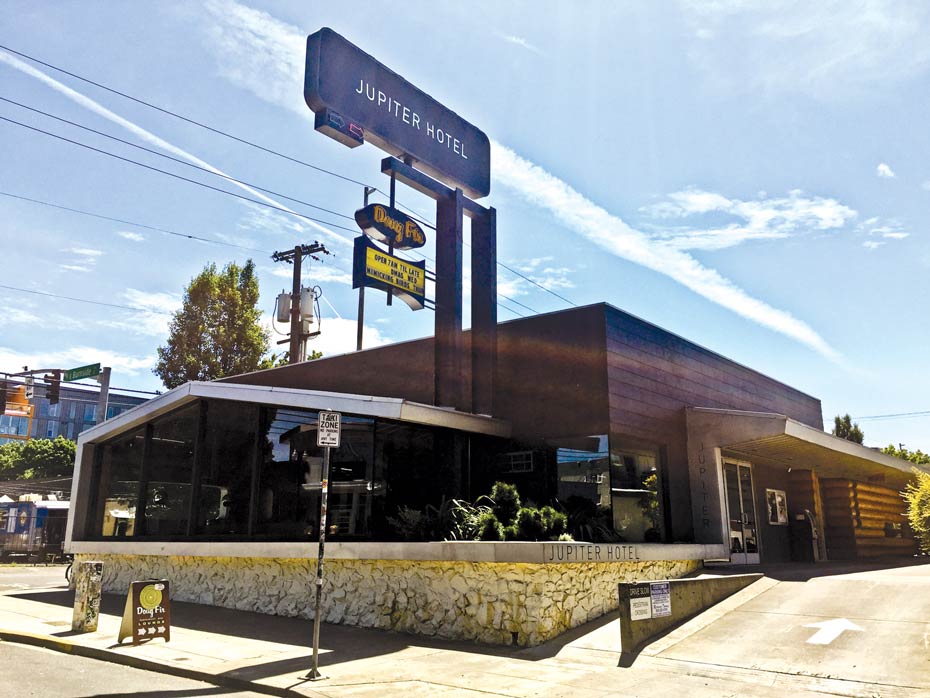 Though the Doug Fir Lounge might be one of the youngest music venues that calls Portland its home, it might as well be one of the most established. From its name to its constant flow of local acts, everything about the place captures the Pacific Northwest vibe. On the national stage, The Doug Fir Lounge has been named one of the best music venues by Rolling Stone and USA Today, and has played host to the likes of M83, Alabama Shakes, and The Shins [even after they've sold out venues with ten times the capacity].
The building has had its ups and downs since the 1950s in the lower Burnside area and was home to an old Chinese restaurant before owners John Plummer, Mike Quinn, and Jeff Kovel transformed the premises into what is now The Doug Fir Lounge. It was renovated alongside the Jupiter Hotel in 2004, with Jeff Kovel playing a major hand in the architectural design of both buildings. Before they began, the place had been run down for years, making it easy to part with the unsalvageable insides. The only evidence that remains is the massive wooden beams making up the ceiling, which sparked inspiration for further design of a log cabin. Its name comes from the Douglas Fir tree, a species native to the Pacific Northwest.
Guests have described the spot as Paul Bunyan's spaceship, or even as an outer-space-log-cabin-on-acid. Its two stories make it easy to pack more people in, with the top floor serving as a restaurant and bar, and the downstairs venue holding up to 299 people. Its one-of-a-kind green room contributes to the unparalleled experience for artists. The room was revealed in January 2012, as a product of a partnership between both Red Bull and The Art Institute of Portland. Owner John Plummer worked with a class at the Art Institute to create a space that included a soundproof wall, vanity mirrors, Red Bull coolers, and a sticker wall. Their $900 budget spurred them to turn to recycled materials like bike tires and reclaimed wood.
The optimum chill space for the artists isn't the only appeal that draws them to the Doug Fir. The intimate venue has state of the art acoustics, making it one of the best sounding rooms in the city. Concertgoers don't miss a beat and artists love their own live sound (which is an unfortunate rarity). Holding at least 25 concerts a month, The Doug Fir serves as both a cultivator for new talent and as an intimate space for larger acts.
To amplify their unique presence, the venue is pairing with Worthy Brewing out of Bend, OR to release their very own Doug Fir Pale Ale. It is expected to be revealed this fall around the venue's 11th anniversary. From its distinct design to its broad spectrum of bookings, the Doug Fir Lounge is continuing to grow its legacy as an ultimate Portland music experience. »
– Gina Pieracci