Travel along Russell St. in Northeast Portland and you'll pass quite a few breweries, eateries and places to catch a show. The newest stage on this strip is dedicated to new and local talent–it's the Local Celebrity.
Local Celebrity is just before the Willamette river and mere steps away from The White Eagle Saloon. You'll find a big "LC" frosted onto the doors. It's a two-fer–owner Daniel Leussler had been vying for property to open a venue when he came across 820 NE Russell, the building that had recently housed a bar called Mint. It's an expansive building with deep dimensions, and it's split right down the middle into two long, narrow rooms. There's a bar on one side, and a room for live music right next door.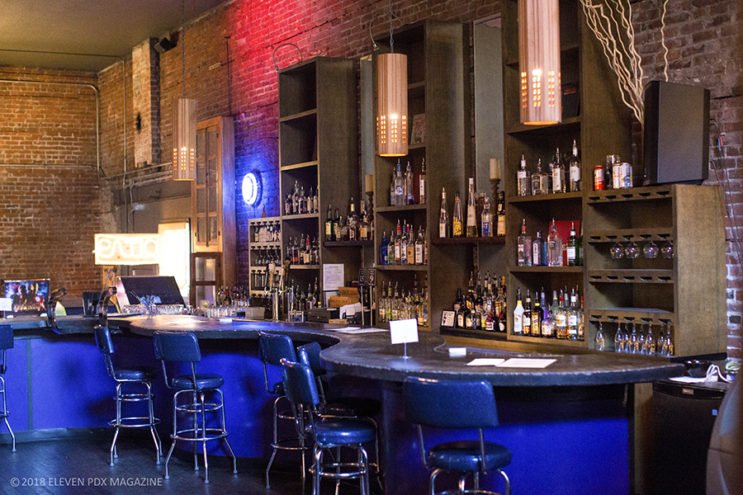 The bar features exposed brick and rustic ambiance, with plenty of seating and curved booths to gather in. There's a sunken livingroom arcade, and outside a patio that runs the length of the building, where there's a patch of open sky and a view of the bridges.
There's an extensive bourbon and scotch list, with warm winter drink specials including hot toddies, a "Hot Rye Ghost" (Ghost Owl rye, chai, cardamom and grapefruit bitters, and a spicy pepper-infused screwdriver. Chef Warren Kirk has put together a menu of bowls and a great mix of ingredients to build-your-own. Think falafel, fried chicken, yams, seeds and greens. Leussler says they picked food in bowls as a theme because it's incredibly convenient for a music venue, "When the music kicks off you just take it with you while you watch/listen."
On a frigid December evening the Local Celebrity's "bar side" is quiet. You can barely hear what's going on in the room next door, where there's a small group of people bundled in coats, hats and gloves, nodding along to Farrago on stage. It's a cozy room, with a small, tall stage, and the music sounds really good.
When I ask Luessler about the sound system, he totally nerds out on me and begins talking digital interlinks, side-chain compression for creative control and mics with "high gain-before-feedback characteristics." But what should I expect from a guy who went to school for audio engineering and even designed and operated a PA for the prime minister of Norway while in Antarctica?
He's also the man behind the Killingsworth House, a video podcast series of interviews and performances with local artists. Leussler says in time, they may do something similar to Killingsworth House at Local Celebrity.
To name the venue "Local Celebrity" was originally manager Kyle Perez's idea. As Leussler puts it, "The name was intended to reflect what we saw as one of this city's most endearing traits. Portland isn't a small town any more, hasn't been for a long while, but it still seems to love the 'local boy makes good' attitude. Our focus for the venue was to be a place that helps that local talent be a star, even if they're in a smaller pond."
It's all new names on the show calendar, and open mic is every Monday night to give our next local celebrities a place to play.