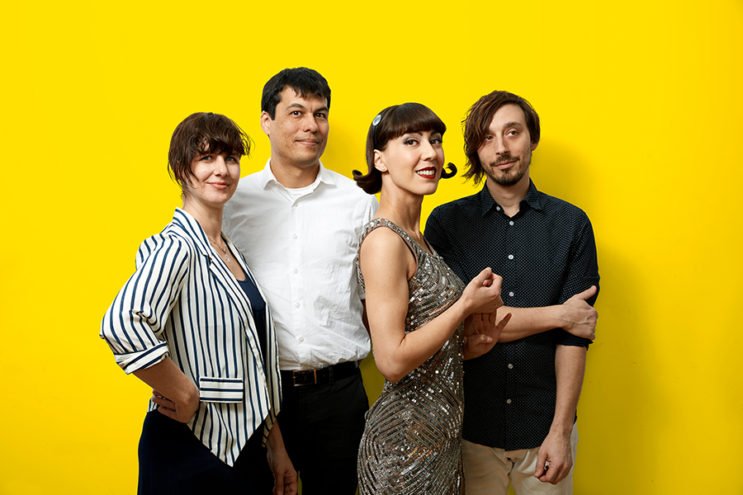 Live in Portland January 27, 2018 | Bunk Bar
with New Fumes
The Octopus Project remain as whip-smart and mischievous as their namesake; the Austin-based quartet (multi-instrumentalists Lauren Gurgiolo, Toto Miranda, Josh Lambert and Yvonne Lambert) have been knockin' em dead with a mixture of psychedelia, post-rock and electronica all their own since 1999. Crossover appeal is the name of this band's game; an early talking point from the band's career was Yvonne Lambert's theremin, which gave tracks like "I Saw the Bright Shinies" a ghostly halo. Early albums like 2007's Hello, Avalanche were mostly comprised of post-rock with a cinematic feel, with high-tempo tracks bookended by sentimental ambience and calming electronic beats. Though some lyrics managed to sneak in here and there, most of their songs were instrumentals, which made them fitting openers for the likes of Explosions in the Sky. The Octopus Project's newest, Memory Mirror, released through the band's label Robot High School, however, follows the format of a collection of pop songs; though it makes a break with their more experimental past, it does so without sacrificing their exploratory sound.
Reverb-laden guitars, an insistent rhythm section and dreamy keyboards abound on an album of psych-pop tunes with lyrics that could've come straight off of a Yes album. The Octopus Project have said goodbye to post-rock melancholy and wholly embraced a high-energy mixture of psych-pop, prog and krautrock, weaving electronic beats throughout the fabric of the album. Looking at the incredible amount of diversity from track to track, it is clear that though they've shifted gears, they're staying hungry. You can still hear Lambert's theremin trailing out on the tail end of "Leven," after all.