If it makes sense to run a country for the people, by the people, then it makes sense to run a venue for musicians, by musicians. Mississippi Studios is the Portland venue that prides itself on that kind of principle, and in the words of founder Jim Brunberg, "Musicians need day jobs too" when they're not the ones filling concert halls with fans of their own.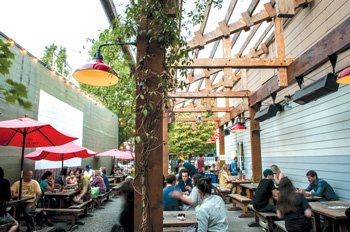 This wasn't always the case though. When Brunberg bought the old church 10 years ago, it was located on a street that didn't have much going for it yet. Since then, Mississippi Avenue has undergone a huge transformation and has a lively hustle and bustle to call its own. The property that the avenue knows now started out with an upstairs recording studio back in 2003. Though it only lasted a few years, it was the building's initiation into a life of music.
The goal was to create an intimate space with a homemade feel and host solely music events with acts that were relevant but not yet exhausted. Construction began with the remnants of the church, salvaging as much as possible. With wood being the primary treasure, beams are still visible reaching all the way to the venue's ceiling and then from wall to wall. The panels built were accommodated to the church's lofty structure and you'll find that none of the wall panels are exactly parallel. Each panel slants at a range of 2-5 degrees, which oddly enough enhances the room's acoustics.
2010 was Mississippi Studio's next biggest renovation, with the addition of the burger joint, Bar Bar. Though it adds a different vibe to the place, traffic flows seamlessly between the two establishments and is an extra opportunity to display their friendly hospitality. The two cozy back patios provide even more space to make memories during at least one of the 500 shows hosted each year.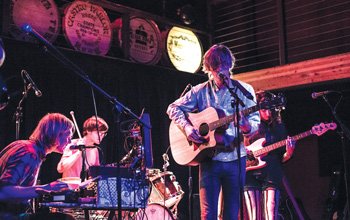 Extending the Portland welcome to artists that come through, Mississippi Studios is big on equal treatment, treating the superstars and the rookies the same. Their biggest service to the talent is making them sound good on stage, which is an amenity not always guaranteed to both fans and artists. Mississippi Studios' senior talent buyer, Matt King, books talent pretty evenly proportioned throughout the year by hosting one half local acts and the other half national. To "keep it Portland" and showcase locals, they prefer to have national acts opened by bands from the area.
When local bands hit the stage, it's a big deal to the venue's community because occasionally those on stage are their very own employees. During off nights, members of Typhoon, Genders, Magic Mouth, Box Set, Federale, and more are found handing out drinks, setting up stage, or just floating the floor. Though both acts and employees might not always be recognized, Mississippi Studios knows how to keep the good music and guests flowing steady. »
– Gina Pieracci