"Obstacle" by Bear & Moose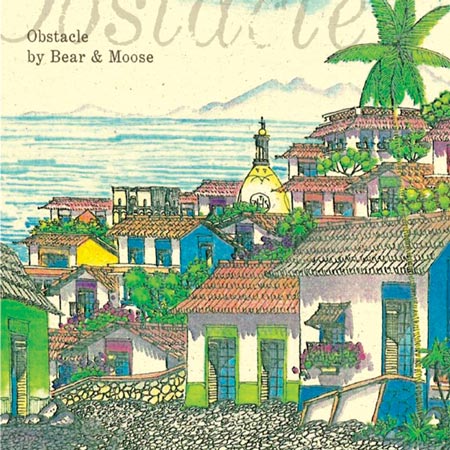 Back with their third studio efforts, on September 15 Portland slacker/psych group Bear & Moose self-releases Obstacle, the band's strongest album to date. Engineered by Justin Higgins at Old Standard Sound, Obstacle was recorded live onto a vintage 4-track Teak tape machine that was handed down to guitarist/singer Eric Mueller by his father.
In the time since the group released their 2013 sophomore album Inside The Eyewall, the duo became a trio, adding bassist Stephen Moore (formerly of Mufassa). That shift in dynamics allowed Mueller to reinvent his songwriting and ultimately the sound of the band as a whole. They traded in their use of noisier psychedelic guitar effects and midi samples that were present on the band's first two albums, for heavier hooks and grooves, in what evolved into a set of 14 short and sweet songs with a heavy throwback feel of '70s post-punk.
Throughout Obstacle's 33 minute-and-change runtime, a few bangers jump out. On "Yesterday," a hypnotic rhythm (woodblock and all) and driving bass line demand one's head to bob, while Mueller bids adieu to the days of past with his classic use of alto and baritone vocal harmonies. "New Years Eve" offers a playful reincarnation of the sounds of The Modern Lovers and Television. Title track "Obstacle" boasts perhaps the most traditional Bear & Moose sound on the album, with Mueller's twinkling guitar bursts popping out on upbeats between Moore's chooglin' bass groove. »
– Travis Leipzig