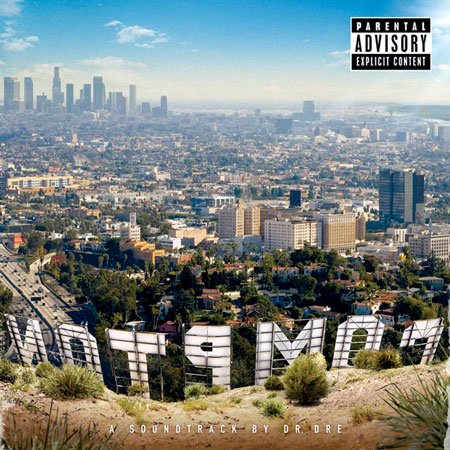 Dr. Dre has long acted as a godfather to the hip-hop scene, and to the younger generation of hip-hop fans he has existed as more enigma than entity; lurking in the shadows, promoting hot young talent from time to time (most notably Kendrick Lamar). Absent from albums for 16 years, he quickly reminded everyone of his place in history with his third studio album Compton: A Soundtrack.
As strange as it sounds for a career 23 years in the making, we still don't know what a Dr. Dre album is supposed to sound like. He popularized the classic West-Coast G-funk sound we've all come to associate him with, but he's proven on Compton that he can mix it up on a whim, and provide us with these lush, dense, almost cinematic instrumentals that flesh out the album and, like his past work, don't necessarily follow popular trends in hip-hop. Dre has always said more with his production than his words, and Compton is no different.
One thing I didn't realize with Dr. Dre's work until Compton is that he's always been strangely political. The intro track sets the tone with a brief history of the city of Compton, and it transitions perfectly into "Talk About It" where Dre proves he still belongs in the rap game, while Justus sings about the dreams of the children in the city. "It's All On Me" details Dr. Dre's sacrifices on his path to stardom, and on closing track "Talking to My Diary" we see Dr. Dre open up to his audience like never before.
A large part of Dr. Dre's legacy comes from the talent he's brought up; guys like Eminem, Snoop Dogg, Kendrick Lamar. Dre really brings the best out in the artists he features, and surprisingly, Compton brought life to Xzibit, Snoop Dogg, and Ice Cube as they proved they can still spit like it's the '90s if they need to, not to mention three more breathtaking Kendrick verses and a handful of features from up-and-comers Anderson .Paak, Justus, and King Mez.
Compton might be the most consistent album front-to-back he's ever released, as no track stands head and shoulders above the rest the way "Still D.R.E." and "Forgot About Dre" did on 2001, or "Nuthin But A 'G' Thang" did on The Chronic. Each song tells its own story, all are produced and mixed wonderfully, and there isn't a single feature that disappoints. Dr. Dre has announced Compton as his final album, and it stands as a remarkable bookend to the legend's discography. »
– Tyler Sanford