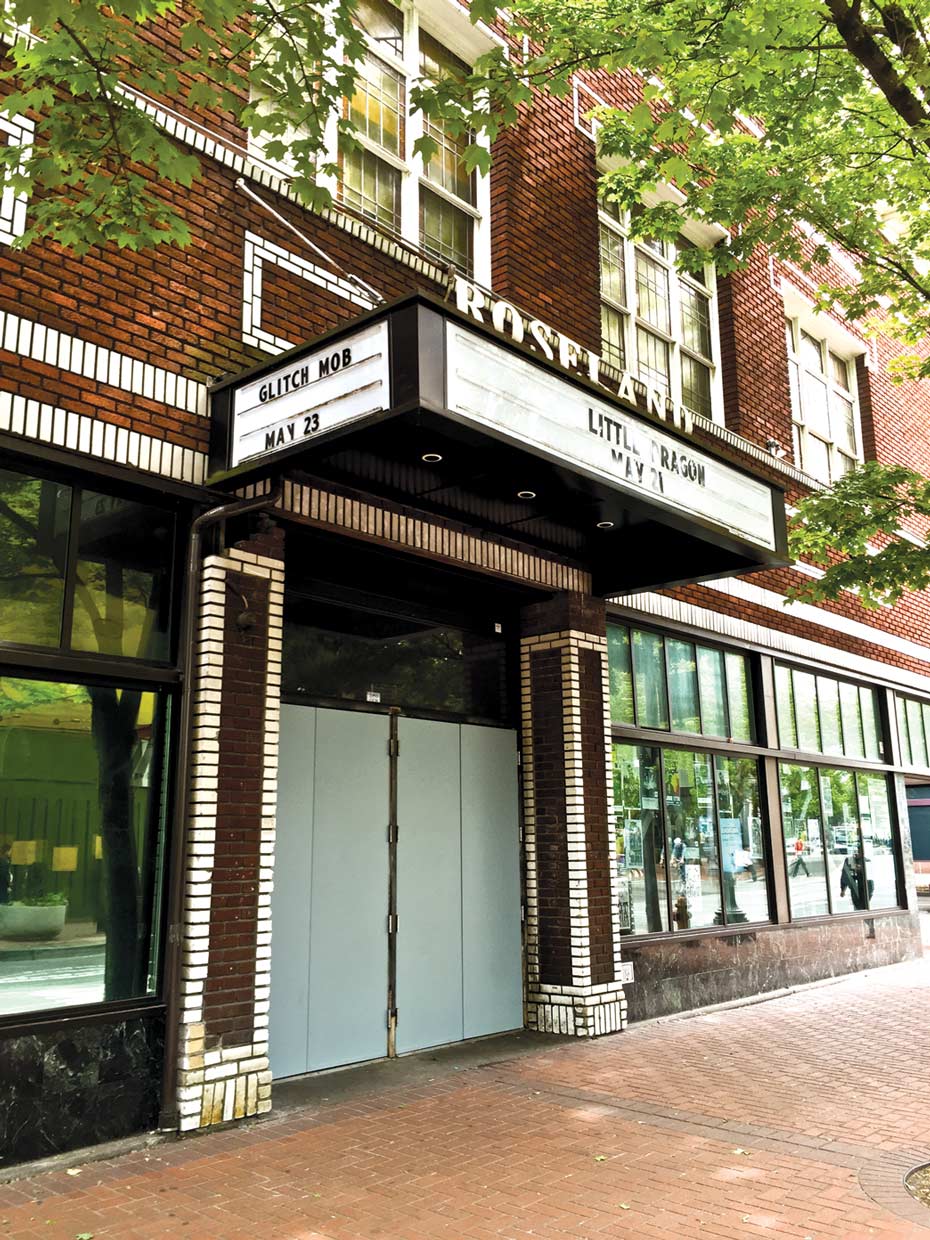 Marked with the vertical blue-lit sign on the corner of NW 6th Ave and Burnside, stands the Roseland Theater. Appropriately named in the City of Roses, the venue hosts from 150 to 175 acts per year and has become a staple in the Portland concert scene under the present ownership of Double Tee Concerts. Prior to its current management, the establishment changed hands a couple times, but its history begins with some old time religion.
Originally built in 1922, it was used as headquarters for the Apostolic Faith Church of Portland. Storerooms made up the bottom floor (hat shop included) while the top floor was meant as a place of worship and could hold up to a 70-piece orchestra complete with choir. When construction on Burnside Street began, the building was forced to sacrifice some square footage, and a balcony was added to replace lost seats. What clearly distinguished this building though was the massive three-tier sign that electrified a star and the declaration: "Jesus The Light Of The World."
The sign came down when the building was sold to Larry Hurwitz in 1981. In 1982 he opened a nightclub called Starry Night. During its 9-year stint, the venue's stage saw the likes of Nu Shooz, Metallica, Blue Oyster Cult, The Beastie Boys, and The Red Hot Chili Peppers. With a maximum capacity of around 1,000, the venue was well known for its sell-out crowds in the '80s.
The start of a new decade brought about new management for the building when it was sold to Double Tee Concerts in 1991, and Starry Night officially became known as The Roseland. Owner David Leiken set out with the goal of having arena level production in a smaller venue, and the past 20 years have brought about renovations in the sound system, dressing rooms, lighting equipment and even a new roof. The idea in mind behind many updates was that happy artists prompt happy crowds.
The Roseland does not restrict shows to the 21+ crowd, but does manage Peter's Room, the full restaurant and bar located on the bottom floor of the premises. On occasion, this room will host its own small-scale shows, making use of its 4-foot tall stage and 400-person capacity. During shows hosted just upstairs, Peter's Room remains open and streams the live concert on screens for free to customers.
As a standing room only venue, with the balcony seats reserved for patrons over 21 years of age, The Roseland regularly sells out with a crowd of 1,400 people. These sell outs occur across the entire genre spectrum and have been consistent throughout the venue's 24 years. Some of the most notable acts include Prince, Bob Dylan, The Grateful Dead, and B.B. King. Today the acts vary from rock to cage fighting, to electronic, a genre the venue just could not ignore. If one thing is to remain constant for the venue, it's that some of the top grossing names in the business can be expected to roll through at The Roseland. »
– Gina Pieracci