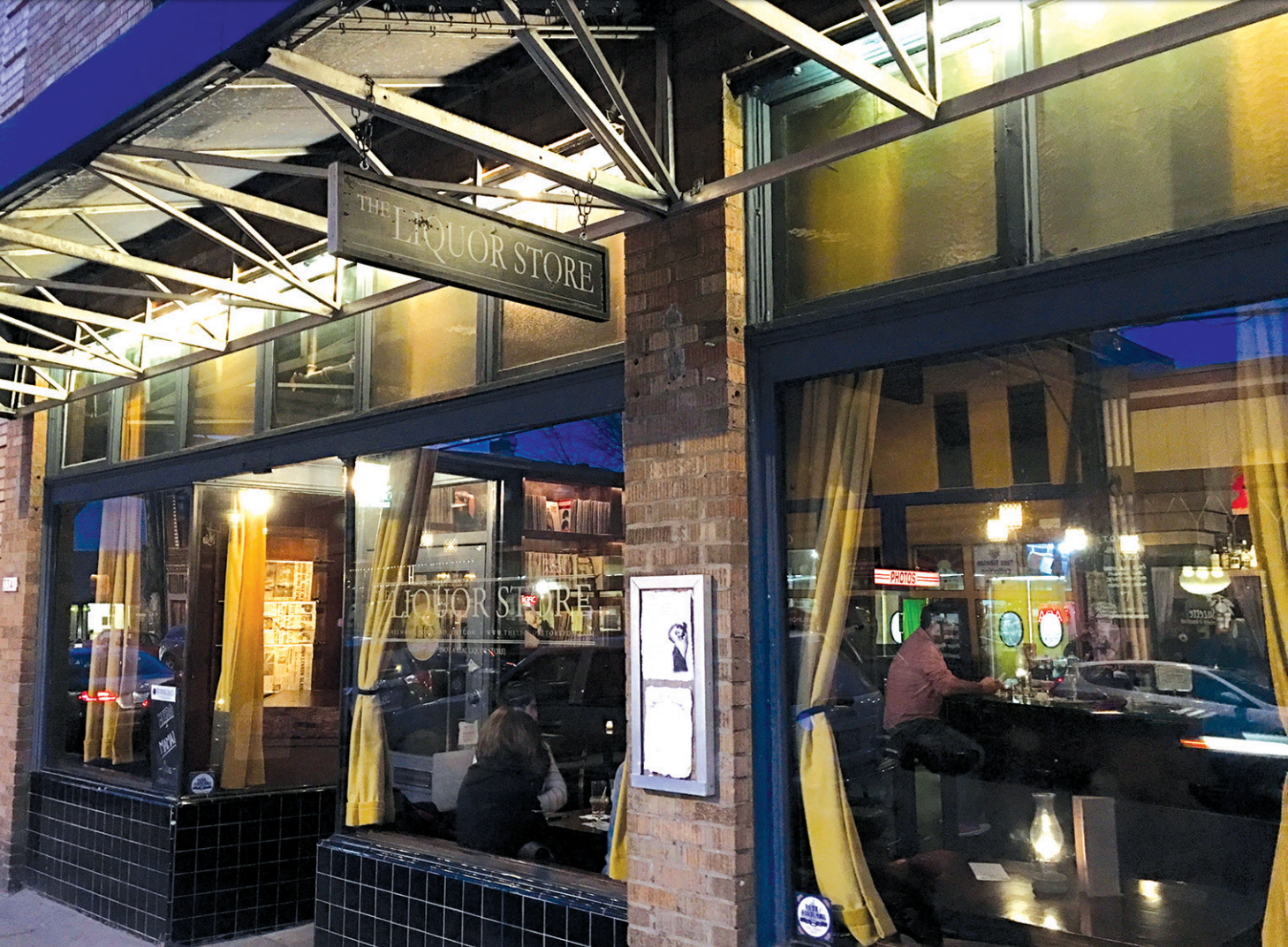 photo by Ryan Dornfeld
Early in 2015 there was a sudden influx of bands posting their shows at "The Liquor Store." It was unclear as to which, how, or why these shows were happening in a liquor store. Turns out, it wasn't really a liquor store, but rather The Liquor Store, a new business on SE Belmont, favorably located near other late night spots like Circa 33 and Sweet Hereafter.
Some may remember the address as the former Blue Monk, a jazz-inspired variety club that made headlines after a protest between hip hop artists and a police presence in the spring of 2014. It closed shortly after, but did not stay vacant for long. Entrepreneur Ray Morrone moved in and gave the two floors of the location a well-deserved facelift.
Morrone looked to his past working in record stores and studying journalism to inspire the interior. First, you have the spacious upstairs with rustic wood, vintage ceiling tiles and a sophisticated central U-shaped bar. Fading newspapers with historical headlines like the moon landing are available, and silent film shorts (Charlie Chaplin) are projected on the wall. Mostly, there is an entire wall displaying Morrone's huge personal vinyl collection, which he encourages guests to dig through and make requests to the DJ's manning turntables in the corner. There's also an enticing happy hour of flatbread pizzas and cornbread mac n' cheese, and a drink menu that is repeatedly applauded, (The Liquor Store was first runner-up for Willamette Week's Best New Bar 2015), featuring The Blue Monk–an homage to the past with house-made curacao and lime, and most recently The Thin White Duke – a tribute to David Bowie concocted with bergamot orange infused gin.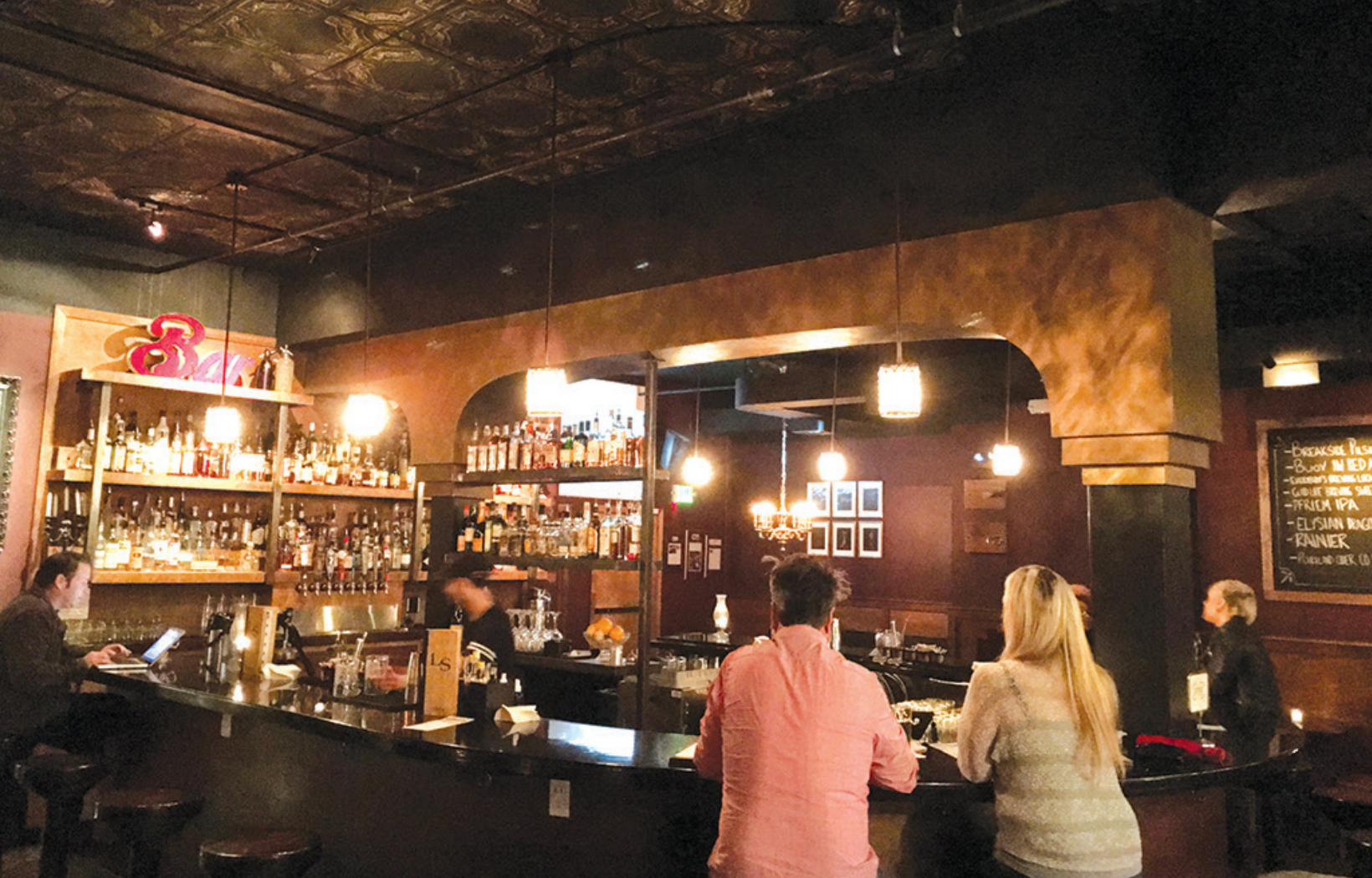 photo by Ryan Dornfeld
But most of the magic happens when you venture downstairs into the basement. The long, narrow room has a limited capacity, which is part of what caused tension between the aforementioned Blue Monk and local authorities, so Morrone immediately installed safety precautions like an extra fire exit and sprinkler systems. The biggest upgrade, though, was a Funktion-One soundsystem flown directly from the UK. There are only a handful of these high quality audio systems on the West Coast.
According to Morrone: "We understand that musicians practice for years and years before they even step onto a stage. With that in mind, the least a venue can do is provide the best possible equipment to help them share their music … the sound quality [of the Funktion-One] impresses even the harshest audiophile critics, and we know there are a lot in PDX." Morrone also wants to ensure the bands and DJ's that book at The Liquor Store feel like welcome guests, so instead of taxing them for expenses he allows them to keep 100 percent of their ticket sales. Even as a new bar and venue, The Liquor Store is busy hosting everything from mellow DJ grooves and EDM, to psych-rock like Wooden Indian Burial Ground, and a Valentine's Day show from Papermoon Cabaret. Morrone hints that there's more to come.
—Brandy Crowe